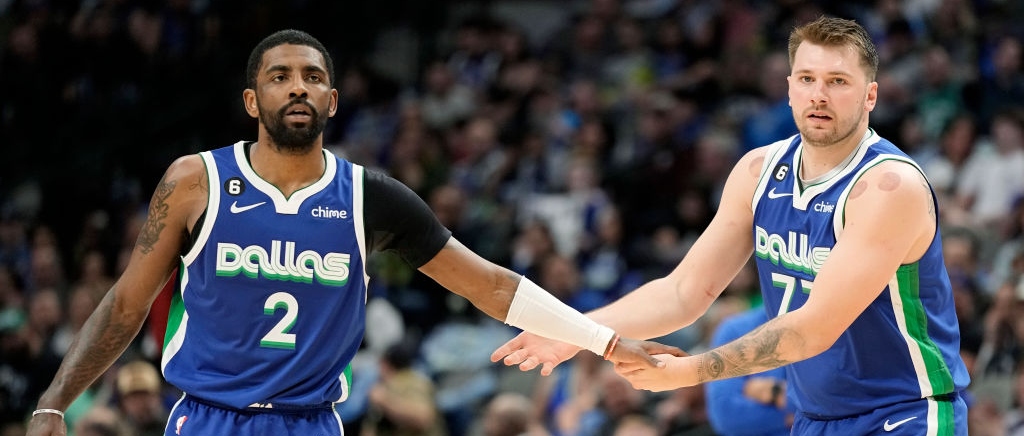 The Dallas Mavericks were supposed to be a contender in the Western Conference last season after a run to the conference finals in 2021, but the departure of Jalen Brunson set them back considerably and their deadline move to acquire Kyrie Irving to fill that void left them without any floor balance.
This summer, the Mavs set off on a quest to replenish that depth and find a bit more balance between offense and defense, bringing in Grant Williams, Richaun Holmes, Seth Curry, and a pair of intriguing rookies in the first round. We'll find out soon enough if they accomplished their goal of building enough quality depth around their superstar backcourt with Irving and Luka Doncic, but there is optimism that the Mavs will vault back into the race for a top-6 spot in the West this season. To get there, they'll need to answer one major question and get a big time impact from one of their new additions.
Biggest Question: Can They Piece Together Enough On Defense?
The Mavs were dreadful defensively after the Kyrie trade, as they were never able to replace Dorian Finney-Smith's presence on the wing. This year, they'll hope Williams' addition can bring some much-needed defensive versatility on the wing, as he showed in Boston he's capable of defending both forward spots and centers in a pinch. Both of the rookies they drafted, Dereck Lively II and Olivier Maxence-Prosper, have some questions regarding their offensive capabilities, but both could play immediately for their defensive upside — with more to come on Lively below. The return of a healthy Maxi Kleber also should help, as they rode a small-ball lineup featuring him at center in their playoff run two seasons ago, and Josh Green figures to step into a larger role as well, as he's their best bet for perimeter defense on this roster.
There should be a baseline of a top-8 offense with the combination of Doncic and Irving, which means to be a playoff team they don't need to be elite at defense, but simply passable on that end. That wasn't the case last year, but this roster certainly seems better equipped to be less of a sieve on that end. Jason Kidd's reputation as a strong defensive coach will be put to the test this season, but if he can get them outside the bottom 10 in the league, this should be a pretty dangerous team.
X-Factor: Dereck Lively II
The player on the roster who seems capable of raising the team's floor on defense is rookie center Dereck Lively II, who was unreal defending the paint at Duke, particularly in the back half of last season. Lively has a frame and skillset that no one else on the Mavs comes close to replicating at the center position, and as such they may be more reliant on him than you typically see from a hopeful contender with a rookie. Given Dallas has serious questions about their ability to guard at the point of attack with Kyrie Irving and Luka Doncic, having a high-level rim protector is a necessity to mitigate the issues that come with below average perimeter defense. While they bolstered their frontcourt rotation with guys like Grant Williams and Richaun Holmes, their only hope for above average paint protection is their 7'1 rookie.
Lively looks like the kind of rookie who can step into a pretty big role immediately and be an above average defender as a rookie, perhaps becoming this year's version of Walker Kessler. However, in order to do so he is going to have to be able to have an impact offensively beyond the spotty production he had at Duke. The good news is, in Dallas being a productive big man means setting good screens, rolling hard to the rim to finish lobs, and being active on the glass. He's not going to be asked to deliver points via post touches, but he will have to find his space in the flow of the Dallas offense, which means building chemistry with Doncic and Irving in order to be on the same page as they probe and drive to the paint. If he can do that, the Mavs might have found themselves an immediate impact player as a rookie. They are a team in desperate need of the exact thing he is supposed to be good at, and if he can deliver as a rim protector and simply stay out of the way on offense and do the little things correctly, he should have a very good rookie season. If not, then the Mavs will run a lot more small-ball and will probably run into the same issues they've had in the past when dealing with the West's top bigs.