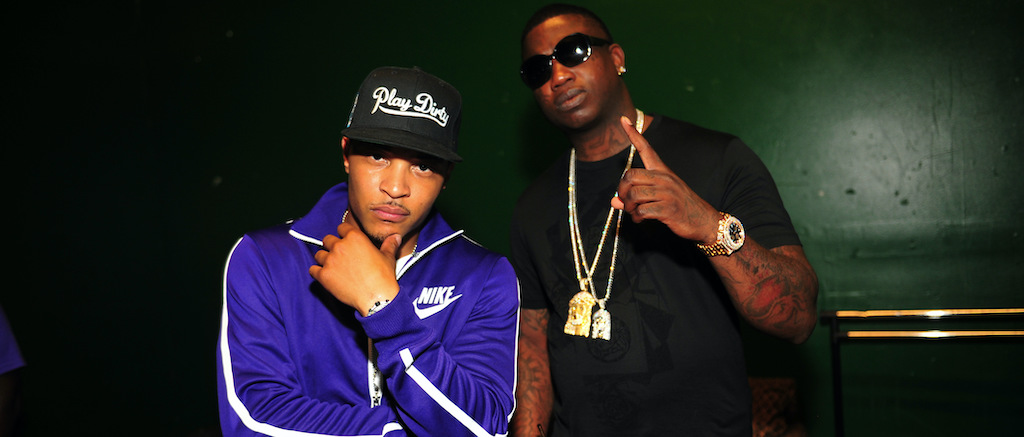 When Gucci Mane chose Breath Of Fresh Air as the title for his newly released album, he meant it. The 24-track double-album features several artists, such as 21 Savage, Lil Baby, J. Cole, Roddy Ricch, and the late Young Dolph, but T.I.'s surprise appearance at the Gucci Mane & Friends concert at Atlanta's The Tabernacle on Tuesday (October 17) was, in some ways, more notable.
As seen in videos circulated by longtime hip-hop journalist and Rap Radar host Elliott Wilson, Gucci Mane teed up Tip's appearance as doing "something special for the city" and showing everyone that their beef is firmly behind them. T.I. performed "24's." At one point, Gucci Mane and T.I. verbalized their respect for each other and sealed it with an on-stage dap.
In the wake of this feel-good moment, outlets such as HipHopDX and Vibe retraced the origins of Gucci Mane's now-squashed beef with T.I. Most everyone agrees that it started in 2012 because T.I. aligned with Jeezy, another long-standing rival of Gucci Mane's. Then, in April 2018, T.I. took to Instagram to dispute Gucci Mane's claim about inventing trap music.
"Ok,so…. AGAIN for the slow ones in the back…," T.I. captioned a screenshot of the Wikipedia page for his 2003 Trap Muzik album. "August 19th,2003 Birth of Trap Muzik & Only fools dispute facts!!! FOH wit that Christopher Columbus ass… 'Look what I discovered,even though they was already here' ass sh*t!!!! WITCHO GOOD CAPPIN ASS"
"A source close to the situation tells TMZ Hip Hop both superstars have long moved past their previous round of diss exchanges from years ago," TMZ relayed on Wednesday (October 18). "They both were co-headliners for the recent Legendz Of The Streetz tour and mended the fences, which didn't take much doing."
TMZ's reported timeline matches up with T.I. naming Gucci Mane and Jeezy to his Mount Rushmore of trap music with AllHipHop in August. Not to mention, in July 2020, T.I. and Jeezy expressed their desire to call a truce with Gucci Mane for the sake of trap music.
Some artists covered here are Warner Music artists. Uproxx is an independent subsidiary of Warner Music Group.