There's nothing like a warming bowl of chili on a cool fall day. That's especially true if you're tailgating with the family this fall, or just hanging with the crew over the weekend. The thing is, chili has about a million variations. So to help you sift through it all, we're dropping a very easy yet delicious classic chili recipe (with beans, if you like).
Below, I'm breaking down a classic ground beef chili recipe (I'm using ground bison). I know that real Tejano chili is made with stew meat and a chili paste base. I'm not making that. Sorry, Texans. But if you want to make that version, here's a great recipe right here. This is about classic chili that you can easily make without braising or making your own chili paste. All of this is easy to find and creates a great-tasting and very satisfying bowl of chili.
Yes, with beans if you want. Don't let anyone police your chili choices.
The best part is that this is pretty low-impact when it comes to cooking. You'll need to prep for about 30 minutes to get this on the simmer. Then it's just a matter of simmering for an hour or two until it's thick and spicy. Let's dive in!
Check Out These Other Recipes From Flavored For You:
Classic Chili (With Beans)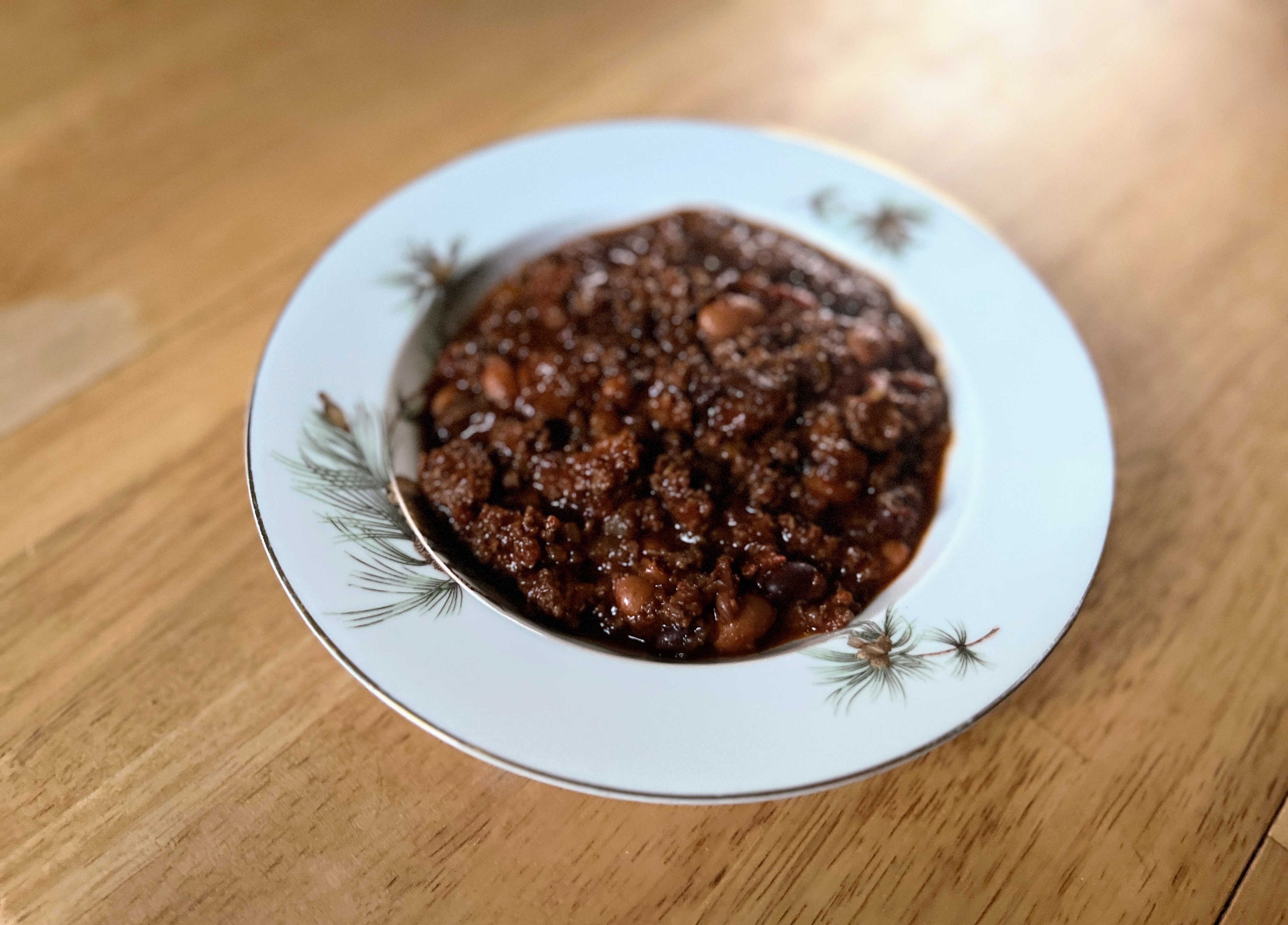 Ingredients:
40 oz. lean ground beef (or ground bison)
28 oz. can of crushed tomatoes
4 cups beef stock
2 dried ancho chilis (rehydrated and finely diced)
1 yellow bell pepper (finely diced)
1 yellow onion (finely diced)
1 tbsp. ground cumin
1 tbsp. smoked paprika
1 tbsp. garlic powder
1 tbsp. dried oregano
1 tbsp. Kosher salt
2 tbsp. black pepper
15 oz. can black beans (drained)
15 oz. can pinto beans (drained)
Neutral Oil
All of these ingredients are readily available at any grocery store. Even though I'm using ground bison, you should be able to get that at any grocery store or Costco these days too.
Optional:
Add cayenne pepper to taste. A full tablespoon will give you a solid heat that might make you break a sweat. A teaspoon will still be hot but not burning hot. I like a large pinch (maybe a small or half teaspoon) as it adds a light warmth without a burning heat. Remember, you can always add more heat later in the bowl, you can't take it away though.
What You'll Need:
Large pot
Cutting board
Kitchen knife
Small bowl (with lid)
Collander
Wooden spoon
Method:
Boil some water and cover the dried chilis in a small bowl with a lid, allowing the hot water to rehydrate the chilis. Let sit for about 15 minutes.
In the meantime, finely dice the onion and bell pepper.
Put the large pot on medium-high heat with about a tablespoon of neutral oil. Add the onion and bell pepper with a large pinch of salt. Cook until the onion is translucent.
Take the dried chilis out of the water and finely dice. Add the chilis to the onion and bell peppers and cook until very fragrant. Add the chili-steeped water to the onion-chili mix and simmer off, infusing the base with a deep chili flavor.
Move the onion and chili pepper mix to the side of the pot and then add the ground beef (or bison). Add salt and pepper. Brown the beef and mix in the onions and peppers. Allow to cook while the liquid from the meat simmers off (about 10 minutes).
Once the meat is sizzling, add the spices and stir into the meat. Add the crushed tomatoes, broth, and beans and stir until well combined. Turn the heat down to medium and bring the chili to a low simmer.
Allow to simmer until the liquid is simmered off and the chili is thick (about an hour) while stirring occasionally. Once thickened, salt and pepper to taste if needed.
Serve (in a bowl, over rice, baked potatoes, or hot dogs with diced onion and shredded sharp cheddar cheese).
Bottom Line on the Chili: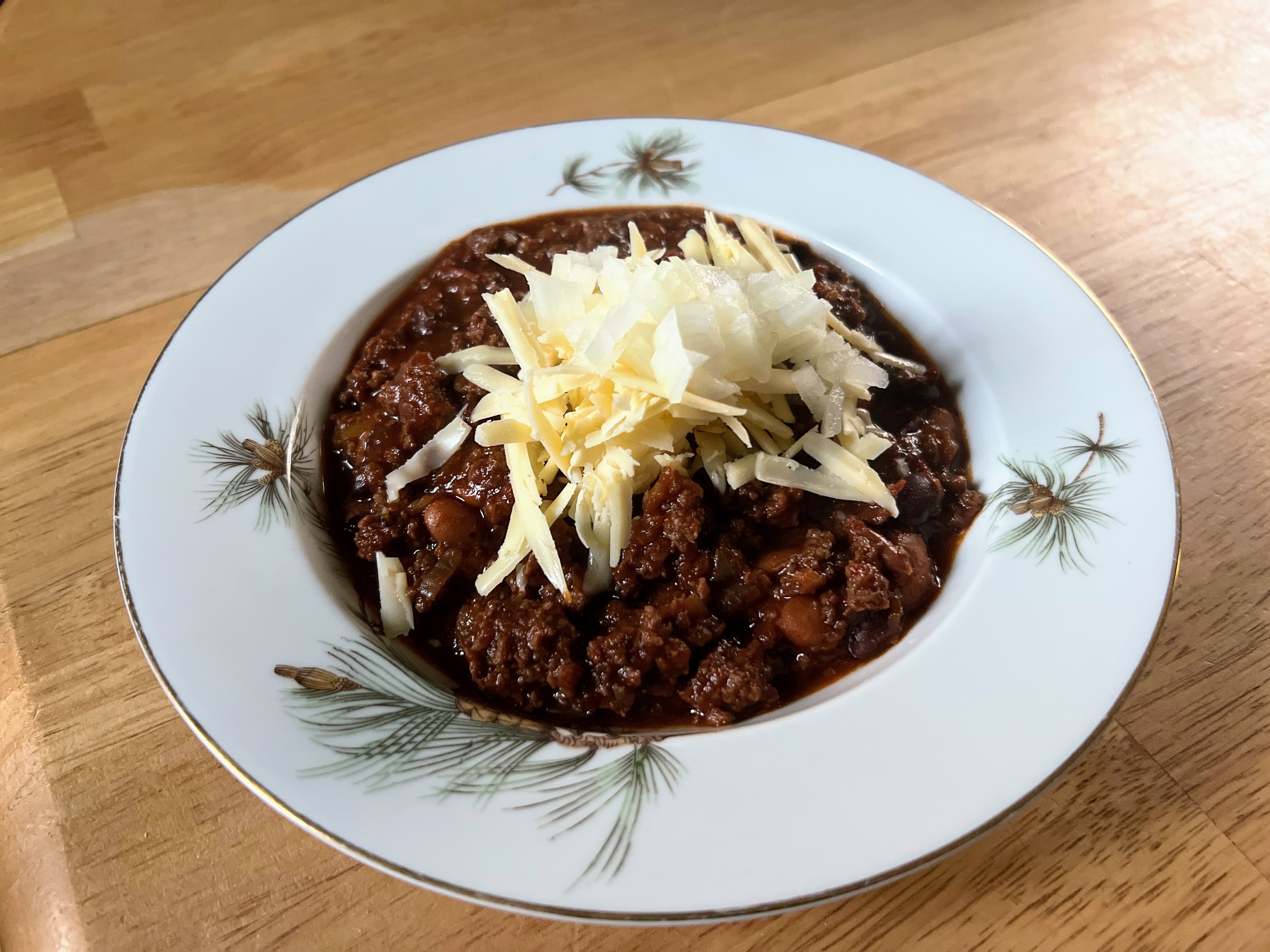 This is good and hearty chili with a deep chili pepper warmth, but not burning hot. That means that you can taste the sweetness of the onion and bell pepper with the savoriness of the meat and tomato. The cumin, paprika, and oregano shine through with a classic taco truck spice vibe.
I like beans in my ground meat chili; I forgo them in a stew meat chili. You can easily remove the beans from this recipe if you're so anti-bean in chili that you can't handle them in there. I think they add a nice textural bite to the dish with a little extra fiber (and carbs and protein!). Still, telling people they can't have beans in chili is up there with not letting people put ketchup on hot dogs or use flour tortillas with tacos.
All in all, this is the perfect fall meal. It's a warming bowl of chili with just the right warmth. The fresh onion and cheddar help it go to the next level of flavor with a nice fresh crunch and cheesy counterpoint to the umami chili. Maybe some diced onions and a dollop of sour cream on top? Whew, you're in bliss.
Enjoy the warmth!
Photos of the Process: