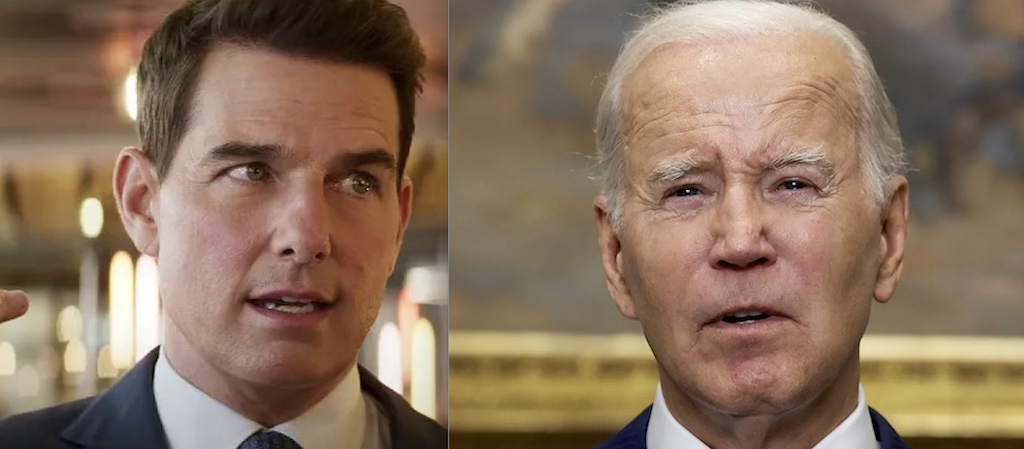 In the Mission: Impossible movies, Ethan Hunt repeatedly saves the world. In real life, the person who plays him, Tom Cruise, may be doing that for real. On Monday, President Joe Biden signed an executive order to place standards and security measures on rapidly evolving artificial intelligence, which may help thwart one of those robotic takeovers movies have been warning us about for decades. Thing is, Biden might not have been so worried about its dangerous potential had he not watched the most recent M:I.
In a new piece by The Associated Press (in a bit teased out by Variety), Biden watched Mission: Impossible: Dead Reckoning during what was supposed to be a relaxing weekend at Camp David. Instead, he found a movie in which the villain is a rogue AI known as "The Entity," which sinks a submarine in the opening scene and, at one point, copies our heroes' voices and sows chaos.
"If he hadn't already been concerned about what could go wrong with AI before that movie, he saw plenty more to worry about," said deputy White House Chief of Staff Bruce Reed, who watched the film with him.
Will Biden's actions protect people from the more nefarious aspects of AI tech? And if do we have Tom Cruise and his screenwriters to thank? The action items on the order won't start being rolled out for another 90 days, but here are some of its details, according to Variety:
The executive order, which the White House says "directs the most sweeping actions ever taken to protect Americans from the potential risks of AI systems," includes developing standards, tools and tests to ensure safety in AI systems; and requiring AI developers to share their safety test results and other critical information with the U.S. government. The order also directs guidance for "content authentication and watermarking to clearly label AI-generated content," as to protect people from AI-driven fraud.
Mission: Impossible 7 is now available for streaming rental and won't hit Paramount+ until February. People will have to wait a lot longer for its follow-up, which recently scored both a new release date and a new, as-yet-unveiled title.