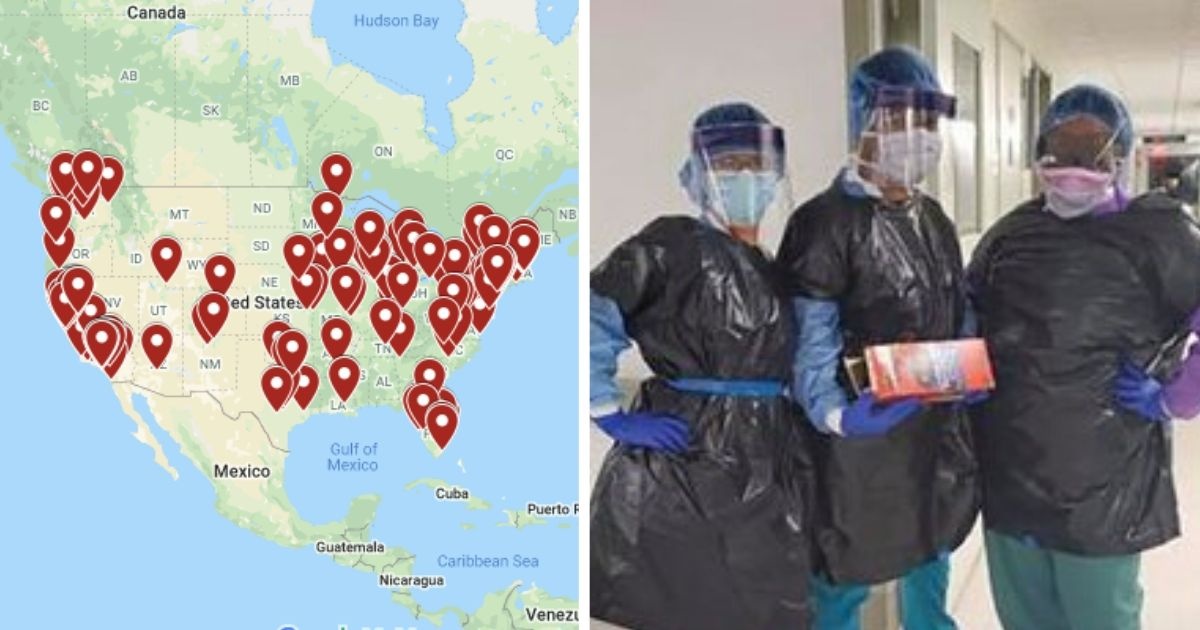 Becky Vieira says she felt helpless when she found out parents at her son's preschool who are doctors and nurses were in need of personal protective equipment (PPE). Though she helped to spread the word, asking friends and family to donate any masks or other equipment they might have, it didn't feel like enough.
As a mom blogger with a social media following and connections with other bloggers, Vieira says she decided to reach out beyond her local community.
---
"I turned to Instagram where I could leverage the platform I've built, and also connect with my network of other mom bloggers. I started by asking if we could all source and share PPE requests from family and friends, and the response was so great that I created a separate Instagram account dedicated to the cause. Within a day I had someone offer to build us a website, and by day four we were receiving international requests, had nine engineers working on it, designers, a digital marketing agency and a PR team join the cause. All pro bono. And we're not done yet — we have an updated website in the works that will launch soon."
The initiative is called Masks for Heroes. Through the website, hospitals, clinics, and other medical facilities can submit requests for PPE with delivery/drop-off instructions. Volunteers and donors can then go to the website to see what's needed and help fill those needs.
"Donors can see exactly who needs PPE and choose where to send it, such as a local hospital in their area," says Vieira. "They know exactly where their donation is going. We help requesters and donors meet and collaborate."
Vieira says every PPE request is verified before it is listed on the website. Currently there are more than 200 requests from medical facilities listed, with 50 more awaiting verification. There's even an interactive map to make it easy to find the needs of facilities in a specific area.
"We do not accept monetary donations and we are not involved in any monetary transactions," Vieira adds, saying that there are scammers out there trying to profit off of the pandemic. This initiative is simply matches up the specific needs of medical professionals with people willing to provide those specific needs.
Since most of us don't have PPE lying around our homes, that often means making and donating homemade masks. Not an ideal solution, but better than nothing in most cases.
Individuals and companies have quickly stepped up to help. Adrienn Braun, a fashion designer and owner of Adrienn Braun Bridal In Hoboken, New Jersey and her team are sewing approximately 100-150 masks a day. They've already shipped out 550 masks and have plans to make 2000 more.
A clothing manufacturer in Virginia, Kurdistan Godani, has sewn 300 masks so far. She's delivered around 100 of those already and plans to make "hundreds more." She says since she can't sell clothes right now, she'll use her fabric to sew masks.
Free People (from Urban Outfitters) is also taking part in the fulfillment, sewing masks for facilities requesting them.
"I am still in shock at how far we've come, and that we're being supported like this," says Vieira. "I'm so proud of the women I know who helped raise the initial awareness that led us to where we are today. Never doubt the power of moms."
Anyone who has a little time to spare can get involved:
"We encourage anyone with N95 masks or other PPE supplies—gowns, surgical masks, face shields, hand sanitizer, etc.—to donate. Check your garage, look in your attic, search your house for any masks you may have forgotten you have. Ask your neighbors, friends and family to do the same. Call local construction companies! Many facilities are accepting hand sewn masks, and we have patterns and tutorials on our website, masksforheroes.com.

If someone doesn't have masks and can't sew (like me!), they can help us raise awareness of this situation. Follow us on social media, share posts, tag their friends. Share local requests to your social media pages and community groups. Anything helps."
Vieira points out that there is some misinformation out there about homemade masks and their effectiveness during this pandemic. "People are saying it's not worth making them as they don't protect against the virus," she says. "But these masks are often used for non-vital patients to free up PPE for others or to cover masks that healthcare workers are having to refuse—because many are being asked to wear single use masks for an entire week. At least they can wash the hand sewn masks between uses."
"And yes, in other cases they actually are being used as the only protection," she adds. "They are a last resort for many health care workers, and people need to realize that's where we are: at the last resort."
Check out the list of PPE needs in your area on the Masks for Heroes website and find out how you can help. Instructions for making masks can also be found on the site.