While the nerds are all working on their bodies to emerge from social isolation as buff ass butterflies or whatever, the rest of us are exploring a world of home-cooked meals and baking shitloads of bread. We've already nailed the art of fried chicken and our focaccia rivals that of the finest Italian chefs. We've even got Dalgona coffee dialed in. Now it's time for us to master the ultimate comfort food: ramen.
To lead us to the perfect piping hot bowl of Japanese noodles and broth, we've tapped ramen chef Hiro Mitsui of Washington D.C.'s Ramen by Uzu. Recognizing that certain ingredients are in short supply, he's put together a special quarantine-friendly version of the dish for us. Chef Hiro's recipe swaps out bone broth for an easy-to-make vegetable broth. Because while meat availability varies, grocery stores seem to be pretty well stocked on fresh produce.
In addition to the recipe, we also asked Chef Hiro for some basic ramen-making tips to keep us from messing things up. His advice will keep you fed now and help you refine your version of the dish later, when the quarantine ends and you have a few people over to impress.
Can you walk us through the process of cooking the perfect ramen noodle?
It really depends on the thickness of your noodles. If we are using very thick noodles, we cook them a minute to a minute and 10 seconds in boiled water. Then basically you mix with the soup base. With the stock… Basically, boil the chicken bone broth and make some soy base or miso base. Mix it all together.
Could you walk us through the different types of broths?
Probably the most famous broth will be tonkatsu, which is pork bone. It is aromatic, vegetables, carrots, onions, scallions. Some places use miso with it. Some places use kelp, which is like a seaweed. It really depends on the restaurant. A lot of places are using basically pork bone broth, which some people do not like. So we use chicken bone broth. It is one of the popular broths in Japan. We do 10 hours cooking stock, then rest 10 hours. So basically a 20-hour process.
What's an easy at-home ramen recipe to make?
If you are prepared to do pork bone broth, buy pork belly, the broth of pork belly, and scallions, onions, ginger, garlic.
Put on the pot, fill it up the water. First, you have to boil it and turn down to simmer for two or three hours. Basically you just cooked pork and the stock at same time. And you make tonkatsu base, maybe you can put shoyu, which is soy sauce; mirin, which is like sugar with alcohol; salt. Mix it all together!
If you feel like you need to add more flavor to it, such as sesame oil, more salt, maybe black pepper. You can just add that. That's a really basic, really easy recipe.
What are some common toppings that make for a nice looking bowl?
Usually, ramen comes with wakame, which is a seaweed… I mean shoyu ramen comes wakame, which is a seaweed. Menma, which is a bamboo shoot. You can find all those in Asian grocery stores. Noodles — of course — and the broth is topped with nori, which is dried seaweed, which you can also find in Asian grocery stores. Some people like sweet corn. Some people like chili paste. Or, if you like spicy, you can just do sriracha. Plus scallions and boiled egg. Soft or hard-boiled, whatever you like.
A famous combination is a lot of bean sprouts, a lot of onions, and garlic. That will be really filling.
What's an easy and fast ramen dish to prepare that will leave you satisfied?
Aside from the pork ramen, which is fast… I don't know if I should talk about this one — But basically you can add protein on top of those packaged ramens. I mean, of course, made from scratch is better. But if you want to make it really quick, just add stuff like vegetables and a boiled egg on top and it'll be good.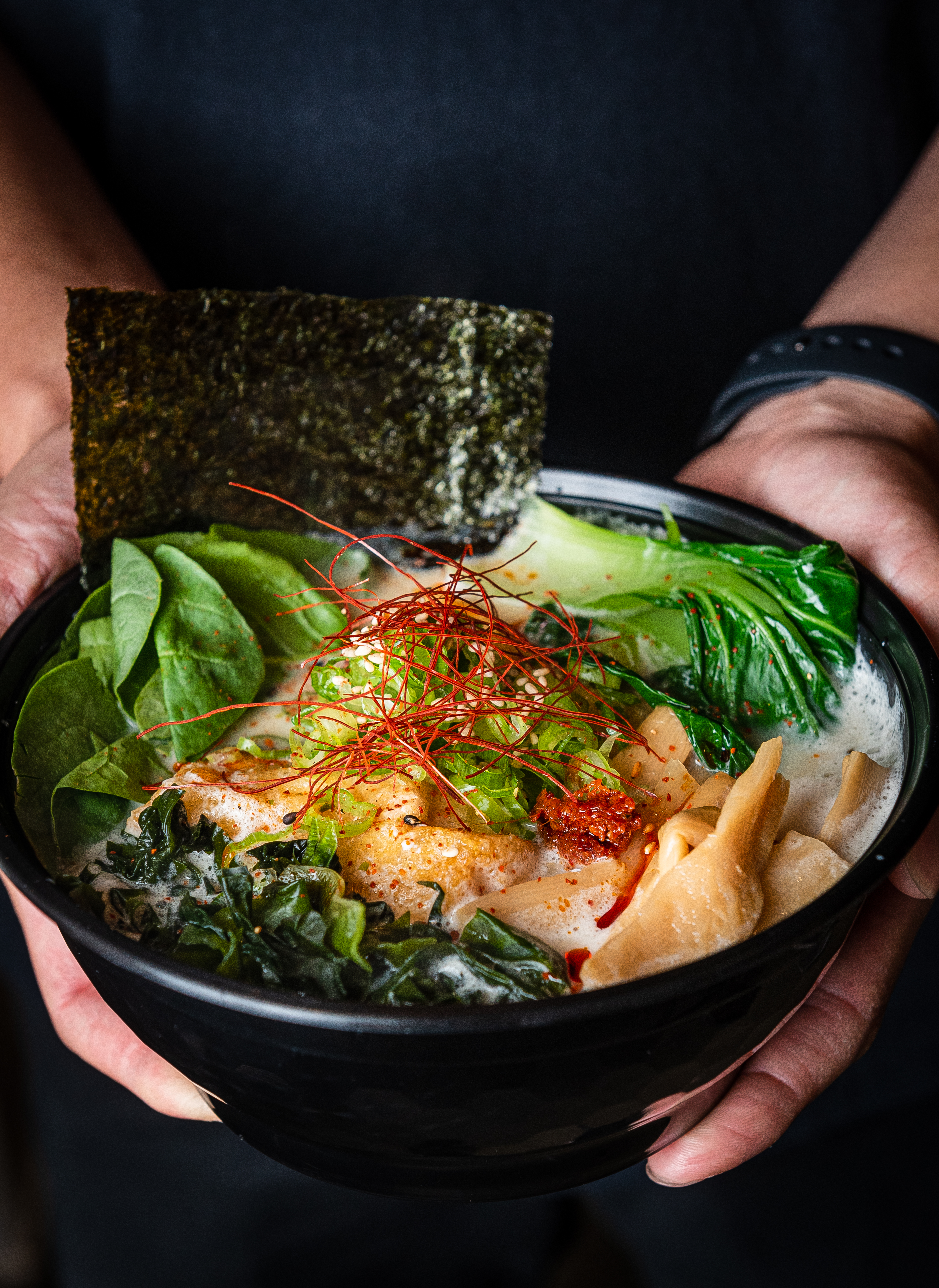 What type of ramen do you think Americans generally overlook that is popular in Japan?
Whenever people come to the ramen restaurant, they automatically think tonkatsu ramen is the only ramen, which is made with the pork bone and is really, really rich. We have millions of kinds of ramen in Japan! My favorite is a fish-based sauce. Dried fish, and anchovy. Those constitute the fish base broth. That's my favorite.
Hiro's Quarantine Ramen Recipe
First, we need to make stock using ingredients that you might have at home. Just use as many of the ingredients that you can get your hands on. Ramen is a combination of stock + base (tare) + oil/fat. At Ramen by Uzu, we have chicken or vegan stock. For this at-home recipe, we will make a veggie stock.
Stock Ingredients
1 medium carrot, peeled and chopped
1 bunch of scallions, stems removed and chopped
1 medium onion, peeled and chopped
1 clove of garlic, smashed with skin
1 piece of ginger, peeled and chopped
1 small apple, chopped 4 ways
1 sheet of kombu (kelp) (If available. This is for umami. If not available, don't worry.)
1 medium brown potato, peeled and chopped
Combine all ingredients in a large pot. Fill the pot with water until all the ingredients are covered. Be sure to leave two inches at the top so the water won't spill.
Boil on high heat. After the water comes to a boil, lower the temperature and simmer for 1.5 hours.
Gently smash the vegetables to get the most umami into your broth.
(Optional) For a more "authentic" flavor, throw in one handful of bonito. Leave it for 10 minutes.
Strain the vegetables from the broth. Compost the veggies or save them for some other recipe.
Base Ingredients
1 10.5 oz can of Campbell's Cream of Mushroom
1 tbsp soy sauce
1 tbsp sesame oil
Mix one half can of Campbell's cream of mushroom with the same amount of stock. (Ratio 1:1.
You can adjust however you like. If you want a creamier soup, use more cream of mushroom.)
Garnish
Thin-sliced scallions
Egg (hard-boiled or soft-boiled, your choice)
Your choice of protein (pork, chicken, fried tofu, sautéed spam)
Nori
Canned corn
Method
Combine the stock and base in a small pot. Heat it up.
Cook your noodles. It's great if you can get your hands on fresh ramen noodles. However, if that's not possible, just use instant ramen noodles (just the noodles).
Cook the noodles according to the package. If you like your noodles al dente, cook them 30 seconds to one minute less than what the instructions call for. Strain the water.
Add the noodles to the soup.
Garnish with your preferred toppings.
*BONUS RECIPE* Chef Hiro's Shoyo Ramen Recipe
This is a simple recipe where you don't need to boil the stock for a long time. However, the flavor of this ramen is still very traditional and makes me feel nostalgic.
Stock Ingredients
8 oz pork belly
6 oz chicken thigh
1 oz Dried Anchovy
.5 oz Konbu seaweed
2 stalk Scallion
1 Apple whole with skin
50 oz Water
Method
Combine all ingredients in a pot.
Boil. Once it comes to a boil, reduce the temperature to low to medium heat. Cook for 90 mins.
After 90 minutes, take out the pork belly.
Add .5 oz bonito and simmer for 10 minutes.
Strain stock and cool down with ice bath
Pork Belly Ingredients
7 oz Soy
4.5 oz Water
1 oz Sake
.5 oz Sugar
.5oz Honey
2 stalks of Scallions
2-3pcs Peeled garli
Combine all ingredients in a pot.

Method
Boil. Once it comes to a boil, add pork belly from the stock. Cook for 30 minutes on low heat, flipping the pork belly occasionally.
After 30 minutes, remove the pork belly and set it to the side to cool down.
Take the remaining juice (tare/soup base) and save it for later.
Assembly
In a small pot, warm 12 oz of stock.
Add 7 oz of tare into a ramen bowl.
Cook noodles in boiling water. If possible, use fresh noodles and cook them to your preference.
Add the warm stock to the tare in the ramen bowl.
Remove the cooked ramen noodles from the boiling water and add them to the ramen bowl.

(optional) Add one drop of sesame oil. 

Garnish with sliced pork belly, scallions, egg (soft or hard-boiled), sesame seeds, nori, and menma (bamboo shoots).