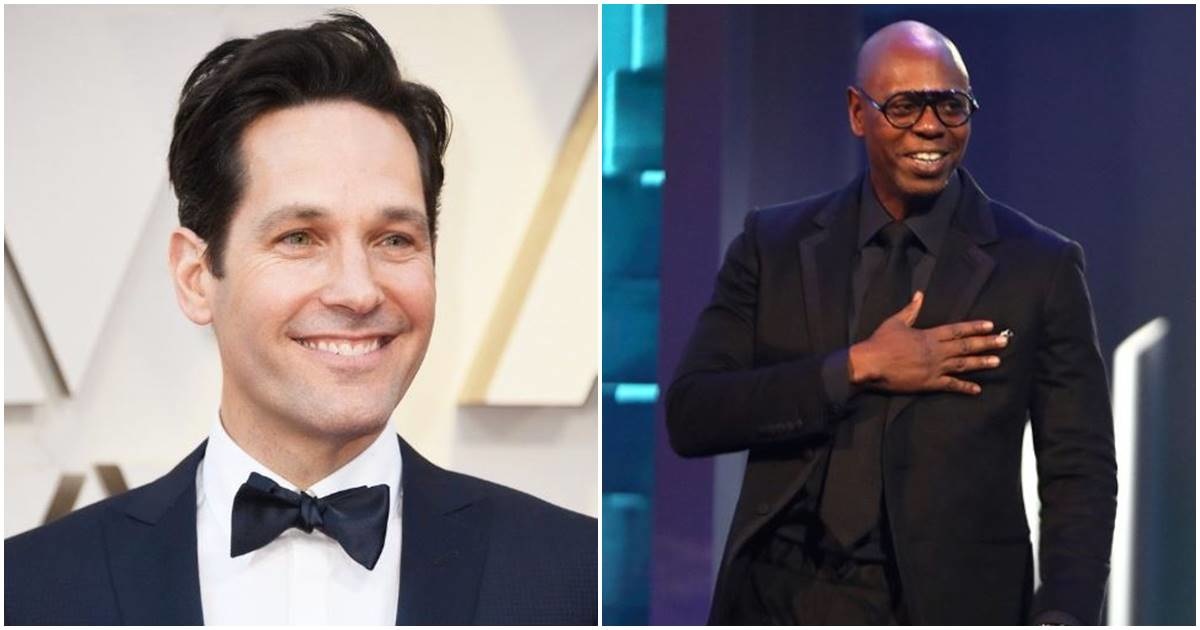 Fame has a way of amplifying who a person is deep inside. Someone who is good-hearted can do amazing things with the power and money that comes with being a celebrity.
However, someone who's rotten to the core will use fame to subjugate others and behave in a petty fashion.
So it's ways interesting to learn whether the celebrities we see on the big screen or on stage are nice people or tyrants. Reddit user willis1988, asked the online forum, "What celebrities have you encountered that were either really nice or really horrible?" and the stories were overwhelmingly positive.
So we decided to focus on the positive stories about celebrities who haven't let fame completely decimate their souls.
---
Dave Chappelle is Cool
Met Dave Chappelle a few years back. Long story short, a friend of a friend got me and two friends into an after party. We were sitting at the bar when his manager offered us some shots. We talked with his manager for a while. Then Dave sat down near us. Dave was kind of sitting by himself and he looks over at us and goes "What's going on fellas?" And we talk to him for about an hour. We thanked him for coming to our town, talked about music, sports, all kinds of stuff. Super cool dude. One of my favorite memories. — nstb21
Right after the opening act he came out and immediately noticed us and asked if we were all Filipinos. Well, he definitely guessed right! He started talking about how we are his family and went right into the details about his family. the food, culture and his own family. Like having a humorous conversation during his set. Pretty surreal.
Anyways after a killer show, everyone was filtering out when one of the producers stopped us and asked if we can be in some of the B roll footage along with Katt Williams since he was also there checking out the show. Of course, we agreed and sat next to him.
As soon as it was over, Dave was on stage smoking a joint and I told him it was my birthday that night. He asked what my name is, I said, amour-y-moi! He then grabbed the microphone and with everyone else still around he said, "Today's Amour-y-moi's birthday and I'm buying shots for everyone!!". Got to do a shot with him. One of the best random birthday moments ever! — amour-y-moi
Dolly Parton is Radiant
I met miss Dolly Parton when I was just a wee kid in Illinois. I've described it as being like meeting the sun. She was just so happy and warm and wonderful, and she was the first person I'd met in real life with a southern accent. — tweak0
Years ago working hotel security in Edmonton I was escorting Dolly Parton and Kenny Rogers at 0400 in the elevator down from their rooms to the lobby to get in their Airport Limo. I am 6'5″, and so I towered over her. Dolly looked me up and down and said in her cute southern drawl "they sure grow 'em big up here in Canada!" She was just as sweet as you could imagine.
Kenny, on the other hand, and I feel bad for saying this, due to his recent passing, treated me like the help (which I of course was) and even made a huffy impatient noise when, slightly flustered by Dolly's remark, I struggled to find the key to put the elevator into independent service. Dolly touched my arm, looked me in the eye, and said "Darlin', don't you pay him any attention, we appreciate y'all!" — LOUDCO-HD
I guess I got the good and the bad in one shot. — LOUDCO-HD
Ice-T Has Manners, Good Taste in Music
Went with my parents to a function for some charity group and we shared a table with Ice-T. Super nice guy, down to earth and not high on himself. He has a mouth on him but when he found out my Dad is a retired preacher never heard a bad word again the rest of the night. I ended up talking music and how he goes from Rap to Metal. Man is cool and knows his sh*t about the metal and Punk scene. — Gundamsafety
John Candy Was a Sweetheart
I met John Candy on a plane when I was a little kid while traveling with my family. He was a big man. He had the whole row to himself in front of us with the armrest up between seats so he could be more comfortable. The stewardesses were blocking anyone from coming up and bothering him, even though they themselves were not exactly leaving him alone what with talking to him constantly and laughing at his enjoyable banter the whole trip.
At some point he got up to go to the bathroom. When he came back he looked at me, pretended to do a double-take like he was surprised and said , "hey, you're the quietest kid ever, don't you talk?" The way he said it was so friendly that I just smiled and giggled. Then he had a pleasant conversation with my parents, who had been DYING to talk to him the entire flight, but were too polite to bother him.
Not even 2 weeks later we heard he had passed. — starstarstar42
The 'Quiet Beatle' Likes Kids
When my dad was about 9 (1964ish) he was on a plane from LA to Heathrow in coach with his mom. The stewardess came back and excitedly asked him if he wanted to 'meet a Beatle??'
My dad said sure but didn't really know the Beatles at that age, and only said yes because that's kinda what you do at that age. He sat on the couch next to George (different time, airlines treated you like people), George folds up his newspaper and says, "soo, do ya like my music?"
My dad says (like a confused 10 year old) "um, no". Apparently George smiled and went back to reading his newspaper. My dad sat there like a doofus for like 5-10 minutes until the stewardess came and got him.
So George Harrison was cool to children, and my dad's the most Stone cold 10 year old ever — Beej1030
Everyone Loves Adam Sandler
I ran into Adam Sandler outside of a Planet Fitness in Brooklyn in early 2016.
As I was leaving the Planet Fitness, it looked like he was walking in. We made eye contact, so I stopped and held the door for him. He got to the door and stopped right before he walked through, in one of those fake poses that little kids make when you tell them to freeze. I stood there holding the door, plenty confused. For about five seconds, we just stood there- him, motionless and I, standing there holding the door. Finally, he turned his head and said in the stereotypical Adam Sandler voice, "Ahhh, who we kidding? I'm not going in there!" Giant grin on his face. We both laughed and then he continued down the street. — WatchTheBoom
He was in my town in NY shooting something for Netflix a few years ago. When he was done for the day he went down to the local park and started playing pickup games of basketball with people. — norcaln8
I met him down in Nantucket one summer a few years ago. I had no money and so he bought me and my friends a pizza and shared it with us. Probably the greatest moment of my life. — Pacadoo
He shook my hand before I went to pee. Then when I reentered the comedy club he asked me how it went.
It was glorious.— SufferingWithYou2
Robin Williams Was a Pure Soul
I was working in a little boutique store in Seattle with my girlfriend and it was a particularly slow day when all of a sudden Robin Williams walks through the door. He was the only one in the store and my girlfriend didn't know who he was. We left him alone and when he came up to purchase his things he started barking at my Boston terrier in a cute way. It scared the crap out of my Boston terrier and he started barking back at Robin. He was so genuine and nice and I really do remember how hairy his arms were. For some reason that really stuck out. He walked out the door and instantly was surrounded by a bunch of tourists trying to take pictures of him. He put his bags in the back of his mini Cooper and drove off. He bought a little piece of artwork and three Goorin Bros hats. — noradam22
Paul Rudd May Be the Coolest Celebrity
I met Paul Rudd on a flight from NY, sat next too him on the plane. My buddy leaned over and told me that he wanted to compliment him on this band shirt he wore when making Clueless, but he "didn't want it to be weird". So his solution was to write him a note and slip it to him, lol. So he does this, and Paul just gets this nervous look on his face, opens the note and reads it. Starts cracking up laughing, leaned over to us and said "best note ever". He then told us the whole story of the shirt, how he fought with the costume dept about it because it was the shirt he wore to set that day. We talked the whole flight, dude was super cool. — _Glibnik_
So I have a fun Paul Rudd story.
I worked at CVS at the time, and my manager had just eliminated smoke breaks- so I'm on edge and going nuts. Paul Rudd walks in, and sees me. For reference- I am generally disheveled in appearance. I had a wizard beard braided down almost to my nuts, and I had worked overnight unloading the truck before popping on register.
He looks at me and just goes- "rough night?" I laughed, nodded. I slurped at my coffee, which was more or less empty at this point. My boss comes out of the office to yell at me about something, and Paul drops what he's doing, runs to my counter, and rings the little bell to interrupt the boss. I run over and he has a single butterfinger on the counter.
I ring him out, and he laughs. He says- "how long you been here?" Truthfully, I told him- 10 hours. I sputter something about loving him in "Fundamentals of Caring." He looks at my boss and says the best thing ever.
"I need [my name] to help me to my car with my purchase. My back hurts. Mind taking over for him?"
So i go outside, he bums a cigarette off me, and bought me coffee- then wouldn't let me inside until i finished a whole cigarette and half my coffee. Boss came out to bitch, he laughs and says "I still need his help loading my car." Honestly, its actually probably the single best customer-moment I've ever had in my time in retail.
Dude's goddamn awesome. — Malakoji
Word to Your Grandmother
My Grandma sat next to Rob Van Winkle (Vanilla Ice) on a plane before he was famous for ice ice baby. She knew who he was but didnt want him to know. They had a lovely 4 hour conversation and she said he was really intelligent and nice. — Cnutty_04
Vin Likes to Fish
I met Vin Diesel at a truck stop diner when I was a kid.
It was like 4 in the morning and me, my grandpa and vin and his friend were the only ones in the diner, and we ended up getting sat at the table next to them.
Vin and a friend were getting ready to go on some fishing trip which was made obvious by the clothes they were wearing. My grandpa struck up a conversation about fishing with him, completely oblivious to who he was. He was a really nice guy and apparently knew a great deal about fishing techniques.
I was a bit geeked out and didn't say much or contribute to the conversation but I spent the next hour of our road trip explaining to my grandpa who vin diesel was and why it was a huge deal we just met him. — weekendbrainsurgeon
John C. Reilly is John C. Reilly
I was working on a set once where John C. Reilly acted as one of the main characters. It was a pretty small set and low budget (not even sure if the show ever aired) so we all found ourselves working closely together for the most part.
I sat across from him during lunch one day and we chatted for a bit about random stuff. The guy talks the same way he acts, which is why I think he plays such a great character in any comedy because he quite literally plays his own attitude in many roles.. at least it seems.
But anyway he was a very nice and down to earth guy, I found it hard not to giggle every time he spoke because I just couldn't shake the image in my head of all the roles he's played. — tommyboy6733
The Rock is the People's Champion
My mom and sister met the Rock when he was still a wrestler. They had a couple car seats and tons of bags having a hell of a time getting off the plane and people were waiting and then this massive guy offered to carry some things for them and they happily took the help, he grabbed some bags and held the baby carrier with my niece in it and helped them off the plane and left. After people kept going up to them asking how they knew the rock and they were very confused until someone explained who he was. — sendgoodmemes
Daniel Radcliffe is very … British
I served Daniel Radcliffe his dessert at an event, and tripped and spilled some of it on him, probably due to seeing that I was serving Daniel Radcliffe, and he stood up and started apologising profusely to ME. Was very sweet and asking if I was ok. — eggsmashumactually