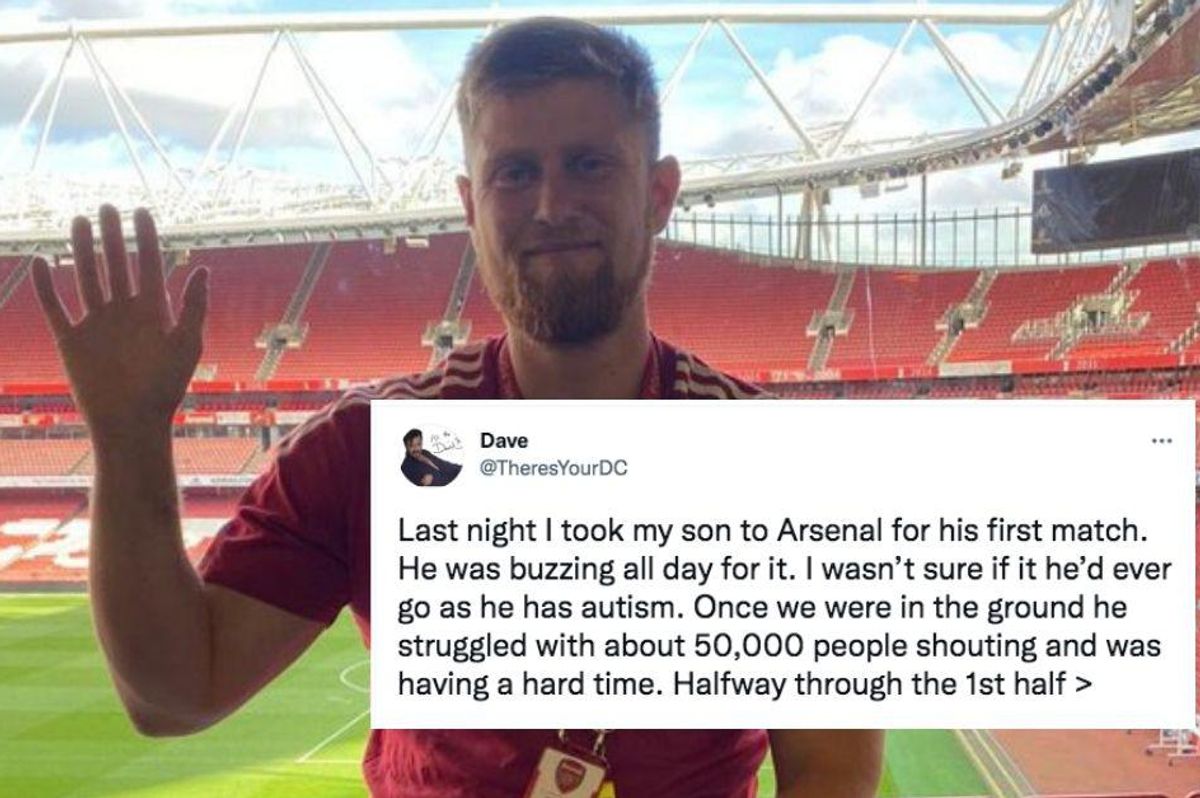 One of the positive hallmarks of the 21st century is humanity's increased openness and acceptance of our differences. We still have a ways to go, but we've come far in reducing stigmas and challenging stereotypes, as well as creating welcoming spaces for diverse abilities and identities.
Sometimes a welcoming space goes beyond simply saying, "You are welcome here" and ensuring a person will be safe and accepted. For some kinds of differences, specific accommodations are necessary to enable someone to truly feel welcome in all of their neurodiverse uniqueness.
This week, a dad shared a story of what such accommodations recently looked like for his autistic son at a U.K. football game.
Twitter user @TheresYourDC ("Dave") wrote:
"Last night I took my son to Arsenal for his first match. He was buzzing all day for it. I wasn't sure if it he'd ever go as he has autism. Once we were in the ground he struggled with about 50,000 people shouting and was having a hard time. Halfway through the 1st half I could see he wasn't going to get used to it so we had to leave.
---
When we left the stadium, a steward (blonde lady, wish I got her name), asked why we were leaving and I told her. She asked me to hold on and contacted someone else. Next thing I know, we're being walked towards club level. They've got a sensory room there where we could watch the rest of the match. The bloke running the room, Luke Howard, was fantastic with everyone in there & between him & the stewards that helped, turned the night into a great memory. Thank you @Arsenal."
Last night I took my son to Arsenal for his first match. He was buzzing all day for it. I wasn't sure if it he'd ev… https://t.co/vtTWKl3WCE

— Dave (@TheresYourDC)
1635320694.0
club level. They've got a sensory room there where we could watch the rest of the match. The bloke running the room… https://t.co/KSCrdhO01B

— Dave (@TheresYourDC)
1635320814.0
Sensory rooms are spaces away from the loud noises in a stadium, which can be overstimulating for many, but especially for neurodivergent people. Autism can make people more sensitive to persistent sounds, and sensory overload makes crowds tricky to manage. That doesn't mean an autistic person wouldn't want to go to a live sporting event; it just means accommodations that give them a break from the constant stimuli can make the experience more enjoyable for them.
Arsenal responded to Dave's tweet with pride in their club's sensory room.
@TheresYourDC We are so glad we were able to help you and your son last night, Dave. It's our pleasure.

At Arsena… https://t.co/z4jQ4BfbFx

— Arsenal (@Arsenal)
1635340531.0
A few years ago, Upworthy spoke with Julian Maha, co-founder of autism inclusion non-profit KultureCity, about the value of sensory accommodations. Maha explained that a sensory-inclusive space is one that provides accommodations with little to no impact on anyone else's experience. If a person at a game is experiencing sensory overload, a sensory room gives them a place to go where they can still enjoy the game without as much stimulus.
Arsenal has had a sensory room since 2017 and describes it on the team website:
"Arsenal are passionate about improving stadium facilities for people with sensory processing needs such as Autism, and the opening of our Sensory Room and Sensory Sensitive viewing room in September 2017 has supported many fans to be able to attend matches at The Emirates Stadium.
The facility incorporates a match viewing room which has measures in place to create a safe, calm and comfortable environment with reduced sensory stimuli to experience matches as well as a separate Sensory Room which comprises of a range of specialist equipment which supporters can transition between as needed, all managed by specially appointed staff."
Maha said the most important element of inclusion is making sure staff are trained to know when accommodations might be needed, which was clearly the case at the Arsenal stadium. Bravo.
For autistic people and others with sensory issues, these spaces can make all the difference. "They view the world differently and they take in the world differently from us, but their wants and needs are still similar," Maha said. "They still seek acceptance and inclusion, they want to be part of the community and it's our mission to help embrace them regardless of their differences."
Its great to see so many sports teams and public venues making space for everyone to feel truly welcome and included.