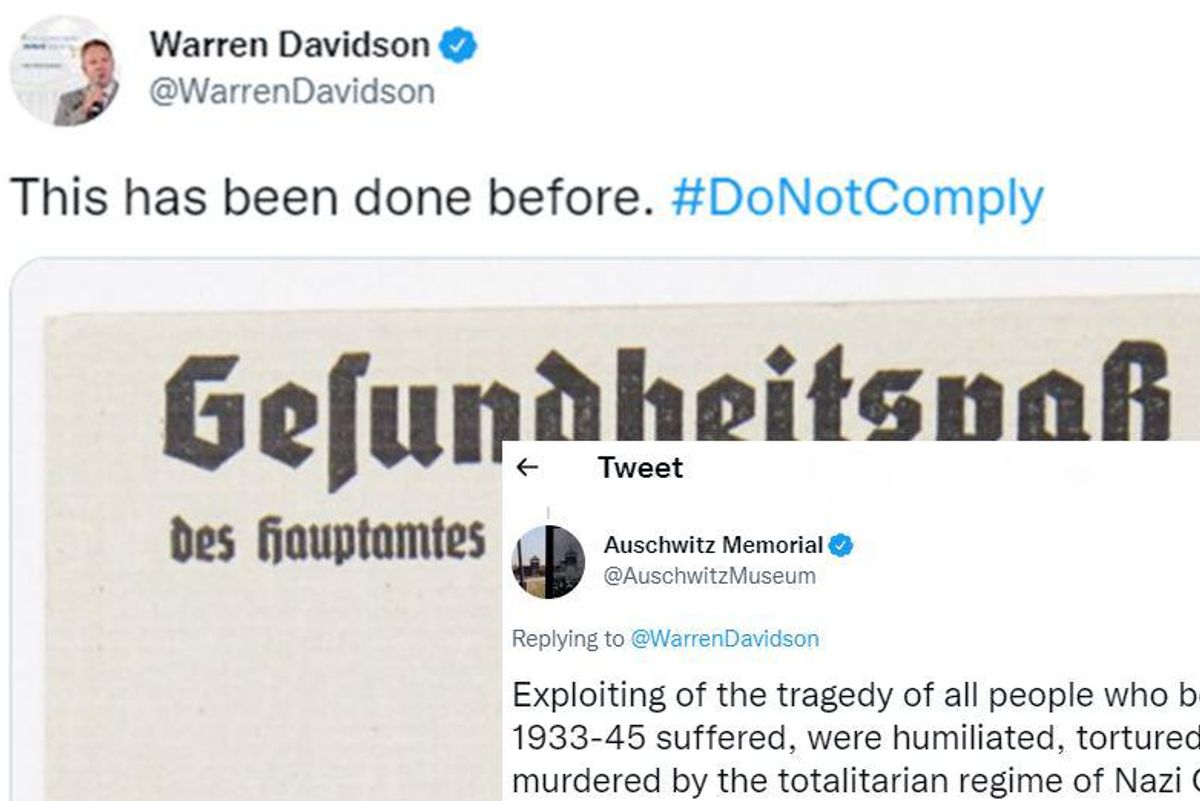 U.S. Rep. Warren Davidson, a Republican from Ohio, sparked considerable outrage on Wednesday when he compared proof of vaccination cards to the Gesundheitspass, a health pass that Nazis demanded people carry during Hitler's reign of terror.
His tweet was a response to Washington, D.C.'s new mandate that anyone 12 and older will need to show proof of at least one vaccine shot before entering restaurants and other indoor venues.
Davidson tweeted an image of a Gesundheitspass along with the caption, "This has been done before" as a response to a tweet about the mandate from D.C. Mayor Muriel Bowser. He then took things a step further by doubling down on his tweet with an explanation.
"Let's recall that the Nazis dehumanized Jewish people before segregating them, segregated them before imprisoning them, imprisoned them before enslaving them, and enslaved them before massacring them," Davidson tweeted. "Dehumanizing and segregation are underway – and wrong."
---
This has been done before. #DoNotComply https://twitter.com/mayorbowser/status/1480956796395216900u00a0u2026pic.twitter.com/pHeeNPVhlP

— Warren Davidson (@Warren Davidson)
1641984463
Dehumanizing and segregation are underway – and wrong.pic.twitter.com/8OAf54zDSU

— Warren Davidson (@Warren Davidson)
1641991684
By invoking the Holocaust, Davidson broke the first rule of politics, never compare anything or anyone to the atrocities committed by Hitler and the Nazis. The only logical comparison that can be drawn between the Nazis and Washington, D.C. is that they both required people to present official documents with information about their health.
The city of Washington, D.C. is trying to keep people healthy by preventing the spread of a deadly disease. The Nazis were running a campaign of racial purity that would lead to the deaths of millions of people. The two aren't remotely alike.
Davidson's statement wasn't just ridiculous, it was dangerous as well. It trivialized the unspeakable suffering that was caused by Hitler. When we downplay the seriousness of such an event, we embolden those who wish to see it happen again.
It also falsely turns those who are unvaccinated into victims when they are the people who are much more likely to cause the spread of the disease and put others' health at risk. Davidson's tweet is also playing up the idea that the unvaccinated are somehow righteous martyrs and victims of an authoritarian state. When people get a feeling of self-righteousness over their decisions, they are much less likely to change their minds.
Let's face it, people who incorrectly believe they are standing up to people as bad as Nazis feel pretty good about themselves.
Davidson's tweet was criticized by the Auschwitz Museum in Poland for "exploiting the tragedy."
Auschwitz was the site of the Nazi's most notorious concentration camp where more than 1.1 million people were exterminated.
Exploiting of the tragedy of all people who between 1933-45 suffered, were humiliated, tortured & murdered by the totalitarian regime of Nazi Germany in a debate about vaccines & covid limitations in the time of global pandemic is a sad symptom of moral and intellectual decay.

— Auschwitz Memorial (@AuschwitzMuseum) January 12, 2022
Davidson's tweet was also condemned by Yad Vashem, which said he denigrated the "memory of victims and survivors." Yad Vashem is Israel's official memorial to the victims of the Holocaust. It is dedicated to preserving the memory of the Jews who were murdered and honoring Jews who fought against their Nazi oppressors.
Yad Vashem strongly condemns the use of the Holocaust to further agendas that are totally unrelated to the Holocaust. Manipulating the Holocaust in this way trivializes the horrific atrocities that were perpetrated & denigrates the memory of victims and survivors.

— Yad Vashem (@yadvashem) January 13, 2022
On Thursday, Davidson did something rather shocking in today's political climate, he apologized for his tweet. It wasn't a full-throated mea culpa, however, as he clung to the idea that there was some association between both health passes.
He started it with a quote from Mark Twain, "History doesn't repeat itself, but it often rhymes."
"I had hoped to point that out," Davidson wrote. "Bad things happen when governments dehumanize people. Sometimes, there is a next step – to systematically segregate them. Unfortunately, any reference to how the Nazis actually did that prevents a focus on anything other than the Holocaust. I appreciate my Jewish friends who have explained their perspectives and feel horrible that I have offended anyone. My sincere apologies."
For my Jewish friends, and all others, my sincere apologies.pic.twitter.com/gyZm1onCOb

— Warren Davidson (@Warren Davidson)
1642088571
Davidson may have apologized for his comparison, but he doesn't seem to understand the deeper error of his ways. We need politicians who represent large factions of unvaccinated people to speak to them honestly about the benefits of vaccination and the good it does for public health. Instead, he chooses to play to their self-righteous victimhood, which only exacerbates the pandemic and makes it necessary for governments to mandate vaccine passes in the first place.