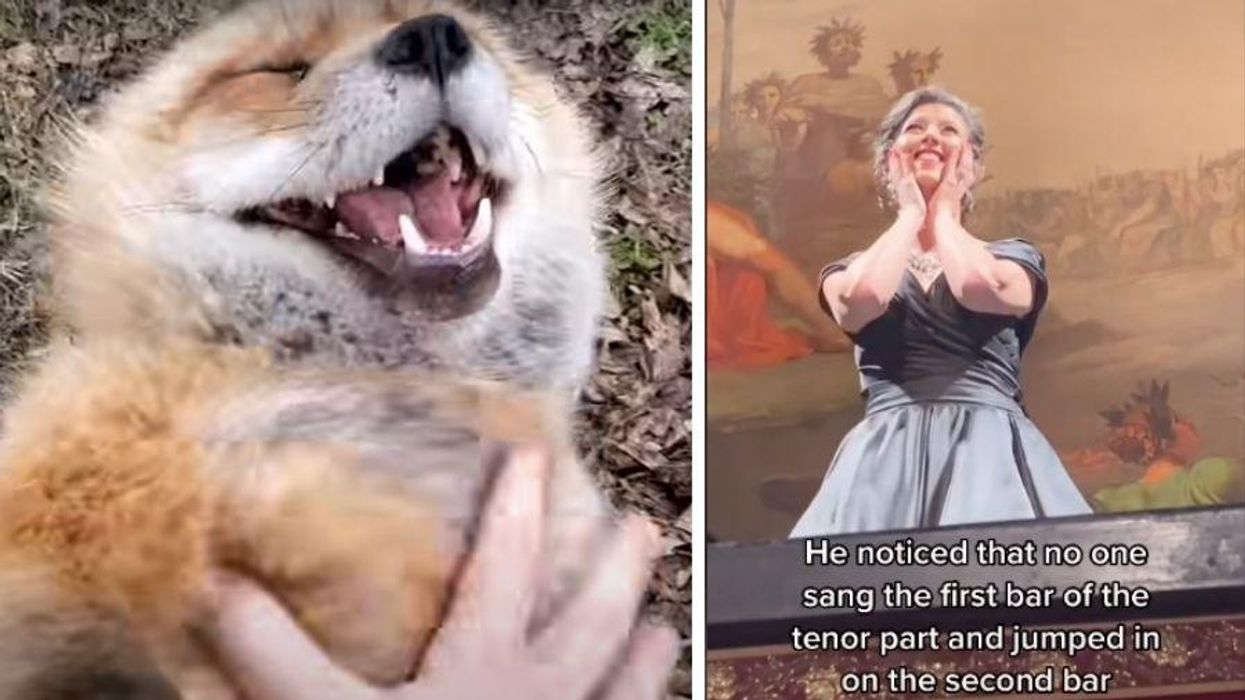 Hey everyone! Hope you're staying safe and healthy, and if you're not, at least you know you're not alone. I mean, omicron? Phew. Pandemics certainly know how to keep us on our toes.
If you need a respite or distraction from all that, we've got you covered. If immersing yourself in cute animal videos and feel-good stories of human awesomeness is wrong, who wants to be right? Nobody, that's who.
We all need a break from the less pleasant parts of life, and cheering ourselves up with simple, happy things is a tried and true way to push those endorphins and lift our mood for a bit.
---
So here you go. Our weekly roundup of 10 things that made us smile. Hope it makes you smile, too.
All you need is a dog, a toddler and a flashlight.
@m.tothea.d.i

When these two find a flashlight 🙄 #toddlersoftiktok #bellylaughs #dogsofttiktok #giggles #babygiggle #dogandbaby #bestfriends #babylaugh
It's like watching a cat chase a laser, only 500 times cuter.
An equally odd but impressive cover of "Sweet Child o' Mine."
This is so good! nnVia @davmirandapic.twitter.com/D3pJT4YM4j

— Ann is still European ud83cudf0dI know where I live (@Ann is still European ud83cudf0dI know where I live)
1641997370
Researchers find at least 65 species that laugh, and fox giggles are like medicine.
These foxes sound like we took the toddler in the first video and put them on helium. Did you know at least 65 species laugh in some way? Read the full story here.
From animals laughing to animals noshing on corn. 
We don't know why but we can't get enough of hearing Rico the porcupine snacking!pic.twitter.com/AabtDpR2JJ

— Cincinnati Zoo (@Cincinnati Zoo)
1641661220
Why is this so cute and kinda gross at the same time?
News anchor mom reports on her toddler's Olive Garden tantrum.
@kaylareporting

Now accepting donations for babysitters & or take out! Venmo: @Kayla-Sullivan-96 🤣 #NewsVoice #ToddlerMom #EveryKiss #newsvoice #YerAWizard #2022
Kayla Sullivan really did work as a reporter, which is clear from her perfect reporter voice. But the toddler imitation of "Chech-up! CHECH-UUUP!!" takes the cake. Read the full story here.
Sheep-herding puppy in training seems to get some love from the sheep.
Anatolian shepherd dog puppy in training..pic.twitter.com/hqxaPmCcEd

— Buitengebieden (@Buitengebieden)
1642016833
Come on now. This is just precious. You can almost hear the one sheep say, "Nope, over here, little one," when the pupper veers off the path.
Stranger delights opera star by standing up and singing with her during an encore.
The video text gives you the gist, but this story is just one of the best things to go viral in a while. Read the full story here.
Cellist appears to summon deer with her cello-playing.
Perhaps the low notes mimick deer sounds, or perhaps they really just enjoy Bach.
Cat who wanders into school gets his own picture and ID card.
Ever since the Jean and Jorts cats-at-work saga went viral, people have been all about the orange tabbies, and Buster getting his own ID card is just too much.
Strangers plucked at random improvise at a lindy hop dance contest.
The dancing would be impressive even if they knew each other, but these West Coast Swing dancers and the song were chosen on the spot, so they had to improvise. They're so smooth together.
Hope that brought some light to your day! Come back next week for another roundup of internet sunshine.