The Zombie is one of the most iconic tropical cocktails to come out of the first Tiki era. This drink is all about the ABVs, spices, and tropical vibes. It's also on fire, which isn't that important if you're making these at home and during the day, but adds a nice touch once the sun goes down.
The rum drink is also an ass-kicker that will get you very twisted very fast. Invented in Hollywood at the famed Don The Beachcomber by Donn Beach himself in the 1930s, Old Donn would only allow you two per night. Otherwise, you'll turn into "the walking dead," according to old Mr. Beach. Consider yourself warned.
For this recipe, I'm sticking pretty much to the original Don The Beachcomber recipe from the 1930s. Hey, if it ain't broke, right? That said, this might taste pretty different from the modern takes on the Zombie, which tend to add a lot more sugar and citrus juice to the mix. That's basically done these days to calm down all that rum and allow you to drink more — read: spend more money at the bar. This version is far more spicy and botanical with a true rum punch to the face like it's supposed to be. Let's get shaking!
Also Read: The Top Five Cocktail Recipes of the Last Six Months
Zombie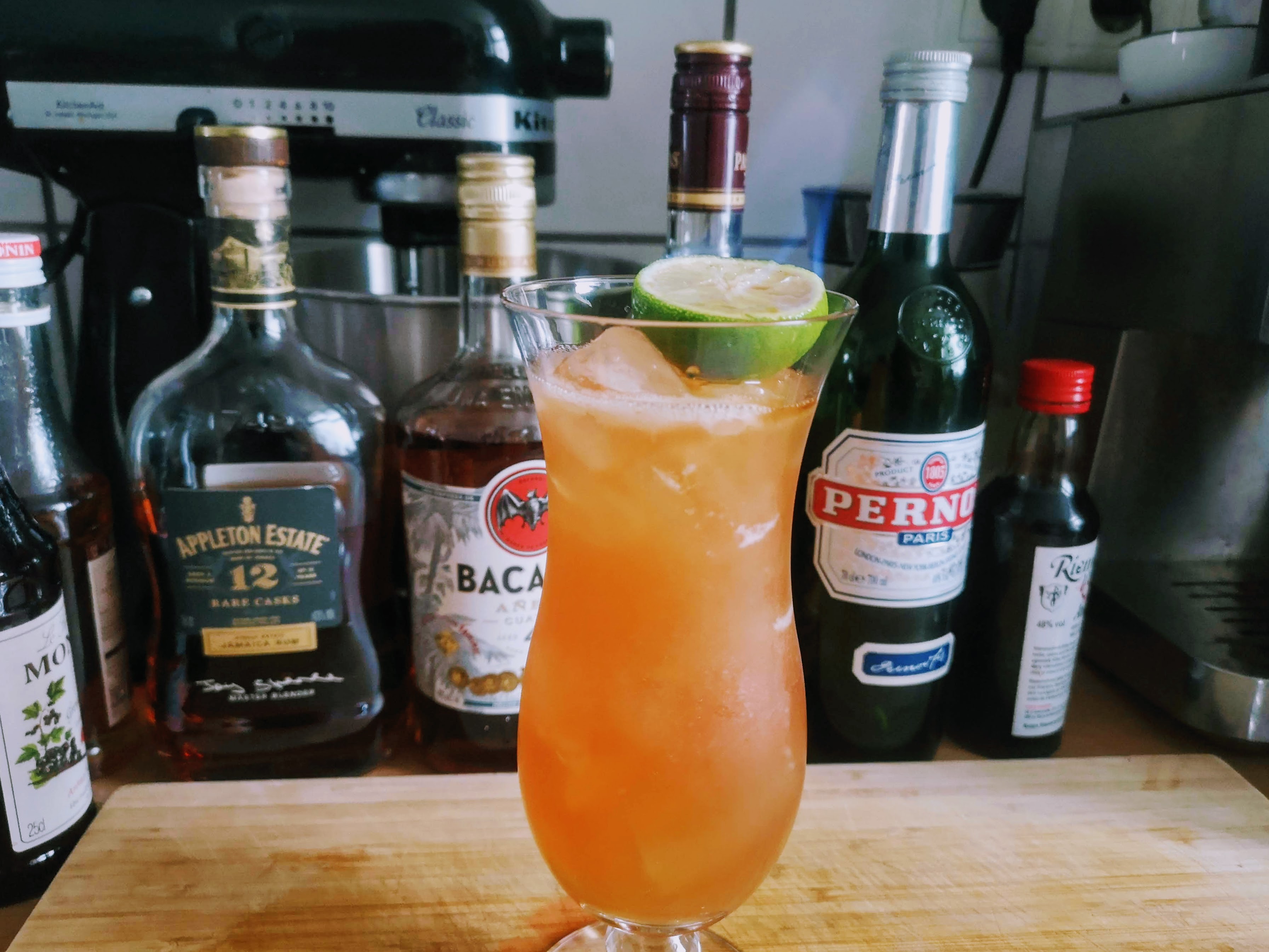 Ingredients:
1.5 oz. Jamaican dark rum
1.5 oz. Puerto Rican gold rum
1 oz. Overproof rum (plus more for garnish)
0.5 oz. fresh lime juice
0.25 oz. falernum syrup
0.25 oz Don's Mix***
1 barspoon grenadine
1 barspoon Pernod
1 dash Angostura bitters
Ice
Used lime half from juicing
For this recipe, I grabbed the first Jamaican and Puerto Rican rum from my shelf. That ended up being Appleton Estate 12 and Bacardi Cuatro, both of which are great for mixing. For the overproof rum, you tend to want to use a demerara rum from Venezuela, but any overproof will do.
The rest is pretty easily found at any good liquor store. The exception is Don's Mix which you might have to make on your own, recipe below.
*** Don's Mix is 2 parts fresh grapefruit juice and 1 part cinnamon syrup. Stir the two together to create the mix and then store in the fridge in a small bottle for no more than two weeks.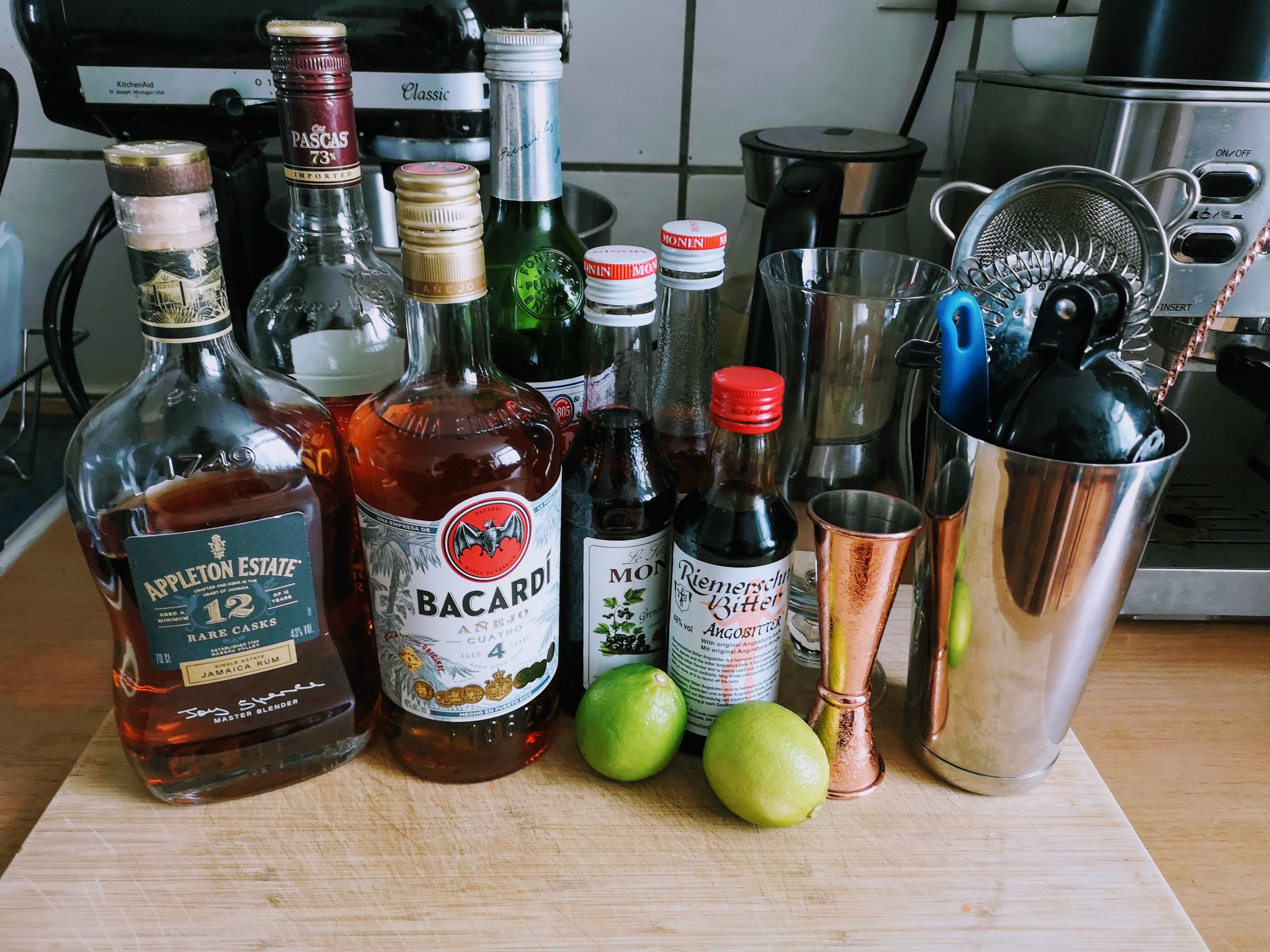 What You'll Need:
Hurricane glass
Cocktail shaker
Cocktail strainer
Paring knife
Hand juicer
Jigger
Barspoon
Straw
Match
Method:
Fill the hurricane glass with fresh ice.
Add the rums, lime juice, falernum syrup, Don's mix, grenadine, Pernod, and Angostura Bitters to the cocktail shaker. Add a handful of ice, affix the lid, and vigorously shake for about 20 seconds.
Strain the cocktail into the waiting hurricane glass. Take one of the smashed lime halves from juicing earlier and pour a small amount of the overproof rum over the flesh side of the lime, sort of filling it up. Place the lime on the top of the cocktail, skin side down. Use a match to light the lime and serve immediately.
Bottom Line: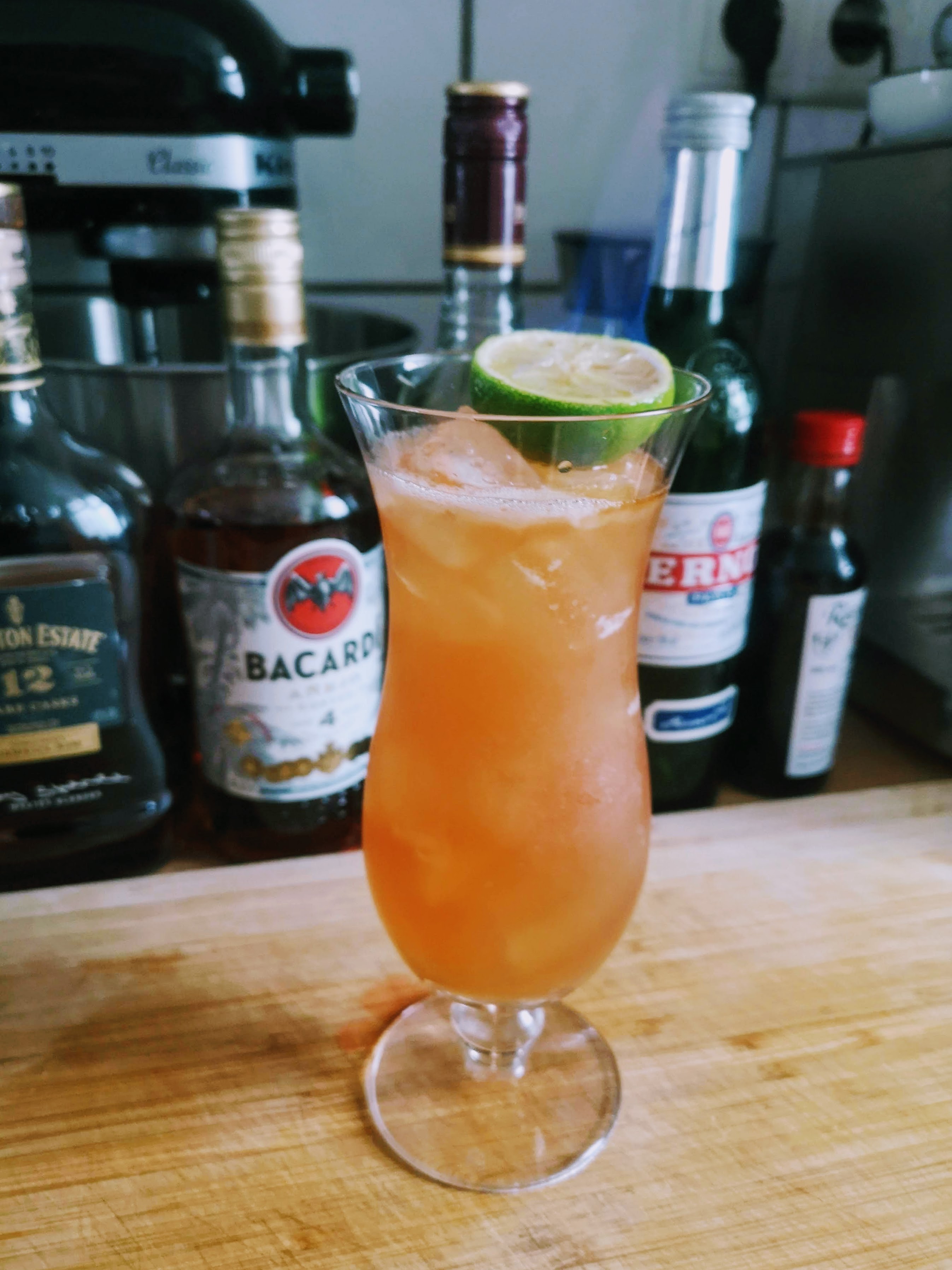 This is bold with a capital "B"! The rum shines through with a hint of funk next to sticky molasses with vanilla, spices, and sugar cane all coming through. The body of the drink is mellow and smooth but filled with a lot of woody botanicals and spices. It feels almost like the cocktail itself was barrel-aged. There are bitter notes like chinotto and allspice berries next to woody florals. It's really a great mix of depth and flavor.
It's also strong AF.
And while lighting this during the day in a bright kitchen was unnecessary, I did it anyway to demonstrate that it's easy and safe. Just make sure to blow out the blue flame within a minute or less.