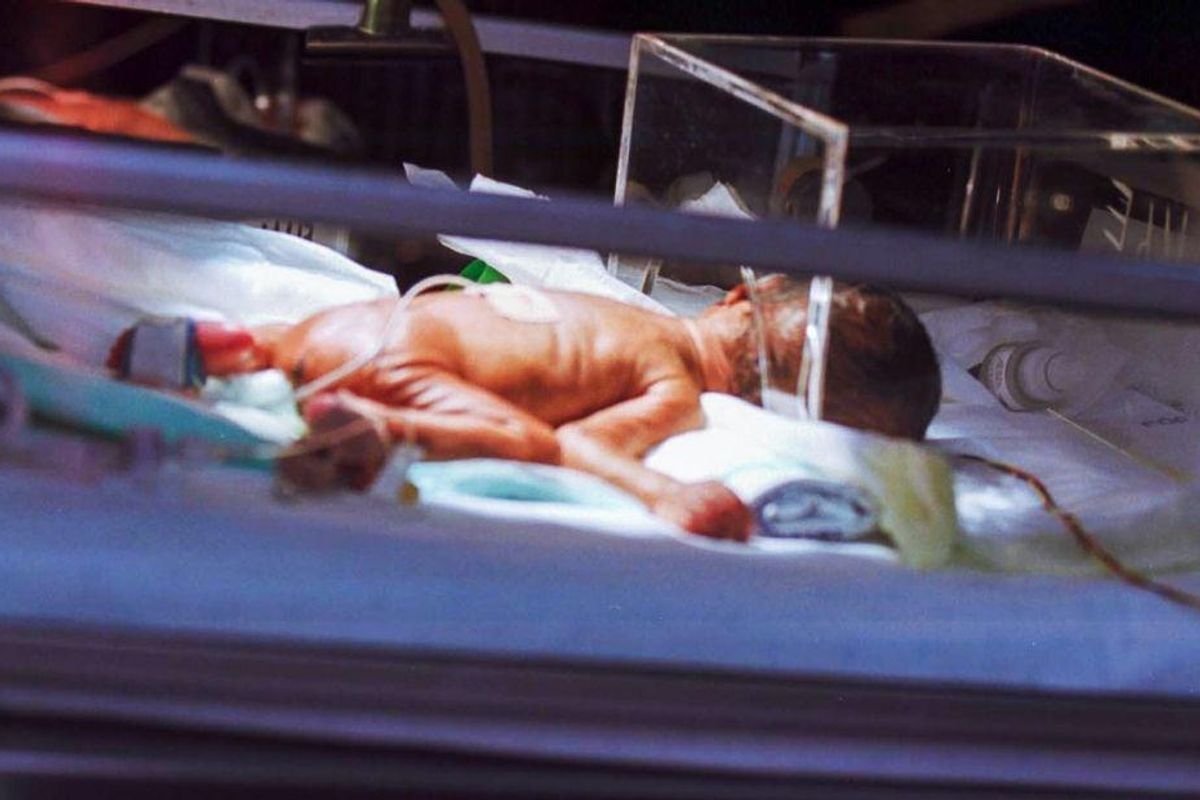 Marcus Mosley was born in 1995 at just 26 weeks gestation, meaning he spent his first few months of life in the neonatal intensive care unit (NICU). Now, 27 years later, Mosley has graduated medical school with the intention of specializing in the same kind of medicine that saved his life. He recently graduated from the CUNY School of Medicine at The City College of New York. His journey from being a patient to being a doctor in the NICU is well underway and the future is looking bright.
"It was very frightening when he was born and they told me that he was in the NICU," Mosley's mother, Pauline Mosley told "Good Morning America." "The doctors told me, they just kept giving me all these different percentages of very slim chance of him being normal, like less than 10% chance. They kept saying 90%, he might not be able to see. Eighty to 90%, he would have developmental delays. They didn't know."
---
While it's true that being born premature (before 37 weeks gestation) can lead to developmental delays and health problems that range from minor to severe, it's hard for doctors to predict that at the outset. The effects of being born premature and the care received aren't always known until the child gets older, but there is evidence that shows that Black babies are more likely to receive subpar NICU care.
A review of 41 studies that was released in 2019 found that Black preterm babies are the most vulnerable. Typically, hospitals with a higher amount of Black preemies had fewer nurses and lower-quality care compared to hospitals with a smaller amount of Black babies. Additionally, evidence showed that "minority-serving" NICUs had higher death rates. Lack of resources and understaffing at hospitals that serve communities of minorities is part of the problem.
Black parents have also talked about a lack of support as their babies leave the NICU. Some of the studies showed that Black parents were less likely to get referrals for follow-up care for their preemies. These parents also reported feeling less satisfied with their experiences, likely for the reasons mentioned above. If you're not feeling supported, then you're certainly not going to have a good experience.
Thankfully for the Mosley family, Marcus didn't suffer from any long-term health problems. But a return to the NICU when he was 13 set his life on its current trajectory. During the visit to the Westchester Medical Center, he met Dr. Edmund LaGamma, the chief of neonatology at Maria Fareri Children's Hospital at Westchester Medical Center. A relationship was forged between the two that would lead Mosley to make one of the most important discoveries of his life.
"He had called and said that he was a former patient of the Regional Neonatal Intensive Care Center and he was in high school and wanted to know if he could do a shadowing program over the summer," LaGamma told "Good Morning America."
LaGamma explained that in the time since Mosley had been a patient, "a lot of advances had been made," and he invited the young man to come join the team for rounds. Shadowing Dr. LaGamma and the team left quite the impression on Mosley.
One of our many star students and now Dr. Marcus Mosley was featured in his hometown paper and on Good Morning America. https://t.co/UQYak1j4Qx @GMA @CSOM_Official @CityCollegeNY pic.twitter.com/m4KDqbXPAZ

— Dr. Victoria Frye (@DrVictoriaFrye1) May 27, 2022
"That is what really piqued my interest and then solidified my interest in wanting to go into medicine," Mosley explained.
After that summer of shadowing, LaGamma began to act as a mentor to Mosley, especially when he enrolled in the accelerated B.A/M.D. program at City College, which happens to be LaGamma's alma mater. Mosley is gearing up to begin his pediatrics residency at New York-Presbyterian Morgan Stanley Children's Hospital.
"I'm really excited and looking forward to starting residency and to be able to take care of patients now," Mosley said. "I'll be responsible for patients and involved in patient care and treating families."
And his mentor thinks that he is just the right person for such a special and important kind of job. "I think he has that personality which comes across as engaging and inviting so that he'll do well as a pediatrician," LaGamma said, adding that he's already offering Mosley a fellowship position in the future.
It's beautiful to see how a formative part of your life can lead you down a specific life path.