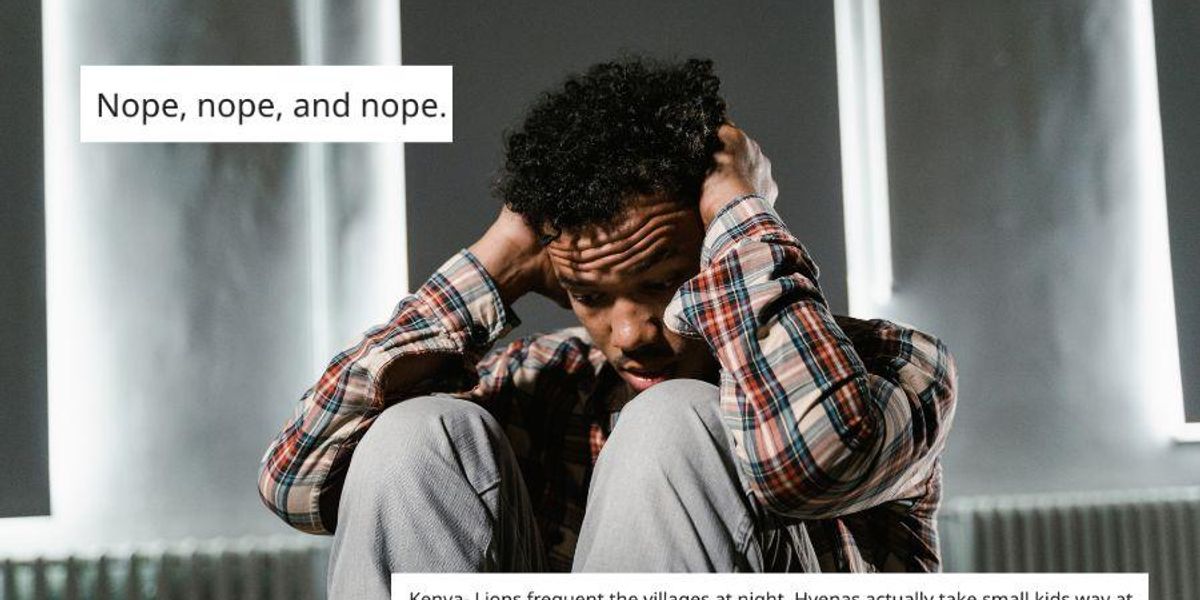 'Common' must be a word that's up for debate because my American brain refuses to believe that the occurrences these people are discussing are common anywhere in the world. But I also live where people fish next to signs that say "caution alligators may be present," so maybe I'm not the best judge of "common." Thanks to someone picking "things I never knew I wanted to know" on the Jeopardy board of Reddit, we now have a single thread that will tell you all the places to avoid … or places to travel to if you're channeling your inner Steve Irwin.
---
Someone on Reddit posed the question "What's something that happens in your country that would scare Americans?" Of course, the Australians were the first to pop on the scene with their spiders the size of dinner plates hanging out on your wall at any given time. Trying to watch TV? Giant spider. Giving your kids a bath? Sure, with a big ol' nope crawling up the wall. Obviously Australia is beautiful, but I think it would have to be to off set all of the things that are trying to take you off the planet. You know, it's pretty so it gives you incentive to stay and try not to die another day.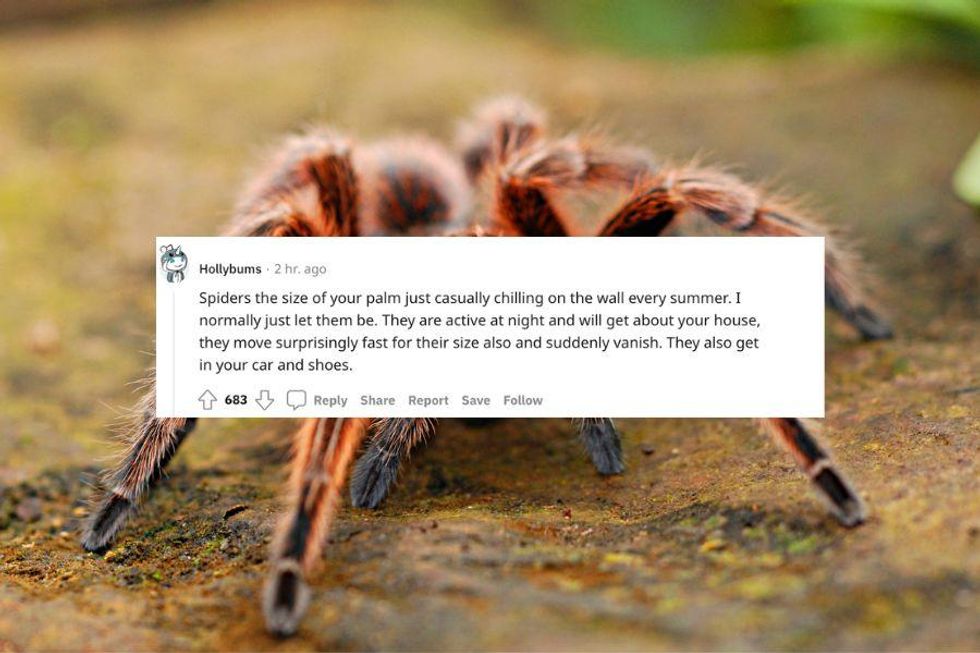 After the Australians warned the internet of their dog-sized spiders, an American followed up with probably the most American response you can think of, "As an American the walls of my house would be riddled with bullet holes if this were the case." Honestly, while I don't personally own a gun, I know how to make a flamethrower from household items so let's just say I'd be homeless but the spider would be dead.
Just when you thought spiders that could wrap a toddler in their web to save for later was bad, South Africa bursts through the door like the Kool-Aid Man. The South African commenter said that while they don't know any Americans personally, "people get concerned when I mention that we occasionally have baboons invading our houses." Don't worry though, they have social media groups dedicated to letting residents know when baboons are running amok so they can put up their animals.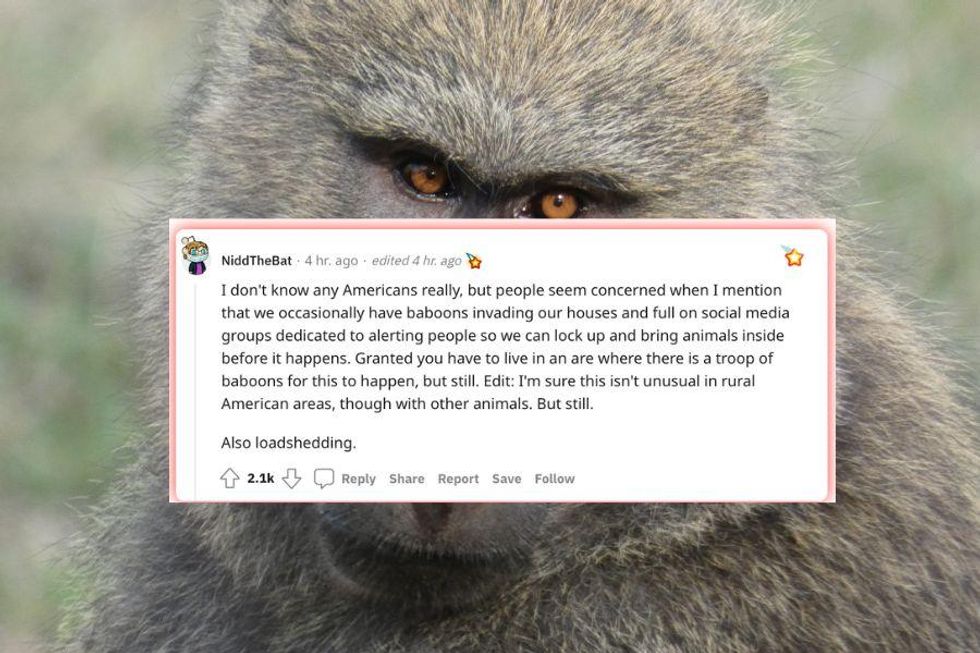 I'm sorry, what?! You mean to tell me after a long day of work, that you could come home to a dang baboon making himself at home and going through your pantry? Have you seen the teeth on those things? I'm not certain but I'm pretty sure they could eat your face off. The commenter didn't list the town they live in, so I'm just going to cross off the entire country until Baboon City has been identified. Because, absolutely not.
South Africa is out and apparently so is Kenya because they have wandering lions. Of course there are lions, it's Kenya, we just don't pet the big kitty. But apparently, hyenas snatch toddlers in that country and I'm just wondering how people survive in these places. Do they give "how to throat punch hyena lessons" in preschool or do they keep decoy toddlers around? There are so many questions and the commenter did not give any answers that would bring much comfort.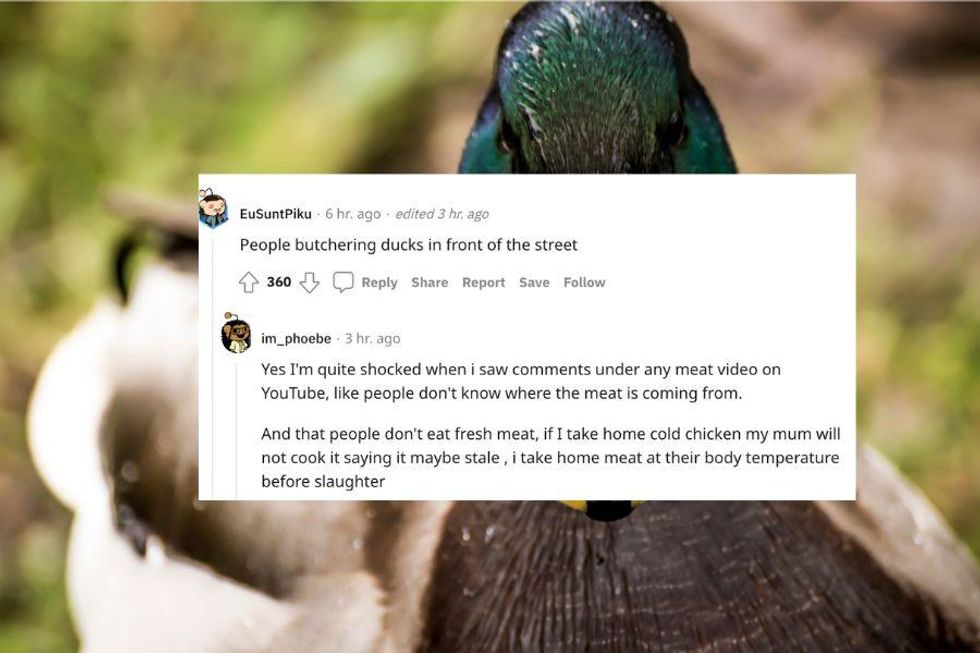 Hey, at least in Romania the most terrifying thing someone listed was waking up to the sound of your neighbor turning a live duck into a dinner-ready duck. After learning about all of the different ways certain countries try to put humans on the endangered species list, a little unfortunate quacking in the morning somehow doesn't sound as bad. If you want to check out the entire list before you make your travel plans, you can do that here.