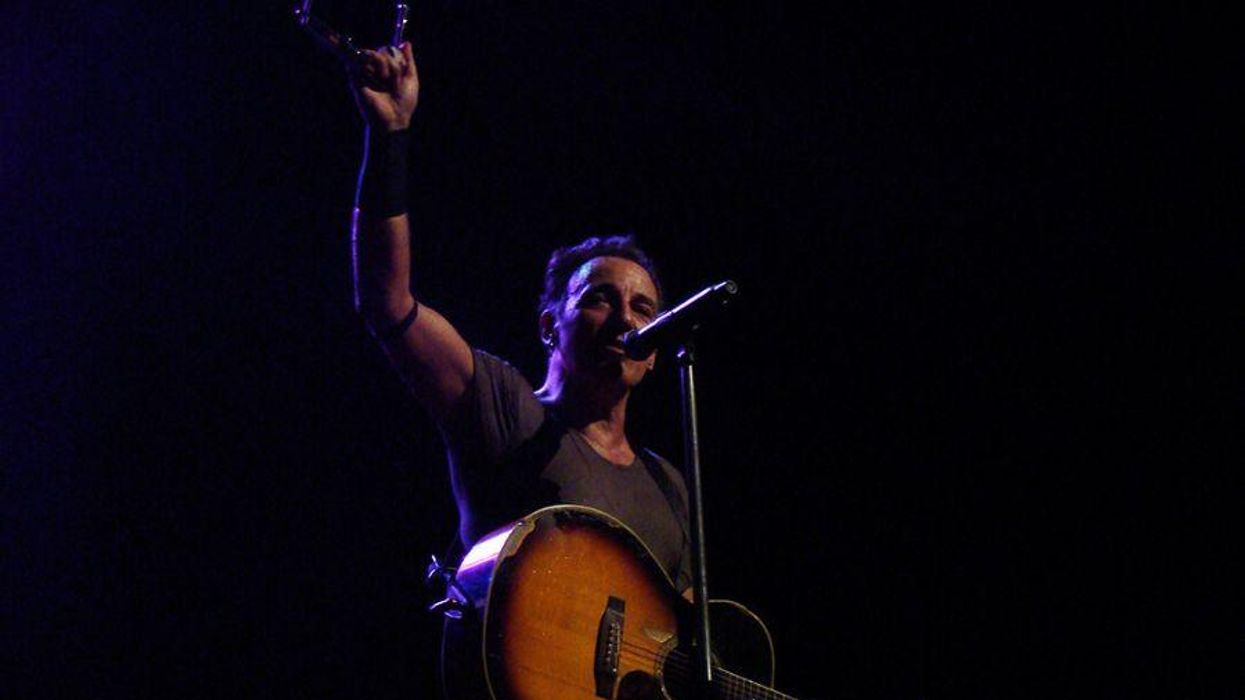 Anyone who has admired a famous person has probably imagined what it would be like to meet them in person. Some people might even fantasize about randomly striking up a conversation with said celebrity and exchanging more than just fleeting autograph-signing pleasantries.
Like, what if you were out for the evening and just happened to bump into a rock star? What if you invited them to your house … and they said yes? What if you kind of got to know each other and they remembered you and told stories about you for decades?
That would never happen, right? Except it did, for a young Bruce Springsteen fan, back in the heyday of his meteoric fame in the 1980s.
---
Springsteen shared the surprising story on "The Graham Norton Show" when the Irish show host asked him about it.
"You do seem to go above and beyond," Norton began before asking "The Boss" to tell a story of how he had met a fan at a cinema. Springsteen shared that he had gone by himself to a showing of a Woody Allen film in St. Louis, Missouri, on an off night between shows, when a young fan recognized him in the lobby and asked the singer if he'd like to sit with him and his girlfriend.
"So I said, 'OK,'" said Springsteen, to which Norton responded, "See already I just think, 'That's a hard no.'"
After the movie, the fan asked Springsteen if he'd come home with him and meet his parents. Again, Springsteen said, "OK," much to the surprise and delight of his fellow guests on Norton's show.
So at 11 o' clock at night, this kid brought Bruce Springsteen home to meet his mom, and her reaction to the stop-by was the best. Watch:
u201cIf you ever met your hero youu2019d hope theyu2019d be as cool as this!nnBRUCE SPRINGSTEEN tells GRAHAM NORTON about the time he made a fansu2019 dreams come true.u201d

— James Leighton (@James Leighton)
1668333261
"Oh my god, let me make him some eggs," has to be the most peak Midwest mom reaction to Bruce Springsteen showing up unannounced ever.
The story may seem unbelievable, but it's true … for the most part.
The main difference between The Boss' retelling and the news story about it from 1988 is that the kid wasn't with his girlfriend, but his sister. And the mom made him more than just eggs.
According to the St. Louis Post-Dispatch, the random meeting happened on Oct. 16, 1980. The mom, Sophie Satanovsky, reportedly said, "Right — and I'm Raquel Welch," when her kids first introduced Springsteen to her. And once she believed who he was, she scolded the kids and Springsteen for riding with strangers. (The son, Steve Satanovsky, passed away years ago, according to the Post-Dispatch, but he always cherished the encounter.)
Springsteen has a reputation for being the real deal. Bob Costas, who has interviewed the singer multiple times, told the Post-Dispatch, "He is always the coolest guy in the room, and there isn't one thimble's worth of, 'You know I'm the coolest guy in the room.' That authenticity is irresistible in an extremely acclaimed and accomplished person who could easily get away with another kind of behavior."
It's always lovely to see people who could be arrogant, aloof jerks turn out to be the genuine article. And nice to know that our dreams of randomly meeting our celebrity faves actually do have the tiniest chance of coming true.