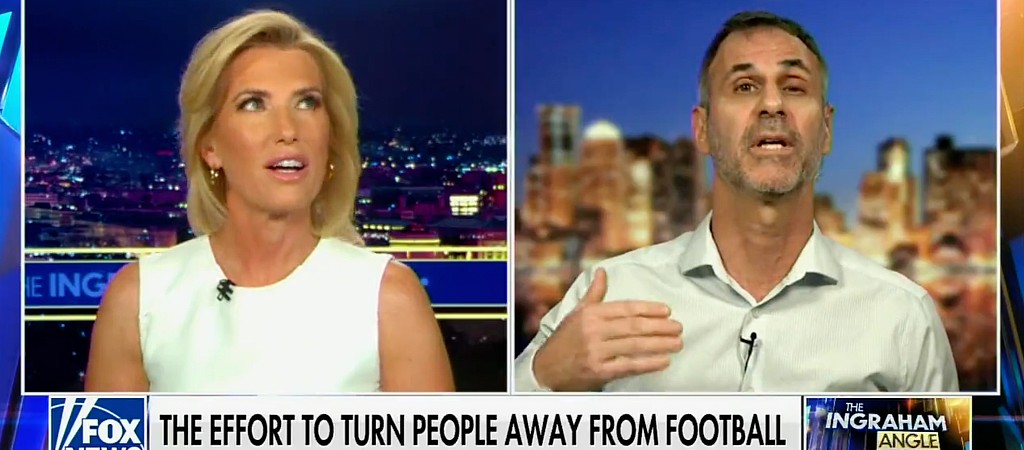 Laura Ingraham invited author Steve Almond onto her show to discuss the Damar Hamlin situation and how the NFL needs to do a better job protecting players. However, Almond switched things up by pointing out how Ingraham's workplace, Fox News, has been accused of acting as egregiously when it comes to covering up problems like, for example, sexual harassment. Almond argued that, allegedly like Fox News, the NFL would only make a move to enhance player safety if there's an economic incentive.
"It's like at Fox News when you have hosts who are allegedly sexually harassing people," Almond said. "Fox News throws money at that to make that PR problem go away."
After Ingraham chided him for his "cute little move," Almond pushed the boundaries even further by mocking Fox News for stirring up fears of a "woke mob." Via The Daily Beast:
Ingraham interjected that she is not "trying to scare the viewers," and that the sport is "not about politics."

"Oh, I think that's your entire economic model," Almond responded. "Your entire economic model is to scare your viewers. That's your whole gig."
However, Almond finally hit a nerve when he brought up the time that Ingraham was forced to apologize for mocking Parkland shooting survivor David Hogg, which caused a flustered Ingraham to cut Almond's mic.
"A couple of years ago when you taunted a survivor of the Parkland mass shooting, you apologized only because advertisers withdrew from your show," Almond said before being booted.
"Nice try, little buddy," Ingraham said while knowing Almond couldn't respond. "This is what they always do."
(Via The Daily Beast)