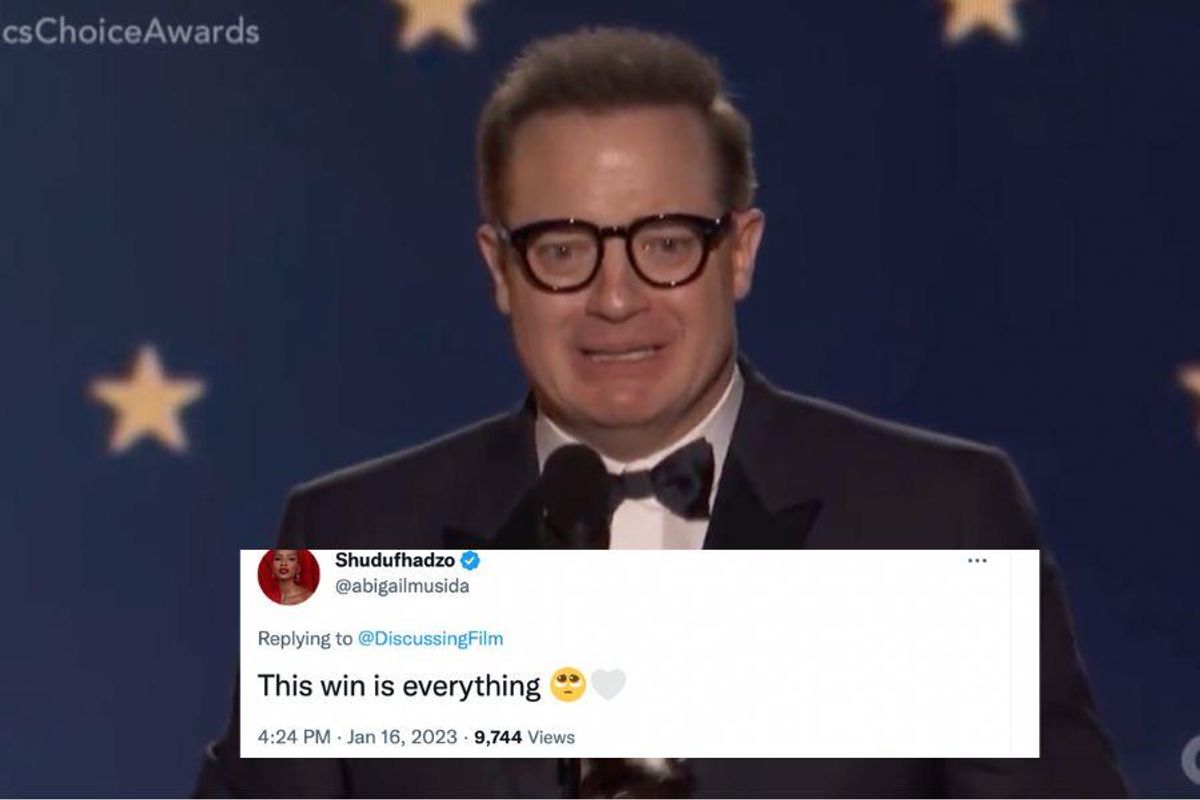 Like the rest of the world, we at Upworthy have found Brendan Fraser's glorious return to the Hollywood spotlight to be inspiring. After a multiyear hiatus, his role in Darren Aronofsky's "The Whale" has been a career milestone—both catapulting him back onto the big screen and gaining widespread accolades for his incredible performance. Seriously, if you haven't seen it yet, do. And bring tissues … it's beautifully heartbreaking.
At long last, it seems this beloved actor and genuinely decent guy is getting the comeback he deserves. Since "The Whale" released to theaters, Fraser has been a frontrunner for the coveted Best Actor title, and scored his first win (of probably many) at the 2023 Critics Choice Awards.
---
As you can probably imagine, this full-circle moment meant a lot to Fraser. The video below captures his initial reaction to hearing his name being announced and taking his triumphant march to the stage.
The moment Brendan Fraser won Best Actor at the #CriticsChoiceAwards

See the full winners list: https://t.co/7bQikYH6Le pic.twitter.com/lAgX8fAPJI

— DiscussingFilm (@DiscussingFilm) January 16, 2023
And as he delivered a moving acceptance speech, there wasn't a dry eye left in the house.
Because Brendan Fraser wouldn't be Brendan Fraser without a charming sense of humor, he began by making the audience laugh. "Where were you for 'Furry Vengeance'?" he quipped, harkening back to his comedy heyday.
He continued by praising his cast and crew members—including Aronofsky, who essentially plucked the actor out of obscurity. "I was in the wilderness and I probably should have left a trail of breadcrumbs, but you found me. And like all the best directors, you merely just showed me where to go to get to where I needed to be," he told the director.
Then, with his voice trembling with emotion, Fraser declared, "If you, like a guy like Charlie, who I played in this movie, in any way struggle with obesity or you just feel like you're in a dark sea, I want you to know that if you too can have the strength to just get to your feet and go to the light, good things will happen."
Brendan Fraser's emotional acceptance speech at the #CriticsChoiceAwards

See the full winners list: https://t.co/7bQikYH6Le pic.twitter.com/j0cj0tw3YQ

— DiscussingFilm (@DiscussingFilm) January 16, 2023
In "The Whale," Fraser plays a 600-pound man who uses his final days to reconcile with his estranged daughter (played by Sadie Sink). Whether or not obesity is a mental illness has been a subject of debate, however it has been closely linked with mood disorders like depression—which, let's face it, can make anyone feel hopeless and inert, overweight or not. Above all, the big theme of the film is about having the strength to hold onto hope, regardless of circumstances. Or as Fraser put it, "finding the light in a dark place."
Fraser's words touched many who have found themselves in similar situations:
hearing this at a dark time in my life really does make me emotional gyat dayum

— gungbunglung (@anthonypalmier9) January 16, 2023
I have yet to watch this movie 😭😭🥺 Getting to the light is so worth it, especially after rough times, when you felt trapped, subdued and with no way out! I'm so happy because I did that, here I am, in the light 💜💜💜

— Mariana / Your Curly Girl ☺️ (@mar5729_) January 17, 2023
Amazing speech! 👏 So many people out there struggling & so beautiful how he expresses how it feels & how to look for the Light! Keep pressing on till you find it! 💯

— Lynnda Mackey (@lynndamack) January 16, 2023
Time will tell if this moment foreshadows an Oscar win, but in our hearts, Fraser is already a winner. Thank you for giving us all a masterclass in emotional resilience and compassion.