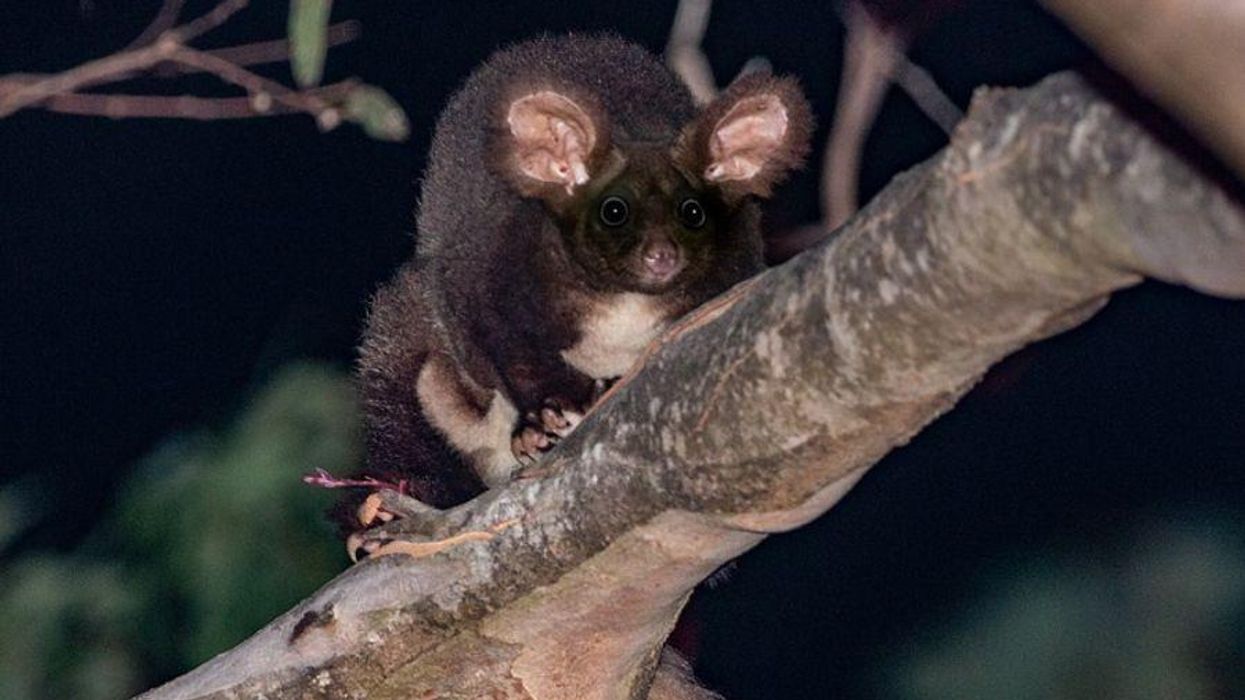 When a team of Australian researchers started checking the high-tech boxes they'd installed to help save endangered greater gliders, they weren't sure what they were going to find. The hope was that the tree-dwelling marsupials would use them for nesting—a replacement for the tree hollows they normally nest in—but no one knew whether or not the creatures would take to them.
So when Dr. Kita Ashman, Threatened Species and Climate Adaptation Ecologist at WWF-Australia, found a glider in the second box she checked, she was thrilled.
"I just burst into tears, I was so surprised and so happy," she told ABC News Australia.
---
Greater gliders are nocturnal marsupials that live in old-growth forests of eastern Australia. They have large ears, fluffy fur, long tails, and they can glide up to 100 meters at a time. The species is only found in Australia.
"I grew up looking at greater gliders all throughout the Dandenong Ranges. So they have a really special place in my heart," said Dr. Ashman told ANU.
The special nesting boxes were designed and created through a partnership between Australian National University (ANU), Greening Australia and the World Wide Fund for Nature-Australia after bushfires destroyed a third of the greater gliders' remaining habitat. The tree hollows that greater gliders rely on to nest can take over 100 years to form, according to ANU, so it's not like they can just find some new trees to live in when their homes are destroyed.
Nesting boxes that are commonly used for wildlife aren't a good fit for greater gliders, as the thin walls and lack of thermal protection can result in gliders overheating. (Heat-stressed gliders will slow their eating, which can be life-threatening, according to ANU.) The high-tech boxes in this project are insulated and include a non-toxic, heat-reflective, fire-resistant coating to keep gliders safe.
"I've affectionately been calling this design the Goldilocks box because we hope it will keep greater gliders not too hot and not too cold and will help to increase the species' resilience in a changing climate," Ashman said in July 2022.
"Producing and installing high-quality nest boxes is costly," added ANU research fellow Dr. Kara Youngentob, "so this project is very important because it will help us understand if expensive interventions like nest boxes are the best use of funding in our urgent mission to save greater gliders."
It appears that their efforts are paying off.
"What we didn't know was whether these boxes worked and whether they have an impact on the glider population," Dr. Youngentob told ABC News Australia. "Much to our delight, within a few months of them going up they are already being used by gliders, so we know the individuals themselves like them and use them."
According to Youngentob, greater gliders are the largest gliding marsupial at risk of extinction. More than 200 nesting boxes have been installed in Victoria's East Gippsland and in Tallaganda National Park in New South Wales. Youngentob told ABC News Australia that this project will help researchers learn more about how many of the species are left in the wild.
The quiet, nocturnal marsupial faces threats from climate change and deforestation in addition to the wildfires that ravaged Australia in 2020. Their population has fallen by 80% in the past 20 years and the species reached endangered status in July of 2022.
"They're a treasure for this country." Dr. Youngentob told ANU. "And I think the more people know about them, the more that they will fall in love with them and want to protect them too."