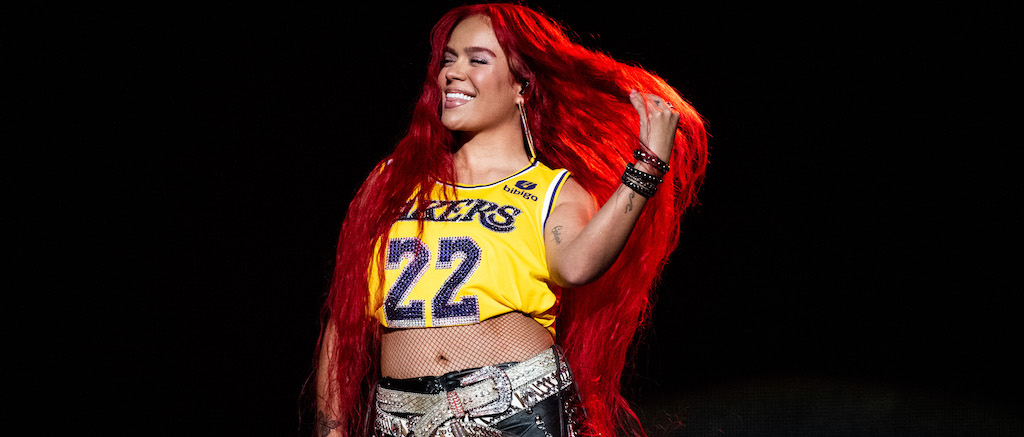 All eyes and ears have been on Karol G, and there are numbers to prove it. She ended 2022 as Spotify's most-streamed female Latin artist of the year and Vevo's most-watched artist. More over, the Colombian star's Strip Love Tour became the highest-grossing US tour by a female Latin act in history by grossing $69.9 million, as reported by Billboard. Karol G is hoping to maintain those crowns in 2023.
Today, January 25, Karol G announced her new album, Mañana Será Bonito, which translates to "tomorrow will be beautiful," through an endearing Instagram video. In it, a piece of paper slides down her windshield with a message to call a number if she's feeling sad. She rings the number, and we see a call center full of children. The adorable young boy who answers Karol G's call is wearing a T-shirt with the album's title written on it and encourages her with advice. The video ends with him telling her, "Mañana será bonito." She also drops a tease that the album is "coming soon."
Karol G's Spanish caption translates to "Finally!!!! FINALLY!!! Today I announce the project that I have devoted so much love and time to."
Mañana Será Bonito follows 2021's KG0516, which was nominated at last year's Grammys for Best Música Urbana Album.
"Every day I kept finding something I wanted to change or rethink, or finding little details I wanted to update," Karol G said about the album to Rolling Stone. "It's always hard, but now I've turned it in and it's finished, and I can't wait for people to hear it."
She added, "This definitely represents a specific phase of my life. The name of album is a phrase I kept repeating to myself when nothing felt great. I mean, I was going through the best moment of my career, but personally, I was really disconnected from myself and from my friends. I wasn't unhappy, but I wasn't happy either. So every day I'd say to myself, 'It's okay, mañana será bonito — tomorrow will be beautiful.'"