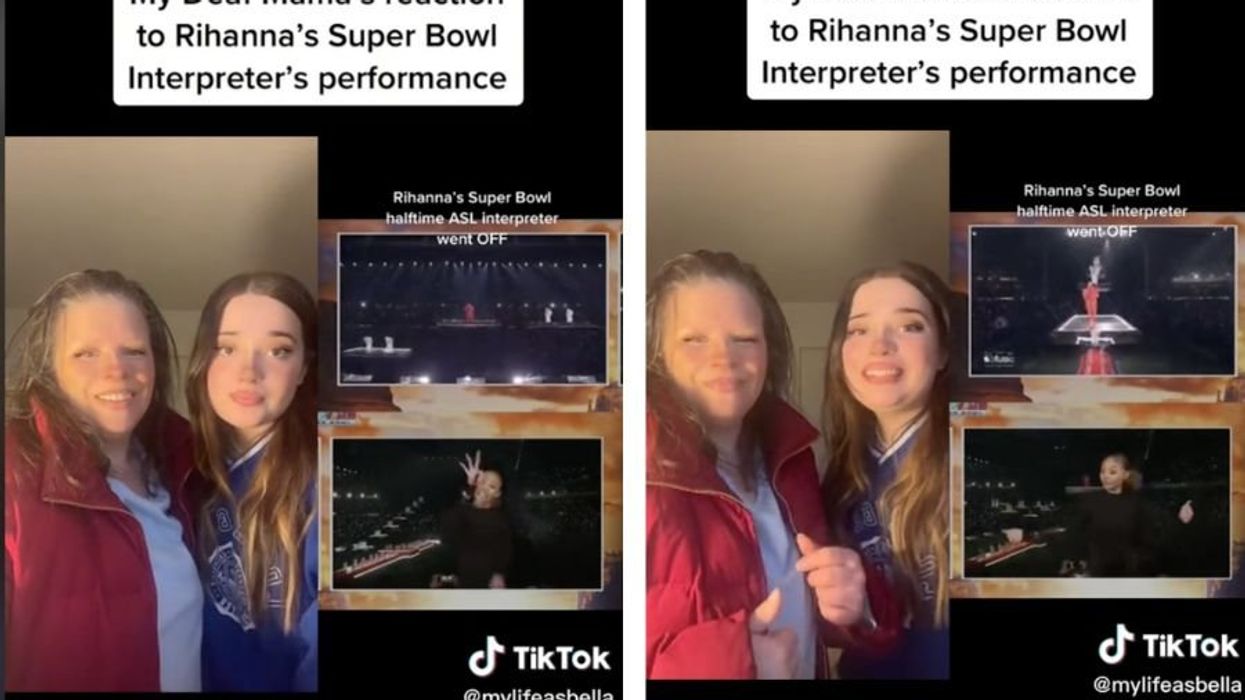 Sometimes you come across something so dang sweet and wholesome that you just have to pass it along. That's the case with this short video. TikTok user Bella, whose handle is @mylifeasbella, uploaded a video to the platform showing her mother and her watching a clip of Rihanna's interpreter, Justina Miles, signing the song the star was performing at the Super Bowl.
Bella is a child of deaf adults, otherwise known as CODA, and wanted to show her mother the video since her mom skipped the Super Bowl. But as it turns out, even if she had tuned into the game, the dynamic interpreter was not shown on the screen. Bella explained in a second video that if you wanted to see the interpreter you had to go to a separate link during the halftime show.
In the video, Bella's mom is just sort of standing there until she realizes what's happening. That's when you see a quick flash of surprise on her face before she starts smiling wider, and it doesn't take long for her to start signing along with the interpreter. By the end, Bella's mom is dancing to the beat. It certainly made people smile.
---
"Why am I tearing up. This made me so happy. Representation matters," one person wrote.
Another said, "Why did this make me cry seeing your mom react, so powerful."
"So beautiful watching mom's face light up," a different commenter wrote, while another person said, "this is the cutest video I have seen all day."
Clearly this video has people feeling all of the feels. It currently has over 7 million views and 817,000 likes. If you want to test your smile muscles, check out the video below:
@mylifeasbella

#duet with @rollingstone My mom didn't watch the superbowl so this was her first time seeing this and SHE LOOOVED 🤩 #fyp #deafparents #ASL #rihanna #reaction #coda #xyzbca