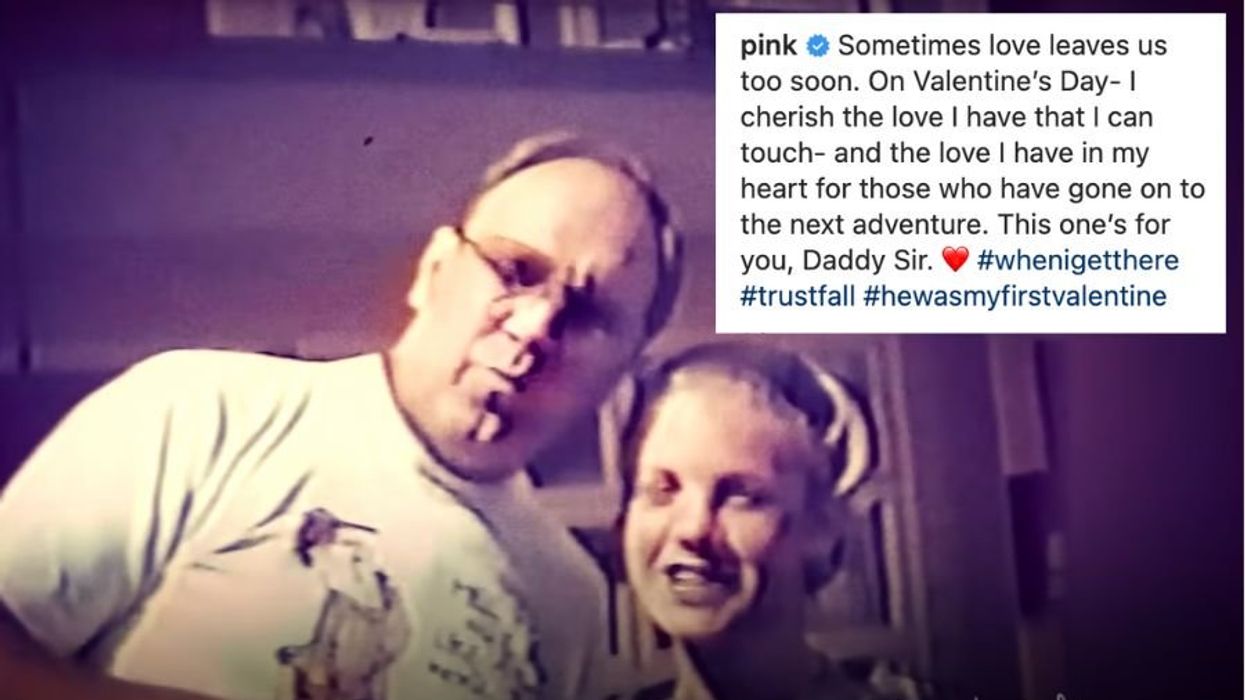 Music helps us not only connect with our deeper, perhaps less accessible emotions, but it also can connect us with those who have passed. Pink's new song "When I Get There" is a beautiful example of both.
Honoring the memory of her late father, Jim Moore, who died in 2021, the Grammy winner created a touching lyric video featuring home videos of them together. A small snippet of that video was shared on her Instagram on Valentine's Day.
"Sometimes love leaves us too soon. On Valentine's Day—I cherish the love I have that I can touch—and the love I have in my heart for those who have gone on to the next adventure. This one's for you, Daddy Sir," she wrote in the caption of her post, along with the hashtag #HeWasMyFirstValentine.
---
Her father's voice can be heard at the beginning of the video, sharing what those home videos meant to him.
"I thought it would be nice if you had some memories of how it all began and where you all came from, and some of the memories through the years," he says while his beloved daughter Alecia (Pink's real name) blows out candles for her first birthday.
We then see a progression of Pink's school photos through childhood.
There's also a full-length version of the song on Youtube. It shows Moore surprising Pink before a performance along with recitals, playing on a merry-go-round, singing together and cracking jokes at various moments throughout Pink's life.
The song's lyrics, which play upon the screen, reminisce about her late father's sense of humor, asking if there's "a bar up there where you've got a favorite chair." Ultimately, Pink shares her yearning for the day they can reunite, when she might meet him again in the afterlife.
Watch below. (Quick heads up: The full-length video contains a wee bit of profanity at the very beginning.)
The video struck a chord with many who had also lost a father. The comments were filled with people expressing how it helped them hark back to their own happy memories or process painful feelings.
Here are some of those touching comments:
"It's been 10 years since Daddy left but this hits deep but strangely it helps with the grief that never ends. Thank you P!NK."
"I lost my dad in July 2022… I've not cried like this since his funerals… I needed this. Thank you."
"Lost my dad suddenly in Dec 2020.. absolutely beautiful song. And now I'm crying my eyes out. He was my rock and the only 1 who didn't judge me and just supported me in every way he could."
"Everything and nothing makes me think of my Dad, but very few ppl can put it in words like this."
"Absolutely beautiful. Both my parents have passed and I'd like to think they will tell me when I get there, all the things I wonder about."
Loss is the inevitable price we pay to feel love toward the people in our lives. But holding onto their memories—be it in a song, a scrapbook or simply in our hearts—keeps them close. The pain might never go away, but neither does the impact they have on our lives.