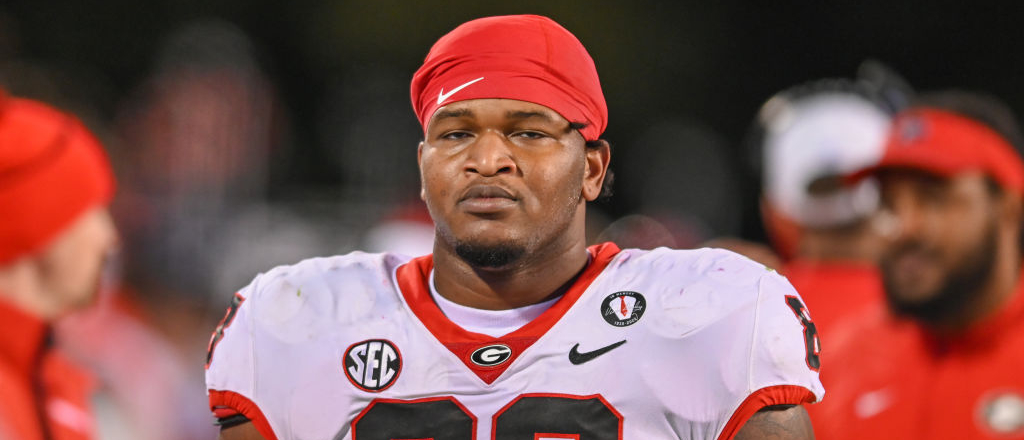 The Georgia football community lost two members of its family on Jan. 15, 2023, as offensive lineman Devin Willock and recruiting staff member Chandler LeCroy died in a car crash. On Wednesday morning, the Athens-Clarke County Police Department announced a warrant for the arrest of one of Willock's former teammates, Jalen Carter, on Reckless Driving and Racing charges in relation to the events that happened that evening.
The warrant, which you can read below, alleges that Carter and LeCroy "were operating their vehicles in a manner consistent with racing shortly after leaving the downtown Athens area at about 2:30 AM." After laying out what happened in the immediate lead-up to the crash, the police claim that "investigators determined that alcohol impairment, racing, reckless driving, and speed were significant contributing factors to the crash."
Jalen Carter is subject of arrest warrant in Athens after being implicated by police for racing in the crash that took the life of former teammate, and UGA staffer. pic.twitter.com/2TC0DS40sO

— Seth Emerson (@SethWEmerson) March 1, 2023
Carter is a top prospect in the 2023 NFL Draft, with ESPN's Mel Kiper putting him as the No. 1 player available in his most recent player ranking. The warrant for his arrest comes after the Atlanta Journal-Constitution published a report indicating that he was at the scene of the crash, as he originally claimed that he was a mile away when it happened.
Via the Atlanta Journal-Constitution:
Carter, a defensive star for Georgia who is projected as a top pick in this year's NFL draft, left the crash scene, apparently before the police or emergency medical workers arrived. When he returned an hour and a half later, he gave shifting accounts of the wreck as an Athens police officer questioned him about whether he had been racing the car that crashed, according to documents reviewed by The Atlanta Journal-Constitution.
The warrant was announced as Carter was in Indianapolis for the NFL Draft Combine. He was scheduled to speak to the media at 10:30 a.m. EST on Wednesday, but according to an NFL spokesperson, that will not go on as planned due to "medical testing."