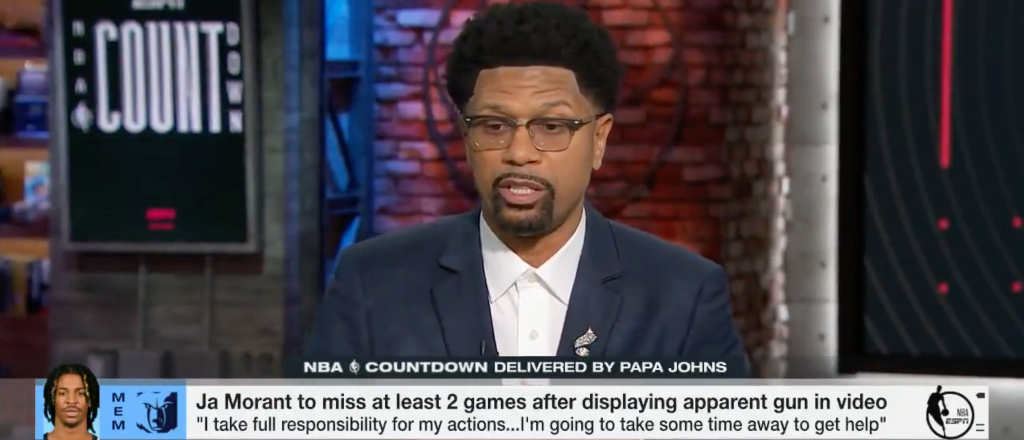 Ja Morant will leave the Memphis Grizzlies and miss at least the next two games. Morant is currently the subject of an NBA investigation due to an Instagram video in which he appeared to brandish a gun in a nightclub during the early hours of Saturday morning, and in a statement he released in the aftermath of the Grizzlies announcing his leave of absence, Morant said that "I'm going to take some time away to get help and work on learning better methods of dealing with stress and my overall well-being."
Unsurprisingly, there have been numerous reactions to the news, which extended to ABC's pregame show on Saturday night before the Milwaukee Bucks hosted the Philadelphia 76ers. After Stephen A. Smith and Michael Wilbon commented on the situation, Jalen Rose spoke about being in the situation where Morant currently finds himself during his own basketball playing career.
"I am Ja Morant," Rose said. "You guys got a chance to see me grow up for public consumption since 1991. I've been involved in drug raids, I've survived assassination attempts. I've been that undisciplined young person that was trying to figure out how to be famous, how to be successful, how to change the dynamics of my family."
Rose went on to say that Morant now finds himself in a position where he's gone from "a member of the family, a member of the crew, to being the leader," and as a result, things fall on him. He also shared his belief that "people come into your life for four reasons: to add, subtract, multiple, or divide — you have to choose wisely."
"He has way too much to lose," Rose said. "Trust me, I've been that young player carrying a gun, and Wilbon alluded to this: When you start waving it, that can get you killed. That's an entirely different thing than we're talking about a superstar athlete should be putting themself in position. And as Stephen A mentioned, that's him on the video, on his IG Live. Ain't nobody coaxing him, ain't nobody egging him on to do that, that's a personal choice."
Rose called fame a drug, then commended Morant for saying that he owned up to his mistakes and said making changes for himself was part of the reason why he is taking this leave. And after talking about the responsibility that a person has to "uplift" when they achieve the level of success Morant has already achieved, Rose ended with an optimistic message where he explained why he's glad Morant is going through this.
"He's a 23-year-old young man, nobody got arrested, nobody got injured, and I'm hearing too many stories about pistols, ok?" Rose said. "Allegedly with the 17-year-old kid, allegedly with the Indiana Pacers staff, last night on IG Live, I saw the video like you guys did brandishing the gun. The next step to that is now recovery, and I believe he's on that path, I'm happy that he's on that path.
"He's gonna return, and he's gonna be a better person, and because of all of this taking place, he's gonna be able to live his full potential."