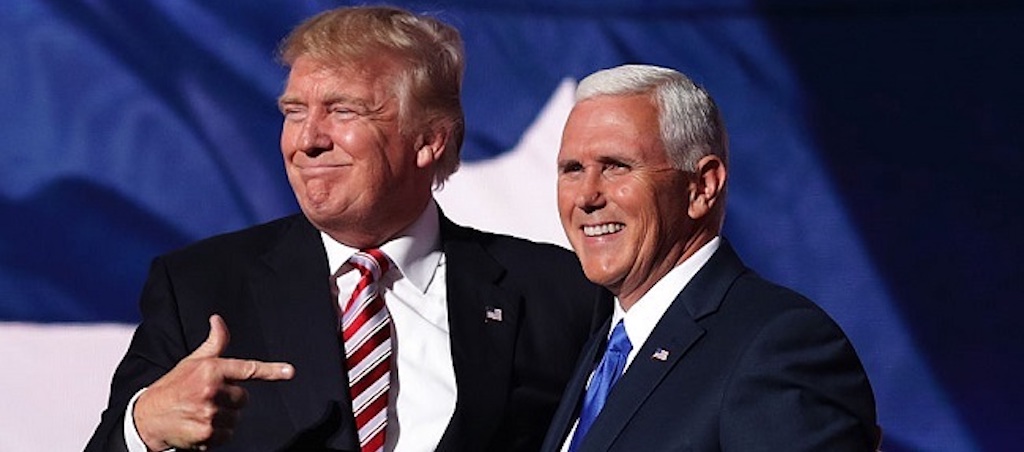 For over two years, Mike Pence has been a mensch about almost getting killed during the Jan. 6 riot. He's been diplomatic, to a fault, about the person who endangered his life, former president Donald Trump. No more. The former veep is running for president, and at a dinner on Saturday night, the gloves finally, finally, finally came off.
At the annual Gridiron Club Dinner in DC, Pence knocked both Trump and Tucker Carlson, who last week aired segments attempting to whitewash the Capitol attack, painting its perpetrators — some of whom wanted to hang Pence, which Trump later defended — as mere "sightseers." Pence told the crowd it was a "tragic day," then slammed Trump for almost getting him killed.
"President Trump was wrong," Pence told the crowd. "I had no right to overturn the election and his reckless words endangered my family and everyone at the Capitol that day, and I know that history will hold Donald Trump accountable."
He also tacitly torched Tucker. "Tourists don't injure 140 police officers by sightseeing," said Pence. "Tourists don't break down doors to get to the Speaker of the House or voice threats against public officials."
Pence added, "Make no mistake about it, what happened that day was a disgrace, and it mocks decency to portray it in any other way."
He even did the unthinkable among today's GOP: He praised the media. "The American people have a right to know what took place at the Capitol on January 6, and I expect members of the fourth estate to continue to do their job," he said. "We were able to stay at our post, in part, because you stayed at your post. The American people know what happened that day because you never stopped reporting."
What's more, the famously stolid Pence actually made some jokes, and about his former boss. "I think [Trump] and I are on very good terms," he cracked. "I mean, he's never called me a low-energy moron. Not yet."
He added, "Honestly, I learned a lot working beside Donald Trump, like about subpoenas for instance."
Anyway, good for Mike Pence, finally coming out against the guy who revved up his violent supporters to string him up on a noose, which was erected outside the Capitol. And to think it only take him over two years to do so.
(Via CNN)