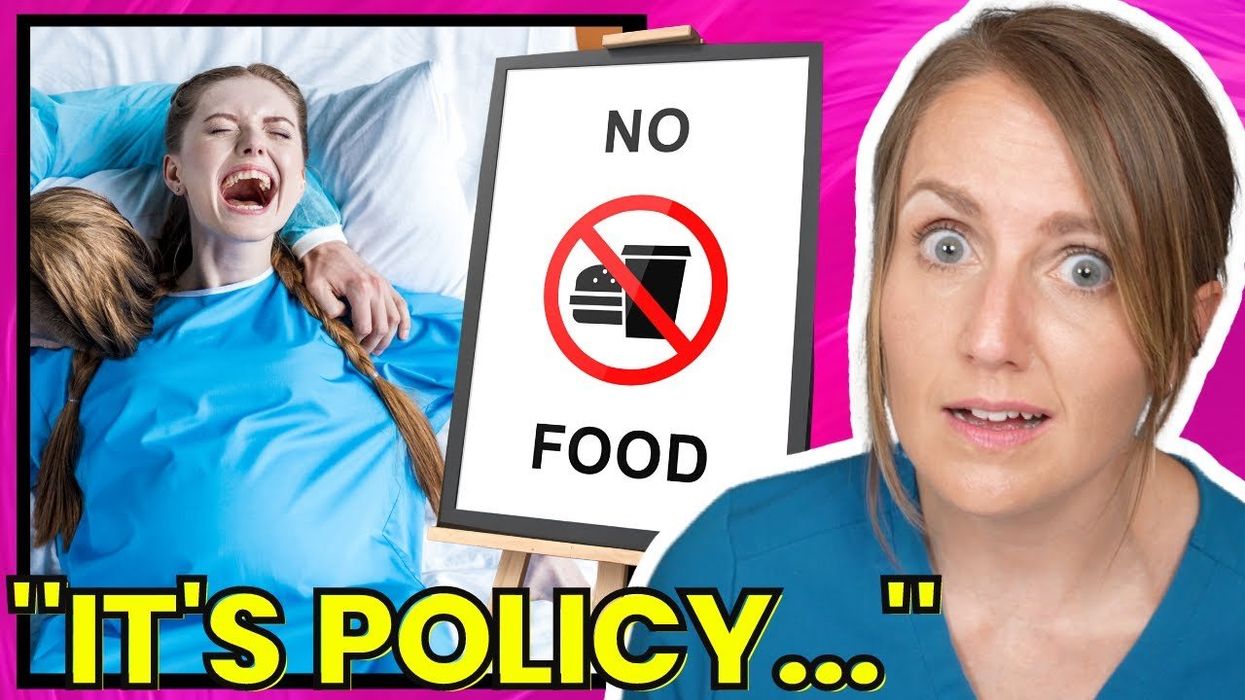 If you've ever delivered a baby in the hospital or been a part of someone's support system while they gave birth, then you know that American hospitals generally have a strict policy on not eating while in labor. As someone who had children in a hospital, not being able to eat while in pain can make you feel absolutely feral. Weak, but feral.
Most people I know who have had babies don't understand the seemingly nationwide hospital policy on depriving birthing people of food right before they push an entire human out of their bodies. Delivering a baby is not a bystander event for the one doing the pushing, so restricting calories is a confusing practice.
Turns out there's a reason for this strange practice, and honestly, I can't promise that it won't make you angry. Dr. Danielle Jones, board-certified OB-GYN, breaks down why doctors started this practice in a video uploaded to her YouTube channel, Mama Doctor Jones.
---
Jones starts the video by explaining that the practice of not allowing people giving birth to eat began around the same time they stopped using chloroform to reduce pain during labor. I mean, I suppose you couldn't feel any pain if you were unconscious, so the 40s were off to a swimming start.
In 1946, Dr. Curtis Mendelson published a paper focusing on labor complications, in which he revealed that the aspiration risk during pregnancy was 0.15%.
"Aspiration is where you inhale stomach contents into the lungs. That can be extremely dangerous. It can kill you. It often doesn't kill you but it certainly can," Jones explains. "The risk of aspiration comes along mainly when we're talking about needing to do a cesarian delivery or some kind of surgery on someone who is pregnant under a general anesthetic."
Obviously, in 1946, it was a little riskier to have a baby and maternal mortality was atrociously high. This isn't the case anymore and general anesthesia for a cesarian is very rarely used, so the risk of aspiration is even lower.
The obstetric risk of aspiration, "was based on two deaths from aspiration in 40,000 pregnancies in 1946," Jones continued. "For those following who like the numbers, the risk of dying from obstetric aspiration in 1946 when it was magnitudes more common to die from pregnancy and also anesthetic techniques made it easier to aspirate was 0.0045%."
So…what she's saying is, I probably could've eaten that cheeseburger because it's not 1946, and not only do doctors know to wash their hands before surgery, but they also have better techniques for anesthesia? Hmmm…
Watch the whole video below to see if maybe hospitals should allow a little snacky-snack between contractions.