Brittni Donaldson always saw her future as a pro basketball player, but her knees had other plans.
Donaldson battled numerous injuries in her time at Northern Iowa, including meniscus tears, a failed microfracture surgery, and the residual pain she felt from the culmination. Prior to her senior season, she was faced with a decision.
"Stop playing the game, or you're going to need a knee replacement by the time you're 30," Donaldson recalls doctors telling her. "Or, we can try this other surgery, a femoral osteotomy, typically done on geriatric patients who are still very active and don't want a knee replacement."
A femoral osteotomy is a major procedure, where surgeons break your femur and re-align it with a wedge to shift weight to parts of the knee with more healthy cartilage. It's like getting an entirely new leg. Your gait changes and you have to relearn how to walk and run. The basics and foundations of movement are shaken, and that's before you even get back to the court and try to find your game again. Not ready to give up on her basketball dreams, Donaldson opted to give it a try.
"I wanted to continue playing. I wanted to finish my basketball career in uniform, on the court, and on my own terms. It was one of the most challenging parts of my life," says Donaldson.
She spent six weeks unable to put weight on her leg. Eight hours a day were spent in a small machine that would move her leg and stimulate her muscles. After a grueling rehab process, Donaldson was able to return to the court and play in a limited role her final year, experiencing her senior night as an active player.
Donaldson wouldn't wish her injury on anyone, but she credits it for giving her a new perspective on life and basketball. It was the first time she was forced to stop playing and shift her focus, spending more time on the bench and alongside the coaching staff than she ever had. She began to see the game more through a coach's lens and her interest was piqued in unexpected ways.
After graduating with a degree in statistics and actuarial sciences from UNI, Donaldson took a job as an analyst at Stats Perform, a sports data and tracking company, so she could blend her love of math and numbers with basketball, working odd and long hours watching games and making sure the tracking data acquired during games didn't have abnormalities. Having found her new passion, she was able to secure a job with the Toronto Raptors in 2017, signing on as a data analyst before eventually joining Nick Nurse's coaching staff in 2019.
After a year behind the bench, Donaldson further honed herself as a coach during the G-League bubble, moving up front as one of the lead assistants on Patrick Mutombo's Raptors 905 staff. It was a major change in responsibilities, as behind the bench you provide input and suggestions in-game from a supporting role. Moving into one of the lead assistant roles brings you more directly into the team, running drills in practice, managing substitutions, presenting film to the team, creating scouting reports, and presenting scouts plans of opposition to the team.
"It only lasted six or seven weeks, and I learned so much in that short amount of time. It propelled my development and I'm so appreciative for that time… we had a really great group," says Donaldson.
After a few years in the Raptors organization, Donaldson sought out a new challenge joining the Hamilton Honey Badgers in the Canadian Elite Basketball League, serving as an assistant coach and director of coaching development as the Honey Badgers won their first CEBL title in 2022.
Director of coaching development is an uncommon role, and something Donaldson found a great deal of joy in. She helped plan out and redesign practices and film sessions to better impact development and learning, cutting the chafe and finding more intuitive ways to make learning stick with players and make coaches more efficient. She'd sit down with other coaches each day and go through the practice plan beforehand, finding ways to tailor it and tweak it to emulate in-game scenarios.
"Often times, coaches want practice to look really nice and neat, but learning happens most when you're simulating your environment as much as possible. Maybe there's more variables at play and maybe it's a little messy, but your players are going to remember it more because we made them problem solve on the spot. We didn't just give them the answer… so in a game when the problem comes up, they already know how to solve it, they've done it before," says Donaldson.
She got to experiment and test new theories in a way that's difficult to in the non-stop NBA season. The continual grind of prepping for a game, breaking it down, then rinsing and repeating 81 more times doesn't leave room for bigger projects and internal evaluation. One of those projects Donaldson got to work on was launching Strata Athletics, a development first alternative to youth leagues rooted mostly in "winning at all costs." Instead, skill development, maintaining presence, and creating an environment where error is allowed and encouraged are paramount principles.
Their coaching curriculum is research driven for each age group. They encourage players to be active in other sports. Everything is about process over results, enjoying the process itself, and keeping the game joyous.
"It (The CEBL) gave me that time and space to imagine where I can leave my fingerprint in this world and industry, and that's where Strata was born. Me and my co-founders all had a very similar vision to how we wanted to impact sports and society. If we can impact these kids with sport, they can take these tools throughout the rest of their lives and be better overall holistic humans because of it," says Donaldson.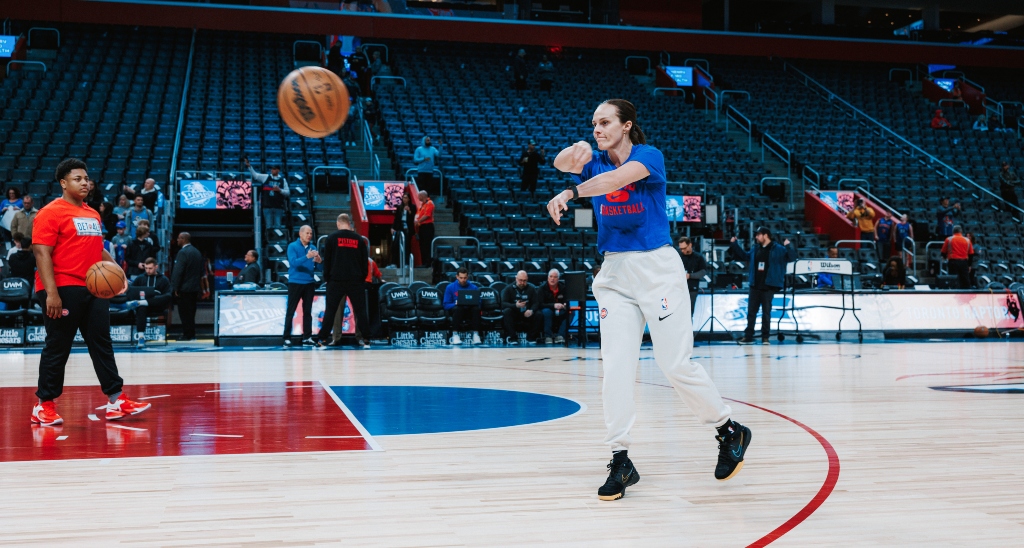 It wasn't long before the NBA came calling again, as Dwane Casey reached out in the midst of the CEBL season trying to lure her to Detroit. Casey was the coach in Toronto when Donaldson started with the Raptors, and while their overlap was brief, she had made enough of an impression that when he had an opening on his bench with the Pistons she was his first option to fill it. They went back and forth for a month on what her role could look like, but eventually Donaldson jumped on board. She wanted the opportunity to work with a new organization in the league, a new challenge, and new people.
The Raptors were a vet heavy roster during her time there with players who know who they are, what they do, and have routines in place. With a young and building team in Detroit, it's an incredibly different kind of coaching job, one that piqued her interest given her proclivity for player development. Detroit's organizational makeup also played a role, as Donaldson was walking into a Pistons franchise with women working in all levels of the team, something that isn't often the case in the NBA.
"It's exciting for me to be able to look around this organization and see women in every room I walk in," says Donaldson.
Now in the midst of her first season with the Pistons as an assistant coach, back on an NBA bench with a development focus, Donaldson's career has taken a remarkably circuitous route to come full circle. Her injury is long behind her, but the path it set her on is still ablaze. Her experience and frame of mind that she formed because of it have given her a unique outlook that makes her an asset in the coaching ranks.
Pistons second-year wing Isaiah Livers dealt with a similar recovery process at the University of Michigan, suffering a stress reaction in his right foot during the Big Ten Tournament as a senior. He wound up missing the rest of the season and requiring a surgery that sidelined him for nearly another whole calendar year. The pair related heavily to one another over shared experience and their player-coach relationship has blossomed from there.
Livers could tell immediately that Donaldson was a former player, as her skill level was evident in how she carried herself and handled a ball. He picked up on her basketball IQ and passion for the game during their initial few conversations, and saw her dedication to the craft through her willingness and availability to help any and every player get work in at the practice gym.
"She sounds like a coach, but it's more like talking player to player," says Livers. "You can hear it in her voice with what she's telling you that she's seen it before as a player, during her time in the league, or just life in general."
Building that trust and respect with a professional athlete, someone that's put countless hours into their craft to become one of the few hundred best in the world, is no simple task. To be a successful coach at the NBA level, you have to be able to create that bond with 15-plus players, who all come from different backgrounds, and Donaldson's ability to do just that has impressed her boss.
"If you're from the suburbs, the inner city, doesn't matter if you're from the moon, she can relate to anybody," Casey says.
On top of her player development work, Donaldson's data background gets put to work in the role of director of coaching analytics, an essential bridge between the coaching staff and the data provided from the team's analytics department. She's routinely the go-to if another member of the staff has any sort of question about game preparation and understanding the strengths and weaknesses of an opponent. It also means she's in charge of challenges in-game for the Pistons, so when Casey looks back to the bench after a questionable call, he's looking at Donaldson to get her read on the situation, while often pleading his case to use the challenge.
"She's right 99 percent of the time," says Casey, before laughing that she's always telling him, "No coach, we can't challenge all this."
Numbers come easy to Donaldson, but what makes her stand out is how she blends that knowledge with her aforementioned relatability. During meetings and film sessions when giving a presentation or breaking down a player's shooting variance with them, she makes information digestible for each individual. If she has a data heavy report, she'll mix in film, the basketball language of an NBA player or coach, to present it in a way that applies the data rather than just showing them the numbers.
"She puts it out there with the right temperament and the right way," says Casey. "That's so important and something the coaching staff has to have. She has no agenda, she just wants to get it right."
Casey details that that's not always the case, and it was a significant reason for why he sought out Donaldson in the offseason when he had an opening on his staff. She was just getting started in Toronto near the end of Casey's tenure, but he had an appreciation for how she worked and connected with players during the time they were both there.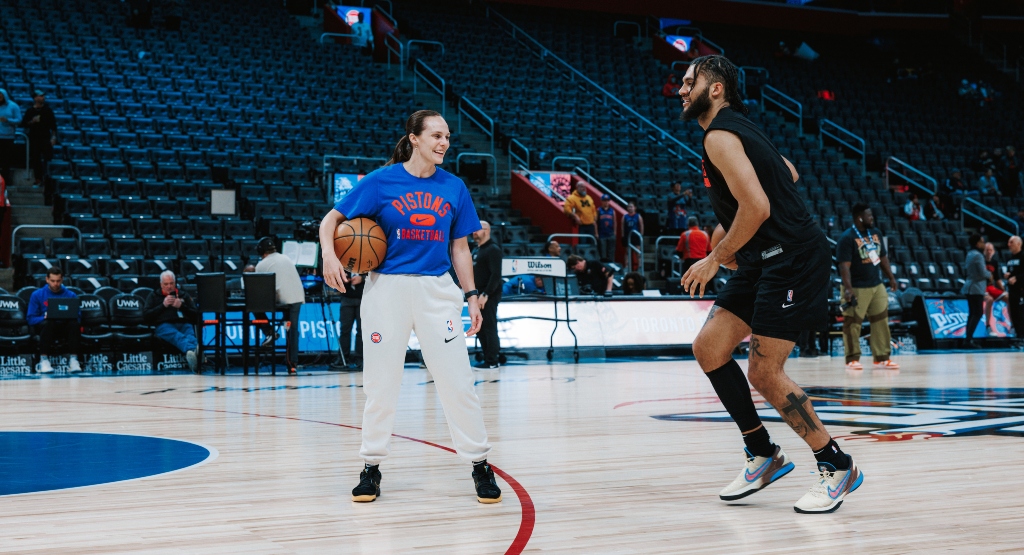 Developing a holistic human being isn't part of Donaldson's job description, but it doesn't need to be. It's baked into what she brings to the occupation with with her positive demeanor and presence, something Livers highlights when running through their work together on the court.
"She's a cool person," Livers says. "She's so bright; when she walks into a gym, she's not bringing that vampire negative energy. We're an organization trying to restore and build on things. She just loves being here and I know we'll be friends even if we're not on the same team."
That same attitude led made rookie Jaden Ivey gravitate to her, and has led to them developing a unique bond. Ivey's mother, Niele, is the head coach of Notre Dame's women's team, a job she took after a stint in the NBA as an assistant with the Memphis Grizzlies.
"We've been working together since she first got the job here," Ivey says. "Seeing my mom coach with the Grizzlies and the impact she had on players there, I wanted her in my circle. She's been a great coach for me to listen to, someone who's been to the Finals and that whole experience…I try to just learn from her everyday."
Donaldson began her career a pass-first player at UNI before her developing into a knockdown shooter her final season after losing some of the shift that made her a dynamic ball-handler due to her injuries. Ivey credits her for the work they put in together in the practice facility on his shooting, continuing to rep out the footwork, follow through, and shot preparation to help with consistency
Most of the work of skill development is done in the offseason; in-season is about maintaining form. That's Donaldson and Ivey's day-to-day, but it's the conversations they have outside hoops that Ivey cherishes and appreciates most.
"She cares not just about the basketball part, but the mental. She cares about the person more than anything, and I knew that from day one, just her character and how she carries herself," says Ivey. "Of course we talk about the games, but anything off the court, I can go to her and talk about how I'm feeling throughout my day. Once basketball is all said and done, relationships are what you carry and hold onto. It's a relationship that I can forever build on with her…she's a great friend, and a great coach."
Pistons assistant and former NBA player, Keith Bogans, has clicked with Donaldson from day one, much like Ivey. Her confidence in the gym or with a ball in her hands stands out, as you know she's a former hooper immediately. They talk and see the game in similar ways.
Bogans was known for his shooting during his playing days, and can always be seen getting shots up when practice isn't ongoing. Donaldson's the same. After a few days of seeing one another shooting around in the gym, Bogans challenged her to best out of three, and she nailed three straight.
"Ohhh she can shoot," says Bogans before laughing.
It's become a routine competition between the two. If there's any sort of break or free time on the court, Donaldson's getting out to the corner and telling Bogans "best of 5."
During pregame on the road in Washington, the duo started shooting back and forth without thinking. Donaldson went first, sinking four of five, and the crowd at Capital One Arena recognized what was happening, steadily cheering more and more with each made shot. Then Bogans was up, and seemingly the whole crowd was watching them, a game before the game.
"When I tell you, man that was more pressure than I'd felt in a long time. I told myself 'Keith, you can only miss one,' and luckily I ended up tying her, but I'm telling you, half the arena was cheering for her," says Bogans.
Donaldson's reputation is growing around the Pistons facility. Livers hasn't challenged her yet, but he thinks it might finally be time to.
"I can't have her walking around thinking she's the best shooter on the team," says Livers with a laugh.
At 29, Donaldson is still one of the younger assistant coaches in the league. She's already accrued a wealth of experience, traveling off of the beaten path to test different waters and find new ways to learn and impact the game. Casey sees the growth she's made since they first crossed paths in Toronto. Right now, he's just pleased she's on his team, but he sees a bright future for her in the league.
Donaldson is likewise happy to have found a comfortable home in Detroit, one where her various experiences can help impact and grow the talent of a young team, while she builds here coaching career alongside them.