It may sound cliché, but half the fun of drinking wine is learning about what's in your glass. If we're being honest, not even a lifetime of studying could lead to mastery of the subject but… that's kind of the beauty of it all. However, learning the foundations is a great place to start. While there are a plethora of regions, grape varieties, and styles to understand, locking in the basics can be done with as few as 10 bottles.
First thing's first, there are some keys to know. When tasting wines—no matter what color or style—assessing a wine's body (light, medium, full) is always on the table, followed by acidity (high, medium, low). When it comes to red wine, tannins—that is, the astringent compounds responsible for leaving drying sensations on your tongue, cheeks, and gums—are also assessed. Put these three things together, and you've got a 101 understanding of wine's structure! And that's good to know because these components are far more foundational than "flavor" notes (think fruit, earth, and other descriptors) when assessing a wine.
Note: There's plenty more to learn than via our list below, and the bottles can certainly be substituted with other producers, but you'll get the drift. Check out our 10 foundational bottles to learn the basics about wine below—trust us, this may just be the most fun you've ever had while "studying."
1. Cooper Mountain Pinot Noir 2019
ABV: 13.5%
Region: Oregon, USA
Price: $27.99
What This Wine Will Teach You:
For understanding what wines with lower levels of tannins and higher levels of acidity taste like, Pinot Noir is a great place to start. The low levels of tannins are due to the grapes' thin skins, as skins are where tannins generally come from. The thicker they are, the more prominent they'll be.
Tasting Notes:
This savory, earth-driven Pinot Noir shows flavors of red cherry, blueberry, raspberry, damp earth, and hints of sweet spice. The wine's ample acidity and soft tannins make this bottle extremely easy to drink—especially when served with a slight chill on it.
The Bottom Line:
Pinot Noir really spans the "nuances" gamut of styles and flavor profiles. To best understand the unique differences, we recommend grabbing a bottle from California, as well as a Burgundian expression (such as this one: Domaine Pillot Bourgogne Rouge 2021) to really explore the spectrum.
2. Domaine Saint Roch Touraine Sauvignon 2021
ABV: 12%
Region: Loire Valley, France
Price: $17.99
What This Wine Will Teach You:
Sauvignon Blanc is one of the most widely planted grape varieties in the entire world. While New World expressions tend to show a bit more grassiness, Old World styles tend to be a bit more flinty and smoky. In addition to fruit-driven traits, these wines will offer great examples of non-fruit characteristics, too.
Tasting Notes:
This textbook expression of Sauvignon Blanc shows crisp flavors of citrus rind, crushed rocks, and flinty undertones. Ample amounts of zesty acidity lead to long, lip-puckering finish.
The Bottom Line:
Acid, acid, acid, as well as what herbaceousness (and hints of flintiness) in wine taste like. We generally don't suggest tasting wine with preconceived thoughts in mind, but keep these descriptors handy when actively seeking them out this time around.
3. Château de Bellevue Lussac Saint-Emilion
ABV: 13%
Region: Bordeaux, France
Price: $24.99
What This Wine Will Teach You:
Merlot is usually known for producing medium-bodied wines with smooth, supple tannins and moderate amounts of acidity. For a good gauge of what a middle-of-the-road expression is in all of these facets of red wine, Merlot is a great place to start.
Tasting Notes:
Merlot is synonymous with flavors of blueberry, blackberry, and hints of red flowers, and this Right Bank Bordeaux blend shows exactly that. Expect a fleshy and juicy wine marked by pleasantly firm tannins and a palate-coating finish.
The Bottom Line:
Old World versus New World plays a big role here, in that most Old World expressions, specifically from Bordeaux, are blends (and are labeled by region), whereas New World examples are monovarietal, meaning 100%. Check out this example from Washington (L'Ecole 41 Columbia Valley Merlot 2019) to dive into the latter.
4. Domaine Mathias Bourgogne Chardonnay 2021
ABV: 13.5%
Region: Burgundy, France
Price: $24.96
What This Wine Will Teach You:
On its own, Chardonnay is generally pretty bland and neutral. This can be a good thing and a bad thing—good in that it can greatly reflect the terroir from which it comes, bad in that it will also very obviously reveal imbalances in wine, such as excessive use of oak.
Tasting Notes:
This medium-bodied Chardonnay is a very typical expression of White Burgundy, in that it shows supple flavors of stone fruit, lemon cream, pear, and saline-driven undertones. For those looking to understand the texture of a medium-bodied white wine, this bottle is it.
The Bottom Line:
Chardonnay is basically a chameleon, in that it will greatly reflect where it's grown and how it's made. Unfortunately, the majority of affordable Chardonnay out there is pretty bad—in that it's pretty good at reflecting a lack of balance. On the contrary, great expressions, such as the one above, show beautiful balance.
5. Pecchenino Langhe Botti Nebbiolo 2020

ABV: 13.5%
Region: Piedmont, Italy
Price: $17.99
What This Wine Will Teach You:
While it was tough to choose between including Sangiovese and Nebbiolo on this list, the latter really stands out in helping to learn about tannins. Even approachable styles of Nebbiolo, such as this one from Pecchenino, very obviously leave a drying sensation in the mouth.
Tasting Notes:
Ruby-hued in the glass, this perfumed Nebbiolo shows classic flavors of dried strawberries, rose petals, leather, and hints of potting soil. Don't let its light color fool you – the tannic grip on this wine is pretty strong!
The Bottom Line:
Think about over-steeped black tea or underripe fruit – these are other ways to understand what tannins feel like. Comparing Nebbiolo and Pinot Noir side by side is a great way to understand tannins, in that both varieties produce high-acid red wines, though their tannic structures couldn't be more different.
6. Hervé Rafflin, 'Nature'l' Extra Brut NV Champagne

ABV: 12.5%
Region: Champagne, France
Price: $39.99
What This Wine Will Teach You:
The traditional method of making sparkling wine! There are three main ways in which bubbles are produced: the traditional method, the tank method, and the ancestral method. The first is used in Champagne (and other regions), the second mostly in Prosecco, and the third in pét-nats. Traditional method sparklers undergo a secondary fermentation in bottle, then age on their lees (AKA the dead yeast cells from fermentation), which imparts toasty flavors and ample texture to the final wines.
Tasting Notes:
Rafflin's Nature'l Extra Brut uses Champagne's signature trio of grapes: Chardonnay, Pinot Noir, and Pinot Meunier. Expect flavors of citrus, white stone fruit, brioche, and a touch of saline to lead to a vivaciously zingy finish.
The Bottom Line:
Sparkling wine is made all over the world and is produced in a variety of styles, though Champagne will always reign king. Fun fact: the traditional method is also used in Cava and crémant production, too.
7. No Fine Print Cabernet Sauvignon 2019

ABV: 13.5%
Region: California, USA
Price: $19.99
What This Wine Will Teach You:
Cabernet Sauvignon from California is generally the stereotypical example of what "New World" style wines are, although that is shifting as climate change (and global winemaking preferences) evolve – in other words, bold, fruit-forward, and often marked by some influences of new oak.
Tasting Notes:
While many California Cabs tend to err on the jammy side of things, this well-balanced pick from No Fine Print is just right. The wine's concentrated-yet-balanced profile is laden with flavors of plums, blackberry, and subtle hints of toasty oak. Fun fact: This wine was crafted by Pat Corcoran and Tim Smith (managers of Chance the Rapper and Skrillex, respectively), to create "wine by the people, for the people."
The Bottom Line:
This flavor-packed and extremely fruit-forward Cabernet Sauvignon is a quintessential example of West Coast Cab, though its relatively lower ABV (most are over 14%) render it a bit more restrained than the majority of expressions—which we definitely appreciate.
8. Pfeffingen Dry Riesling 2021
ABV: 12%
Region: Pfalz, Germany
Price: $23.99
What This Wine Will Teach You:
Similar to Sauvignon Blanc, Riesling is a quintessential variety used to showcase acidity in wine, as bottles produced from it are known for their laser-like depictions. This dry example from Pfeffingen is no exception.
Tasting Notes:
High-acid wine lovers, don't sleep on this tasty bottle. Notes of lemon, lime, green apple skin, and crushed stones offer a juicy, mineral-driven finish. In short, this wine is lively, balanced, and kind of like sunshine-meets-lightning in a glass.
The Bottom Line:
Another key takeaway here – Not. All. Riesling. Is. Sweet! Dry Riesling is the perfect example to show that many grape varieties can span the entire flavor profile spectrum, from bone dry to sticky sweet.
9. Catena Malbec 2019
ABV: 13.6%
Region: Mendoza, Argentina
Price: $17.99
What This Wine Will Teach You:
Although Malbec isn't always included on lists like this, we believe that the wines often depict a distinct florality — which can be hard to pick up in wines. A classic tasting note in Malbec is often violets, hence the inclusion of this wine on the list (plus, historically speaking, Catena has done loads for South America's viticultural scene. Google their story.)
Tasting Notes:
Full-bodied red wine fans, this one's for you. The dark violet hue of Catena's Malbec is undeniably reflected in the glass, offering flavors of ripe red and dark berries, violet, hints of and hints of coffee. Despite the wine's concentrated palate, tingly natural acidity allows the wine to finish lengthy and bright.
The Bottom Line:
In addition to depicting florality, Malbecs are generally very fruit-forward and see some new oak, which helps to showcase the stereotypical "New World" style used on tasting grids.
10. Mary Taylor – Pascal Biotteau Anjou Blanc 2021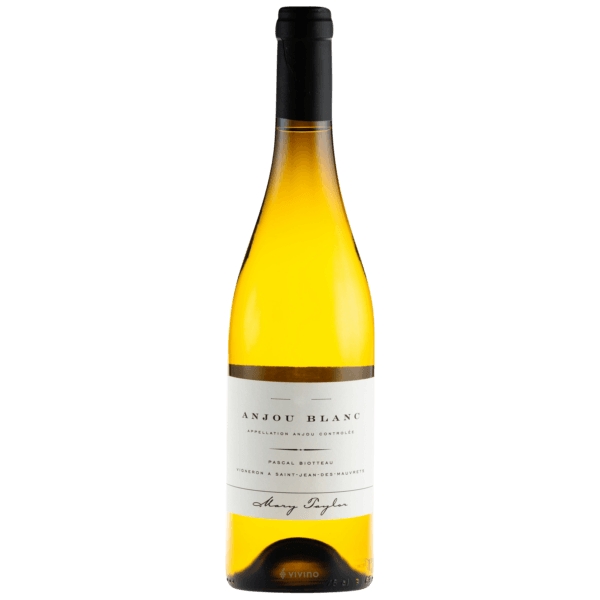 ABV: 12%
Region: Loire Valley, France
Price: $15.99
What This Wine Will Teach You:
Chenin Blanc-based wines are bottles that novice wine drinkers generally describe as "sweet," when they're actually just fruit-forward. This is a great bottle to understand what wines with honeyed, fruit-driven characteristics without the presence of residual sugar taste like.
Tasting Notes:
This budget-friendly Chenin Blanc from Anjou is exactly what you'd expect from the region/grape: ripe stone fruit, honey, canned peaches, green apple, and hints of crushed rocks. Tangy, bright, and simply delicious – what more could you ask for?
The Bottom Line:
Similar to Riesling, Chenin Blanc can go the limits, in that it can be vinified bone dry, as well as into dessert-style wines. This expression beautifully depicts the notion described above – dry Chenins are often very honeyed and fruit-forward, though they don't necessarily contain any residual sugar content.