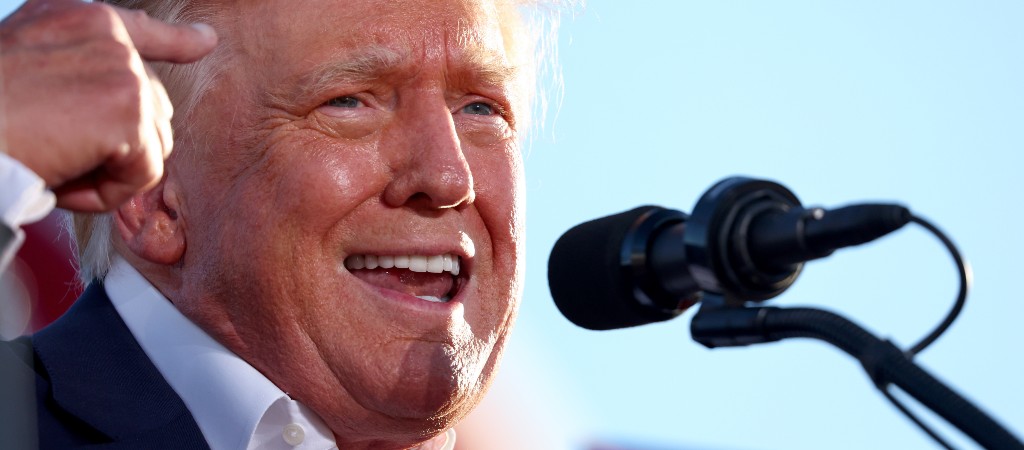 The jury's still out on whether Donald Trump will become the first U.S. president to be indicted, but at least he's already achieved one milestone: He's the first U.S. president to have a failed music single. (Probably, unless Ronald Reagan once tried his hand at music and history forgot.)
Amid all the hubbub going on in Trump's life right now, he found time to record and release a single called "Justice for All." It's a collaboration between him and a group known as the "J6 Prison Choir," which is comprised of about 20 people jailed for their involvement in the Capitol riot. It's a charity single, with proceeds supposed to go to legal aid for the latter group.
Well, as per The Daily Beast, the song did chart — but only on the Bubbling Under Hot 100. There it reached #4, close to cracking the 100, but no cigar.
Perhaps people weren't blown away by the content. Despite Trump's professed love for those who tried to overturn Democracy at his bidding, not a whole lot of effort went into the single. The entirety of it finds a scratchily-recorded men's choir dutifully singing "The Star Spangled Banner" while every now and then a semi-engaged Trump occasionally reciting The Pledge of Allegiance. Not only is it lazy, but it doesn't even sound very good. It runs a mere two minutes and 20 seconds. For perspective, that's only less than 30 seconds longer than the super short original version of "Old Town Road" (and 17 seconds shy of the Billy Ray Cyrus remix).
So Trump may not have raised much money for those who went to prison for him. At least since declaring he was being indicted (but getting the day wrong), he's probably been able to line his pockets with donations.
(Via The Daily Beast)