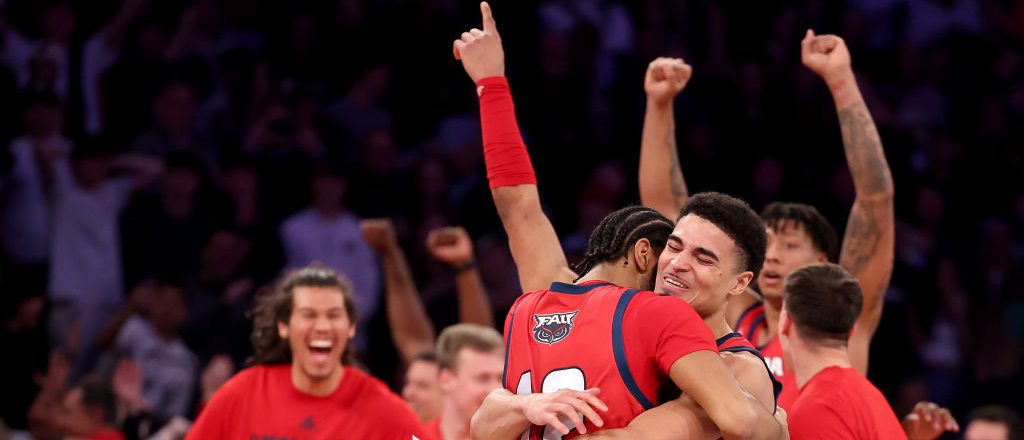 The Florida Atlantic Owls' magical NCAA Tournament run is heading to Houston. FAU took on Kansas State in the Elite Eight on Saturday evening in Madison Square Garden, and by the time the final horn sounded, the Conference USA champions and 9-seed in the East Region earned their first-ever berth in the Final Four with a 79-76 victory.
The story of the first half was Markquis Nowell and Dante Sills leading the Wildcats against a more balanced attack for the Owls. Nowell's 15 points and 7 assists led both teams, as he was doing all his usual floor general stuff — all nine of Sills' points, for example, came off of assists by his backcourt mate from New York City.
Markquis Nowell picking up right where he left off. pic.twitter.com/eFiYu4yn9S

— CBS Sports College Basketball (@CBSSportsCBB) March 25, 2023
If you're open, Markquis Nowell will find you. pic.twitter.com/W1OinVVRov

— CBS Sports College Basketball (@CBSSportsCBB) March 25, 2023
And yet the brilliance of Nowell was not enough, in part because Keyontae Johnson was limited to only eight minutes in the first half due to foul trouble. As a result, Florida Atlantic held a 42-38 edge at the break. Alijah Martin's nine points led the way, and Bryan Greenlee pitched in eight. But it was two other players, Vladislav Goldin and Johnell Davis, who stuffed the stat sheet — the former had eight points, eight rebounds, two assists, and two blocks, while the latter went for six points, four rebounds, four assists, and a block.
OOOOOKAAAAYYYYY!
ALIJAH MARTIN ROCKS THE RIM. pic.twitter.com/KZFdn5sXub

— CBS Sports College Basketball (@CBSSportsCBB) March 25, 2023
Kansas State found something early on in the second half, as Nowell continued to do his thing while Johnson got into a groove. They opened the frame on a 14-5 run to take a lead, but with 14:32 left in the game, Johnson picked up his fourth personal foul.
With his standout teammate sidelined, Nowell kept doing everything he could to keep the Owls at bay, whether that was distributing or pulling up from Yonkers and knocking down threes.
Markquis Nowell is making The Garden his playground once again. pic.twitter.com/fLdHeRSu2K

— CBS Sports College Basketball (@CBSSportsCBB) March 25, 2023
THE BANK IS OPEN FOR MARKQUIS NOWELL #MarchMadness @KStateMBB pic.twitter.com/9HegNLzHM2

— NCAA March Madness (@MarchMadnessMBB) March 25, 2023
It wasn't enough to bury Florida Atlantic, which always seemed to have an answer from either its arsenal of perimeter scorers or Goldin. They chipped away any time Kansas State started to open up a lead, and with just over six minutes left, they pulled back in front on a dunk by the big man.
FLORIDA ATLANTIC IS BACK IN FRONT #MarchMadness @FAUMBB pic.twitter.com/csoVKnqPfu

— NCAA March Madness (@MarchMadnessMBB) March 26, 2023
A 13-1 run by the Owls at the exact right time, mixed with Johnson picking up his fifth foul, appeared to give them the sort of breathing room they would need. Two free throws by Martin in the aftermath of Johnson's foul capped off the run and gave them a 72-64 lead with just under three minutes remaining, but with the shoe on the other foot, it was the Wildcats' turn to continuously chip away.
Nowell and Cam Carter both hit threes, Nowell and Ismael Massoud were nails from the free throw line, and with 23 seconds remaining, Kansas State got the Florida Atlantic lead down to one point. FAU's Michael Forrest got it back to three points at the charity stripe after the Wildcats started playing the foul game, and on the ensuing possession, Nowell found Nae'Qwan Tomlin for a quick two.
The decision to play the free throw game did not work out the way Kansas State wanted. After Forrest hit both of his attempts at the line, the Wildcats could not even get a shot off on the game's final possession, with Nowell and Massoud getting hounded by the Owls defenders and, eventually, Davis stripped the ball as the clock hit zero.
Four FAU players — Martin, Greenlee, Goldin, and Davis — scored in double-figures, while the team shot 26-for-54 (48.1 percent) from the field and 9-for-23 (39.1 percent) from three. Nowell's 30 points, 12 rebounds, and five assists stole the show for KSU, but other than Tomlin's 14 points, there wasn't much else consistently going right for the Wildcat offense.
Florida Atlantic will play either San Diego State or Creighton in the Final Four.