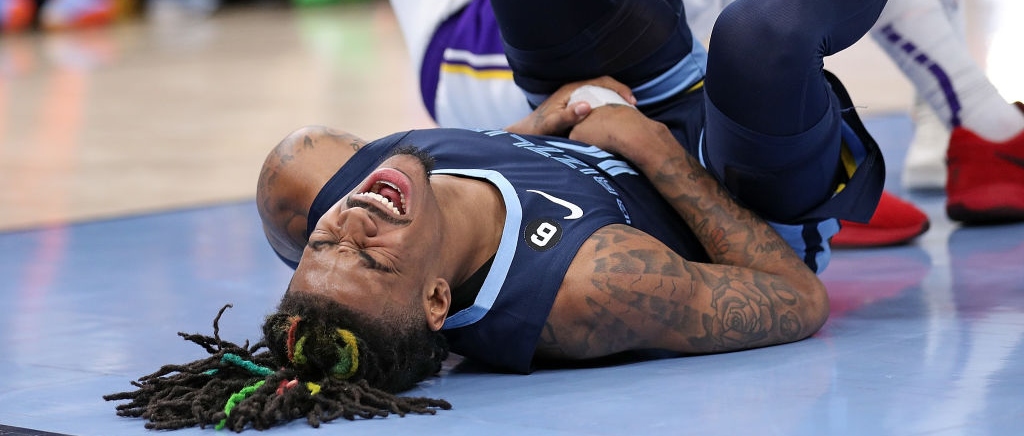 The Grizzlies led the Lakers at halftime of Game 1 of their first round series on Sunday, but as the Lakers clawed back into what became a back-and-forth game in the fourth quarter, Memphis saw its star point guard suffer a hand injury after a collision with Anthony Davis that sent him crashing to the court from above the rim.
Morant landed awkwardly on his already banged up right hand and ran off the floor to the locker room in pain. He would return to the bench with a wrap on his hand and X-rays came back negative, but he would not re-enter the game as the Lakers pulled away for a 16-point win. After the game, Morant said the pain was at a "10" and he was unable to use that hand to grab anything, saying his Game 2 status was "in jeopardy" but that he would try everything he could to play.
On Monday, ESPN's Adrian Wojnarowski hinted further at the likelihood of Morant sitting out Game 2, saying there was "significant doubt" in Memphis of his availability for Wednesday's game, but said that with another two days off before Game 3 on Saturday, the schedule did provide as much rest time as Morant and the Grizzlies could possibly get in the playoffs with only missing an additional game.
As Woj notes, the Grizzlies do have a very capable backup point guard in Tyus Jones. Still, without Morant they lose their dynamism on offense and the Lakers can shift their defensive focus to other areas of the floor — throughout Game 1, Jarred Vanderbilt shadowed Morant and pressed high to deny him the ball. Hopefully Morant is able to recover enough to not miss the majority of this series, but for the second straight postseason he finds himself on the shelf during a series with the Grizzlies having to try and battle without him.