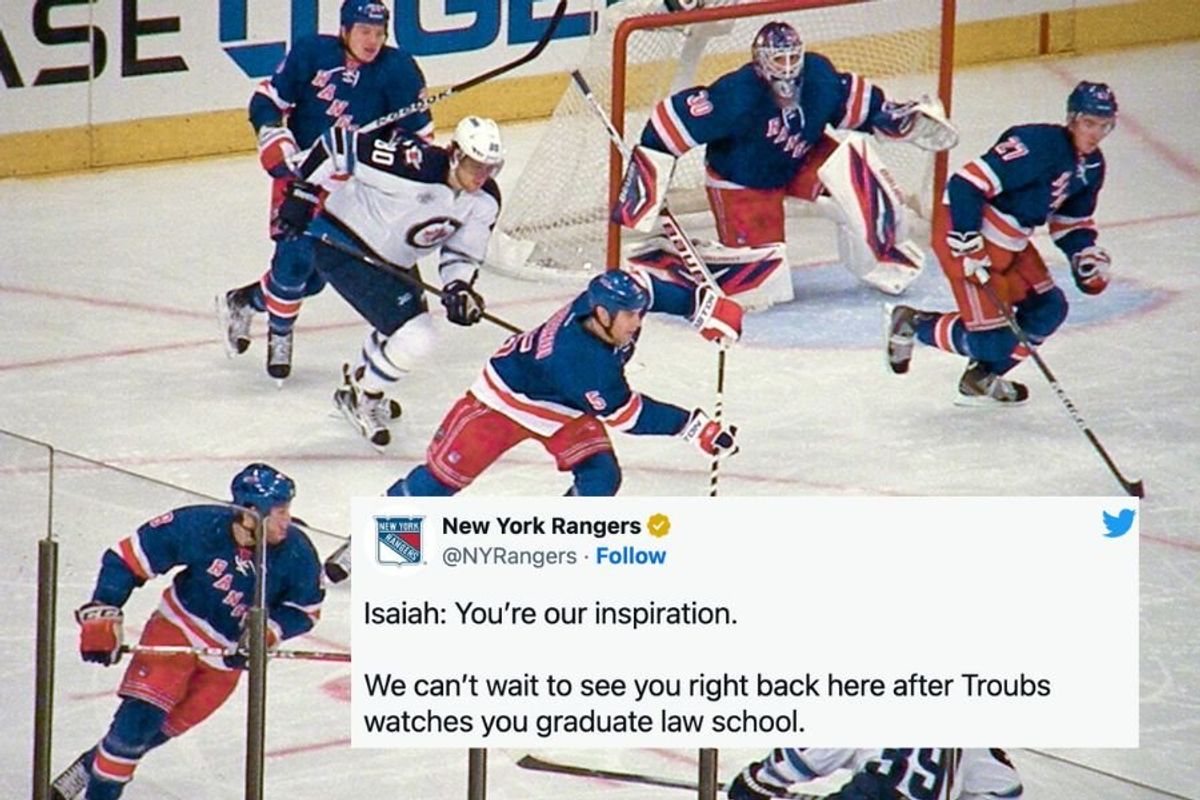 There are few people who don't remember the tragedy of Sandy Hook, an elementary school in Newtown, Connecticut, that lost 20 children and six adults to a school shooter. The school name has become synonymous with the shooting in 2012, but some of the survivors are growing up and hoping to work towards a bright future.
Isaiah Márquez-Greene is one of those students. He was 8 years old at the time of the shooting and lost his younger sister who was 6. Now at the age of 18, Márquez-Greene has dreams of going off to college to become a lawyer, and that dream just got a little bit closer.
While the teen was attending a hockey game for the Rangers, he was expecting the opportunity to get one of his favorite players' jerseys. What happened next floored him.
---
Márquez-Greene stood on the ice at Madison Square Garden holding a sign that read "Trouba 8," which is the last name and number of team captain Jacob Trouba. After the announcer said his name, Trouba skated over to the teen who was wearing a purple Rangers jersey and introduced himself before taking the jersey off of his back to give to Márquez-Greene.
The future lawyer told Trouba that he'd been a fan for a while before the hockey player asked him to come to the bench with him so he could sign the jersey. But when they got to the bench, Trouba asked Márquez-Greene to sit down.
"Take a seat. I gotta talk to ya," Trouba said. "I know your story, I feel for you. You're an amazing human."
Trouba then pulled out a folder with a scholarship from the Garden of Dreams Foundation to help cover the tuition at the University of Connecticut's Special Program in Law, where Márquez-Greene will be attending this fall, according to CBS News.
The entire moment between Trouba and Márquez-Greene can be seen below:
u201cIsaiah: Youu2019re our inspiration. nnWe canu2019t wait to see you right back here after Troubs watches you graduate law school.u201d

— New York Rangers (@New York Rangers)
1681441346