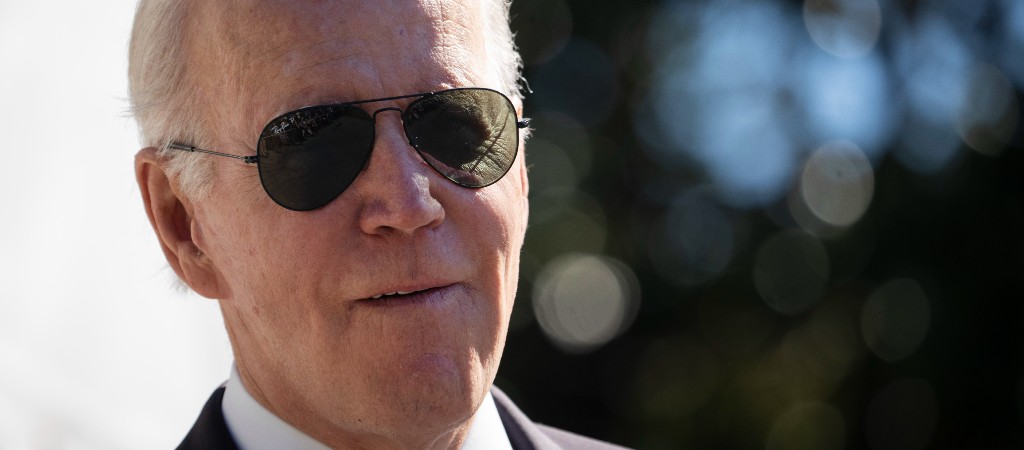 It's been a while since you heard conservatives spouting the words "Let's Go Brandon." In the early days of the 46th president's term, it became a code word for MAGA types who wanted to say "F*ck Joe Biden" without actually swearing. Someone even said it to Joe (and Jill) during a holiday call. Then a funny thing happened: Biden started getting sh*t done, and Democrats repurposed it. Any time he did something badass, people called him "Dark Brandon." And now the Biden team is taking that next level.
On Tuesday, Biden formally launched his 2024 campaign, even though polling among Democrats for another term aren't as high as they could be. But as per NPR, those who moseyed on over to his new campaign site noticed something funny: He was really leaning into this "Dark Brandon" business. Alongside the expected photos and pleas for donations was a merchandise page, which sells things like "Dark Brandon" t-shirts, featuring a smiling Joe with burning red eyes. Those, the site says, are "best worn while vanquishing Malarkey."
Joe Biden is now selling Dark Brandon 2024 shirts. This is my favorite day pic.twitter.com/Z3wma0UG0u

— Palmer Report (@PalmerReport) April 25, 2023
There are also coffee mugs.
There's a little Easter Egg, too. Should you venture to a part of the site that doesn't exist, the 404 page features the same "Dark Brandon" image alongside the words "You're lost, Jack. Let's get you back on the rails.
So there you have it. Biden knows about the "Dark Brandon" meme, and he's more than willing to have it funnel money into his next campaign. Meanwhile, his GOP rivals are busy giving awkward interviews and vowing not to debate their primary foes, and definitely not because they're scared.
(Via NPR)