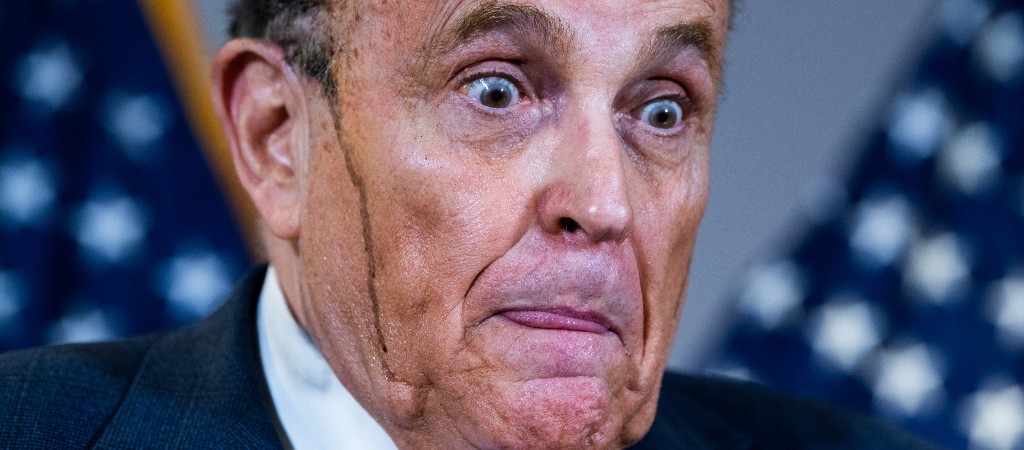 Rudy Giuliani hasn't exactly had a good last few years, and now things are getting even worse: On Monday the former "America's Mayor" was hit with a lawsuit from an ex-employee. The accusations are…a lot. Among the claims are that he subjected her to all manner of sexual harassment and abuse. Giuliani still carried on with his usual show, but if you'd somehow missed the news, you didn't hear about it from him either.
Folks, Rudy Giuliani is live now…. pic.twitter.com/q3nDgQjDJ6

— Yashar Ali (@yashar) May 16, 2023
As per Mediaite, on Monday night's episode of America's Mayor Live, Giuliani made no mention of the lawsuit, which was filed by Noelle Dunphy. Instead he used the time to talk about the Dunham report, which slammed the FBI's investigation into his old client Donald Trump's possible ties to Russian interference in the 2016 election. And he said the killing of Jordan Neely by former Marine Daniel Penny wouldn't have happened on his watch.
"We didn't let people get robbed, we didn't let them get mugged or raped. We got rid of the unbelievably disgusting pornography houses," Giuliani said of his time as mayor of New York City. "I mean, even the more reasonable pornography places left Times Square because it was too dangerous."
Never did Giuliani bring up that he's accused of doing some pretty outlandish and horrifying stuff, including stiffing Dunphy on payments and subjecting her to all manner of racist and anti-Semitic rants. He was also allegedly addicted to Viagra, which led him to demand sexual favors of her. Dunphy also recorded him asking her to "f*ck me like crazy" for money. Even his old pal Trump, when he's accused of sexual impropriety, at least acknowledges the allegations — usually while making his problems worse.
(Via Mediaite)