When you think of Nashville, flashing marquees featuring the greatest country stars of all time come to mind. Plus the good ole' white cowboy boots lining Broadway. But with a name like Music City, it's not a surprise that all genres are represented here. Even electronic music.
Enter Deep Tropics, Nashville's premier electronic music festival. Similar to the surprise I felt at discovering Nebraska's love for hardcore and punk music, Nashville showed the f*ck up to get down to two sweltering days of house, techno, and bass music.
PART I — The Festival Grounds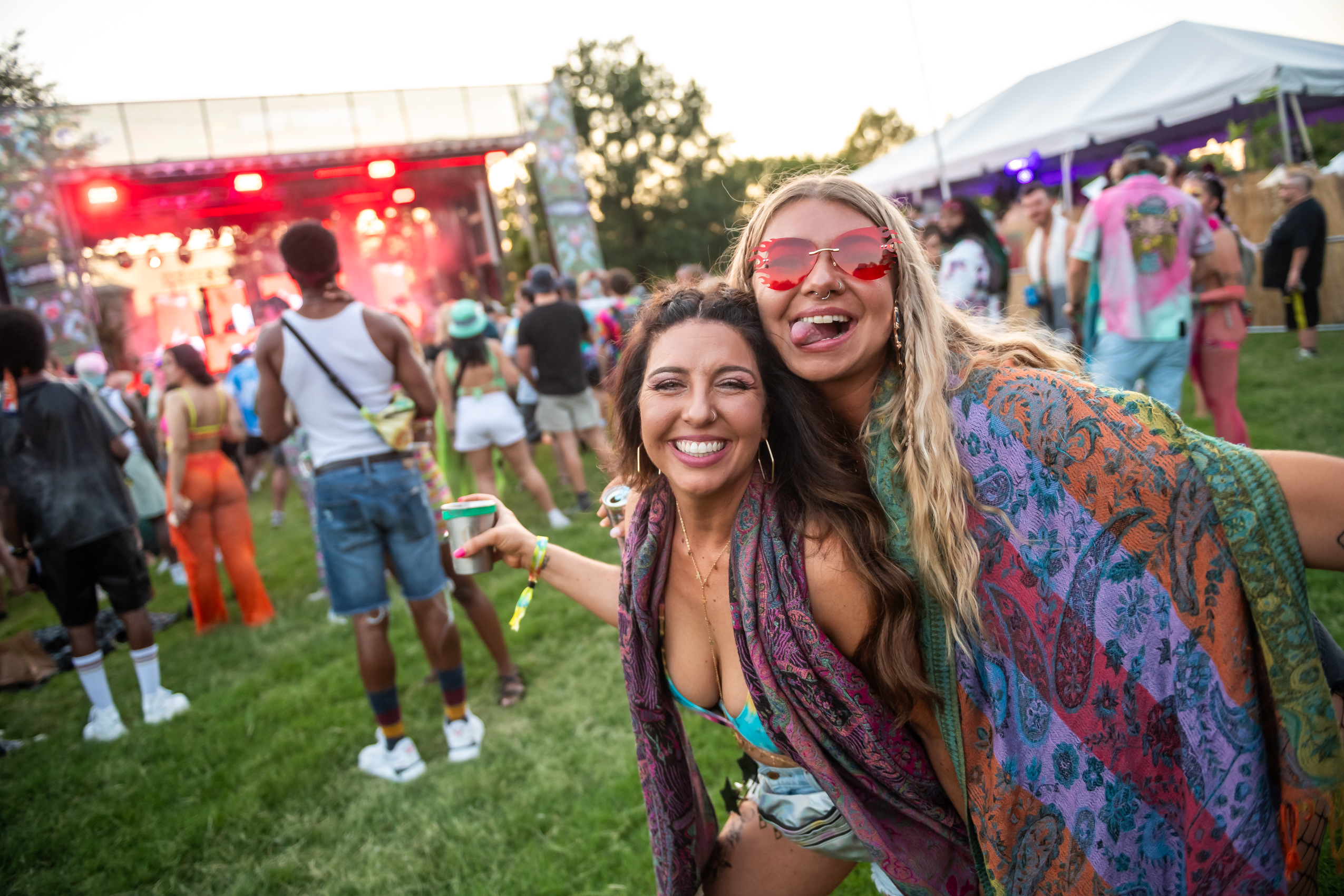 What's a dazzling house music extravaganza without the shimmering city lights? Placed in Nashville's Bicentennial Park, Deep Tropics turned the city's capitol park into a tropical oasis adorned with sultry beats and radiating bass. I found myself with my full-on rage face overlooking the main stage – the Meru Amphitheater – with the lit-up State Capitol building in the background, imagining all the government officials overlooking the chaos below.
While some festivals have to spread out their stages to avoid overflow between sets and in turn make attendees walk great lengths, Deep Tropics perfectly made use of the space. The Meru Amphitheater and Lotus Stage were a quick two-minute walk away from one another, while the Lotus and Congo Soundsystem were a mere 30 seconds away. Each stage still had its own crowd and vibe to it, without infringing on other overlapping sets. Quite the feat for a three-stage music festival in a city park.
Outside of the stage areas, Deep Tropics fostered an immersive environment equipped with around-the-clock programming catered to wellness programs and educational workshops. The Deep Culture village welcomed Tropical Travelers into its speakeasy for yoga and breathwork sessions, impactful artist conversations, and connective dance gatherings, while the Healing Sanctuary offered tarot readings and massages and the T.R.I.B.E. Refuge cultivated communal conversations.
PART II — The Music
I've done my fair share of festival hopping and clubbing well into the early morning, and I've got to say: Nashville seriously can't get enough of electronic music. The city goes crazy for it, and attendees raced from stage to stage to dance to house, techno, and bass (not a single electronic genre went untouched over the weekend).
On Friday, Khiva offered a body-rumbling, golden-hour bass set on the Lotus Stage. If you ask a resident bass lover about bass music, you'll often find that what appeals to them is the feeling of the bass in their bodies. Khiva delivered quite the recipe of bass melodies during her set, relaying low-frequency soundscapes and charging beats that literally felt like it was shaking up the atoms in your body and healing you from the inside out.
Then it was time for the boots and cats. You can never have enough. LP Giobbi stole the show Friday night as she beautifully wove her infectious club-heavy beats with piano house melodies. The multi-instrumentalist took attendees on a musical journey through the intersection of electronic music and classic composition, reminding Music City of the universal connection of music.
Friday evening went out with an official bang thanks to English electronic music duo Gorgon City. Radiating their UK garage and multidimensional house, it was quite the scene as lasers overtook the Meru Amphitheater and everyone settled into the frenzied depths of bass house.
Saturday sparkled in Nashville's end-of-summer heat and laid out to be a full day of sonic exploration. Bringing the West Coast to Music City, Smoakland fired out monstrous dubstep and head-shattering bass at the cusp of dusk on the Lotus Stage before Denver-based INZO took over and cooked up a concoction of luminescent synth lines and moving bass melodies.
Over on the Congo Soundsystem, Arvi Mala summoned a warm atmosphere of cheeky tropical house and sultry grooves, putting a pep in everyone's step before the evening closed with overlapping sets by SG Lewis and Troyboi. With delicate planning, the best move here was to head to SG Lewis first on the Meru Amphitheater to catch his upbeat electro-pop and house melodies for a solid half-hour before making the easy two-minute walk over to catch the last 30 minutes of globally acclaimed trap and future bass producer Troyboi.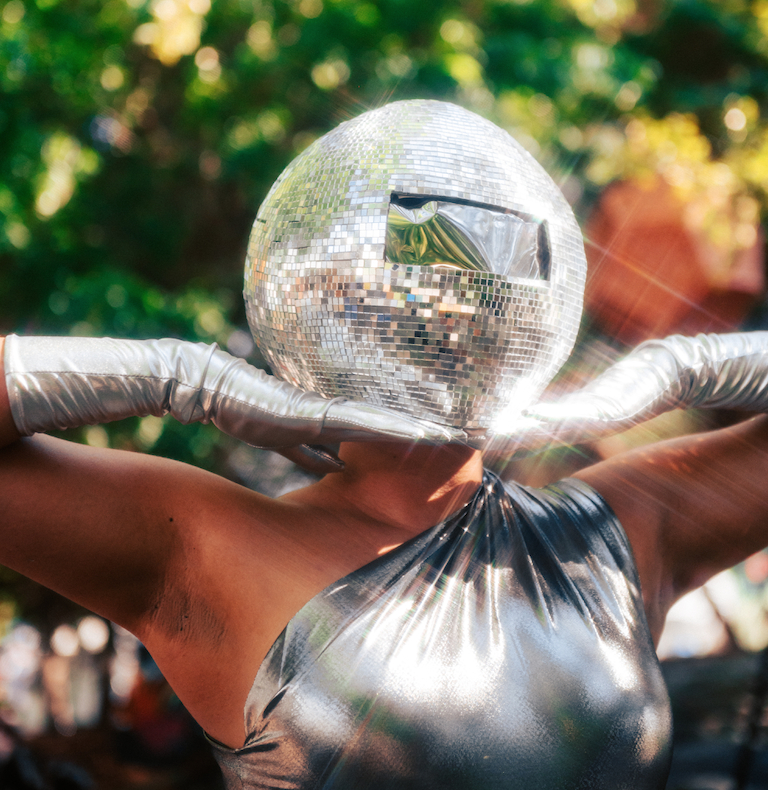 While the music ended at 11 p.m. each night, the Tropical Travelers had three options for late-night partying. Weirdly enough, two of the venues – Eastside Bowl and Brooklyn Bowl – also included bowling. It was quite the scene pulling up to Eastside Bowl Friday night and having a venue worker directly ask each group walking up if they were there to bowl or to "see the EDM."
"I'm definitely here to see the EDM," I replied. The late-night EDM was indeed better than the bowling option, as Redrum and What So Not broke out fast breakbeats and drum and bass until 3 a.m. Of course, my inner curiosity kicked in Saturday night so I had to check out Brooklyn Bowl (which has other branded locations in Brooklyn, Philadelphia, and Las Vegas) to end the festival on a high note with Subrinse, Eli & Fur, and Sonny Federa.
PART III — Ultimate Sustainability
Still believe the outdated stereotype that electronic music fans and music festivals aren't intentional or make any positive impact?
Aside from inviting fans from all corners of the globe to its immersive and interactive art and music experiences, it's an incredible feat for a festival to deliver sustainability goals when promoting a large-scale event. Partnering with its non-profit organization, Deep Culture Inc., Deep Tropics successfully offset its carbon footprint and beat last year's 93% waste diversion with a whopping 96% this year. This included 2,882 pounds of recyclable materials and 947 pounds of composted materials, equivalent to 12,702 pounds of CO2 gasses saved from entering the atmosphere or 100 saplings planted and grown for 10 years.
Additionally, Deep Tropics yet again flexed its role as a pioneer in this industry by being the first to use Sunbelt generators, which completely powered the Meru Amphitheater. Plus, all attendees were prompted to bring their own reusable cups or water bottles and were given drinks in reusable tin cups.
PART IV — Tropical Traveler Festival Fashion
Fashion and music festivals go hand-in-hand. Planning and preparing outfits can sometimes take up to weeks in advance, knowing that how you look is a form of creative expression all its own.
Deep Tropics truly set the bar high on this front, with its organized vintage market and fashion show. Partnering with Finders Thrifters, Melissa Lockwood's IQTest-NYC label, BrownLee, Mamie Ruth, and more, attendees were educated about recycled fashion styles through upcycling workshops, witnessed a runaway show with free-spirit clothing designs, and were exposed to eco-conscious branded festival merchandise.
"It's very exciting, there's a lot going on here in Nashville," Ashley East, owner of the Madnest, a Nashville art gallery and community space, said in an on-site interview. "There's a lot of creatives and artists that are trying to just bridge the music, art, and style of Deep Tropics and with the city of Nashville as a whole. We're super excited to be a part of it and see where it grows to over the years."
Nashville is a beautiful city full of beautiful people, so I found myself adding a little more effort this time around. I packed a mix of thrifted and newly acquired garments that would fit into Deep Tropics' sustainable yet fashionable nature. Friday's "Festival Barbie" attire included a newly thrifted psychedelic top and bucket hat paired with a new white tennis skirt and mid-leg white boots. The boots lasted most of the day…until they didn't. I broke out a brand new pair of white Astral sandals, which literally saved the evening. The sandal is made up of 100% post-consumer recycled materials and uses a balanced geometry design to allow a comfortable, natural position of your foot. Without even needing to break them in, they saved my feet Friday night and became the mainstay footwear for Saturday's "Tropical Traveler" look, which included a thrifted skirt and white tank top.
I balanced both days out by visiting Glitter Bitch, which served as Deep Tropics' sparkly makeup tent equipped with biodegradable glitter.
PART V — Where To Stay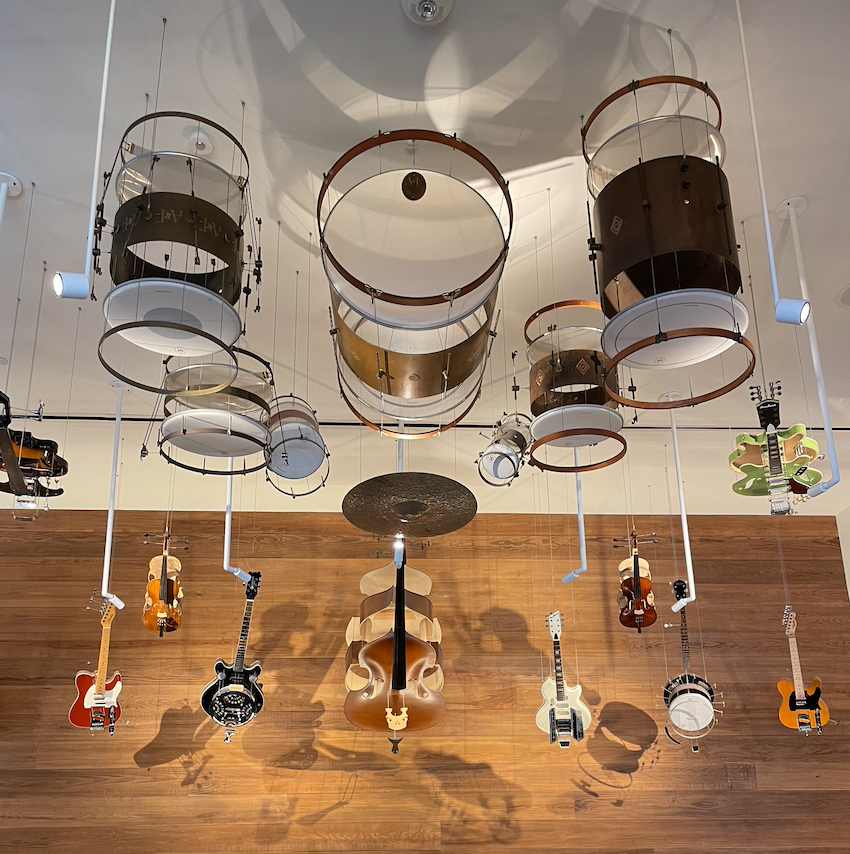 Continuing its dedication to bridging the gap between music festivals and actual sustainability, Deep Tropics partnered with Virgin Hotel Nashville, which currently holds the top spot as the "greenest hotel in the city" as it actively measures the efficiency of the building while also reducing energy, water consumption, and its overall carbon footprint.
Located right on Music Square and a short 10-minute drive to the festival, Virgin Hotel Nashville proved to be the ultimate place to lay your head down at night. As soon I walked in, I was greeted with a strikingly beautiful overhead array of disassembled hanging musical instruments — quite the opener. To the right, a brightly lit, open-air atmosphere – The Commons Club and Shag Room – captivated the senses with a balance of Southern hospitality and modern furnishings.
I got lucky enough to secure a room on the 10th floor, which of course boasted picturesque views overlooking the Music City skyline. The two-chamber design feature of the room – equipped with a barn-style sliding door separating the sleep and relaxing dressing area – was obviously well thought-out, allowing optimal functionality in a hotel made for late-night partying.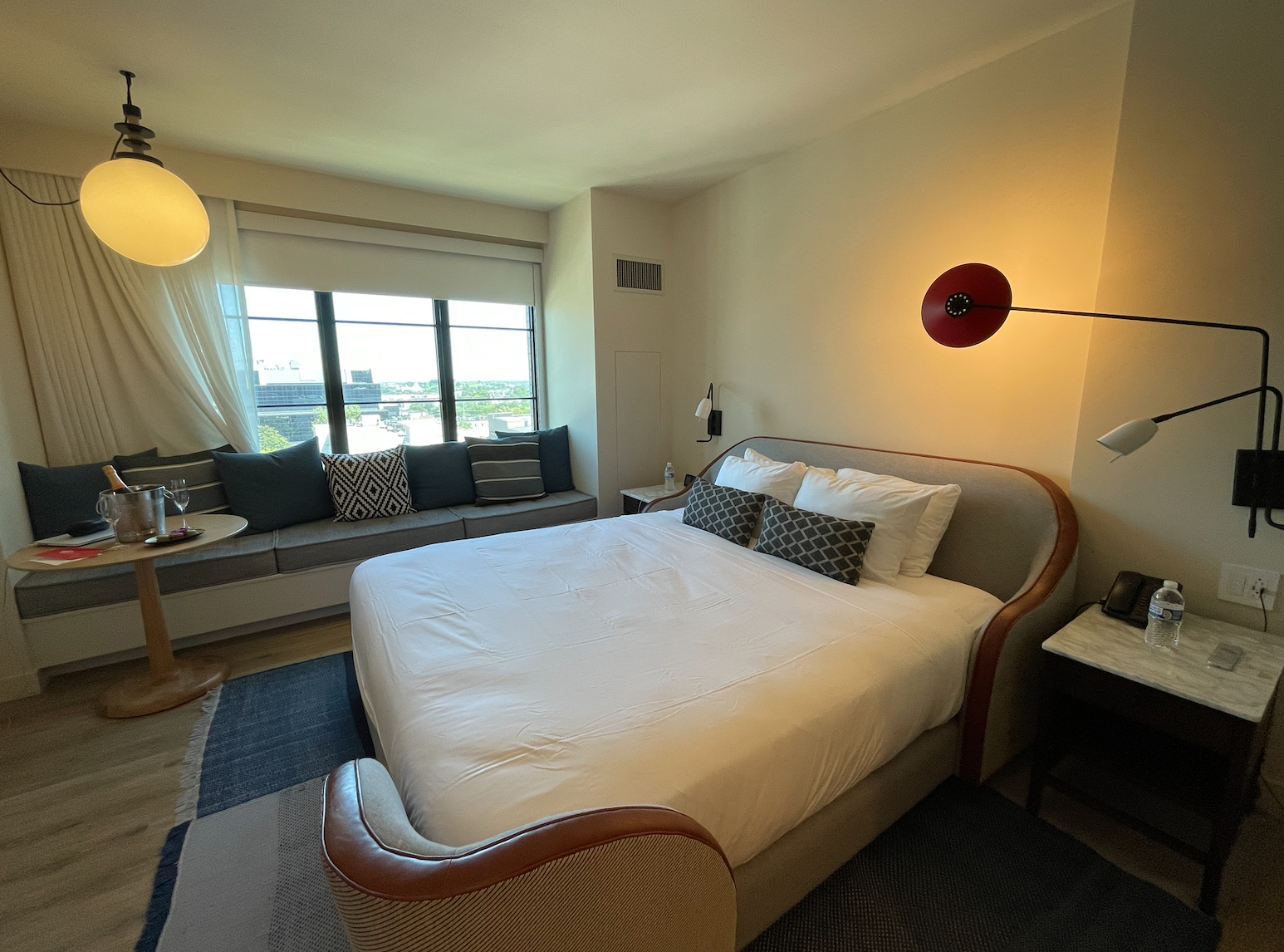 I'm someone who never turns on the television when I'm at a hotel. There's never a need for it. But when I discovered that I made the rookie mistake of somehow forgetting to pack my whole toiletry bag (we can blame the morning spliff), the television became my best friend. I was able to directly request my complimentary forgotten necessities with the click of a button. Because who really wants to call the front desk and tell them you need a toothbrush, toothpaste, and deodorant?
It was actually its hidden speakeasy – The Late Great – that sold me though. It was truly a speakeasy too — because I couldn't figure out how to get there until an employee walked me through darkened hallways that opened up into the old-school lounge. Centered around the "anything goes" ethos of Nashville's legendary B-Rooms, the intimate space offered high-end dark spirits and plush furnishings that literally oozed sexiness. It was the perfect setting for the official Tropical Traveler Welcome Party on Friday afternoon as I picked up my credentials as local producers showcased the city's increasingly reputable electronic scene.
While I could've spent the better half of my time on the property, I opted to check out the rooftop pool on Saturday during the day. The 12th-floor Pool Club had an urban cool appeal to it and was completely packed when I arrived in the sweltering heat of midday. There's always some music being played in the hotel, so I didn't mind the chilled daytime beats as I overlooked the city of Nashville and lounged for a bit on a daybed.
To book a room at Virgin Hotel Nashville, click here. Deep Tropics has announced the dates for its 2024 gathering and will return August 16th and 17th. For more information, visit the festival's website.