I know what you're thinking, "Amalfi Coast" and "budget" will never work together. And in some ways, it's true — they don't stand a chance. A shoe-string budget won't come close to cutting it on this opulent stretch of Italian coastline. However, you don't have to ball out to have the Amalfi Coast trip of your dreams (not your wildest dreams, perhaps, but still some pretty great dreams).
I traveled this costly coastline for a week with under €1,000 (~$1050) and want to show you that you don't have to cross the Amalfi Coast off your list! Plus, many of these budget travel tips can be applied to other international destinations. So get out your notebook, because we're about to dive into the details on the best months to visit, flight finding strategies, free and inexpensive things to do, budget-friendly places to stay, and how to get the most bang for your buck while dining!
Why It's Awesome (If That Wasn't Obvious Already)
Rugged Lattari mountains kiss the Mediterranean Sea along Southern Italy's famous Campania coastline: the ever-fabled Amalfi Coast. A land with aquamarine waters where candy-striped parasols pattern hot-people-covered beaches, pale blue vespas zip around cliff-curved roads, and bursting bougainvillea bloom across… just about everything.
The Amalfi Coast is no off-the-beaten-path destination. And why would it be? But if you've never been, let me tell you, you have to go. And if the price tag of an Amalfi Coast vacation has held you back, we're about to break free of those chains because it is indeed possible to live your best — and most economical! — life.
PART I — The Best Time to Visit (On A Budget)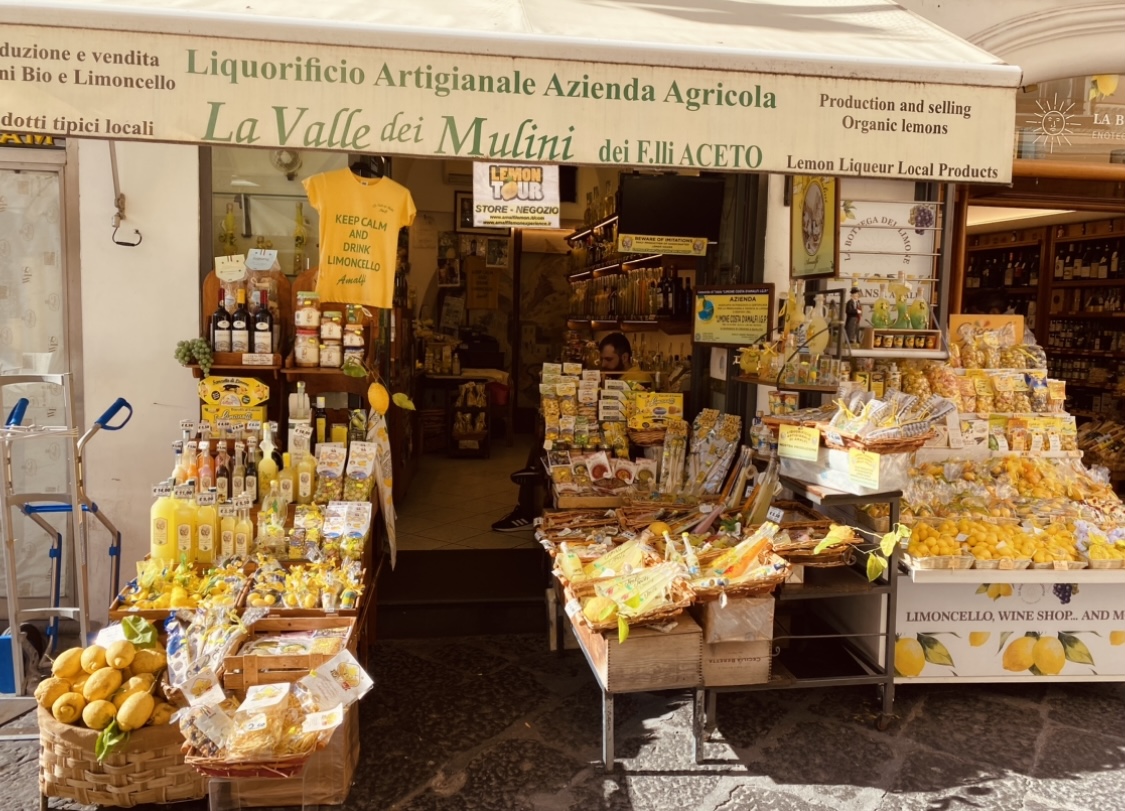 We all know about European summer, and now we get to discover the perks of European fall. Because the autumn months, particularly October and November, offer those with a budget-conscious mindset the best window to visit the Amalfi Coast.
I got a July-priced €450 Positano B&B for €110 in early November, complete with a beautiful breakfast spread served on the terrace overlooking a Positano sunrise. The catch? Well, for one, I had to wear a sweater in the evenings. Perhaps worst of all, the coast's most lusted-over restaurants were closed and boat tours were put on hold. But I mean… the pros outweigh the cons.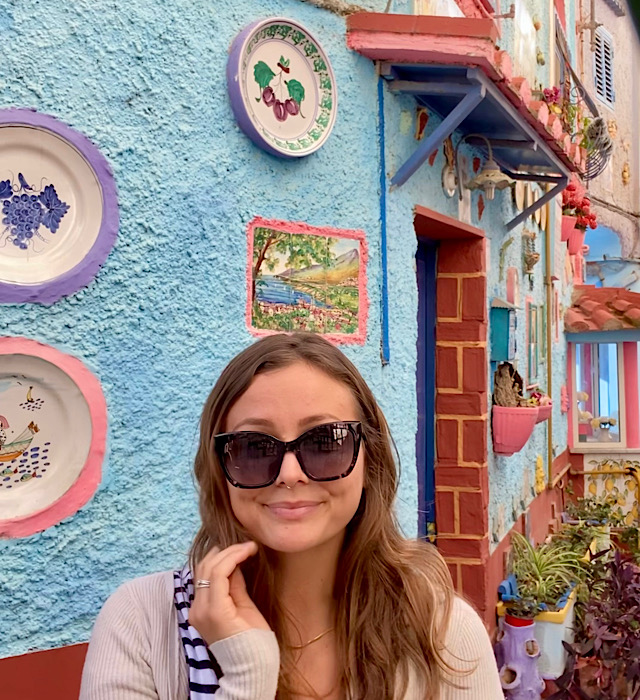 Though September is technically fall, it's still a fairly busy month for tourism on the Amalfi Coast — which is reflected in the prices, lines, and crowds. October is a better time to visit, especially considering the boat tours, restaurants, and beach clubs don't close until halfway through the month. But honestly, October can still be kind of expensive.
I suggest early November or the beginning of Spring (March) for ultimate Amalfi Coast budget travel. The vibes of summer float in the air, but the high-season prices have cooled off. By the time December rolls around, temps have dipped a bit too low for beach time and the chance of rain has gone up far past my comfort zone. (But if you're in your winter-wonderland era, I can't think of a better time to visit the Amalfi Coast than during the holiday season.) And by April, prices start to inch closer to summertime highs!
PART II — How To Get To The Amalfi Coast From The U.S. (On A Budget)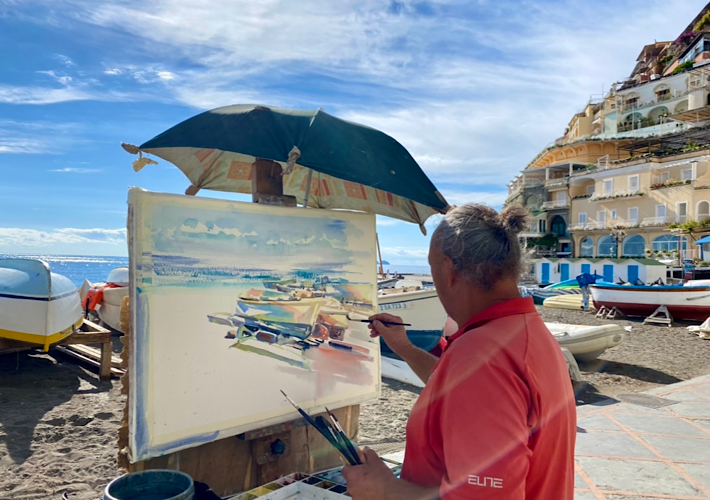 One of the top, if not the top expenditure for an Amalfi Coast trip is the airfare. Worry not, I'm here to help! You see, getting to the Amalfi Coast from outside of Italy doesn't have to cost an arm and a leg. It just takes a little strategy, is all! And no, you don't have to get a VPN or use a dodgy middle-man website.
Flying From the US to Europe: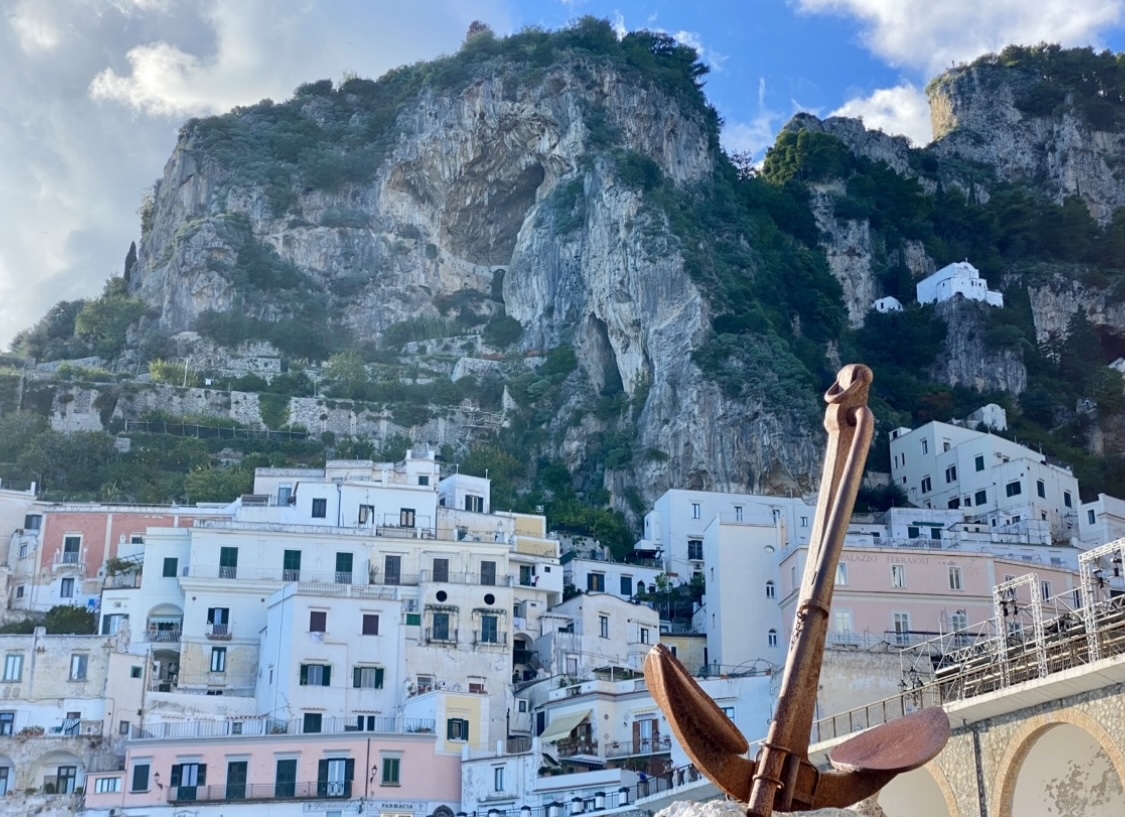 Your first step is to find an affordable non-stop to Europe as many months in advance as possible. Since these are typically from your state's largest international airport, you may have to travel a ways past your usual go-to. For example, a direct round-trip flight from JFK to London can cost as little as $400-$600. Same with Denver to Dublin and LAX to Barcelona. If you're lucky, you'll find a reasonably priced flight to Italy with a short layover in Spain, like JFK to Naples with a quick stop in Madrid.
I was able to snag a $400 one-way from Costa Rica to Madrid, then take Ryanair to Bari –which suited my long-term travel plans best. But you'll always find a much better deal doing round-trip. And personally, I avoid non-direct flights since they can end up costing you an entire day of travel.
Flights Around Europe: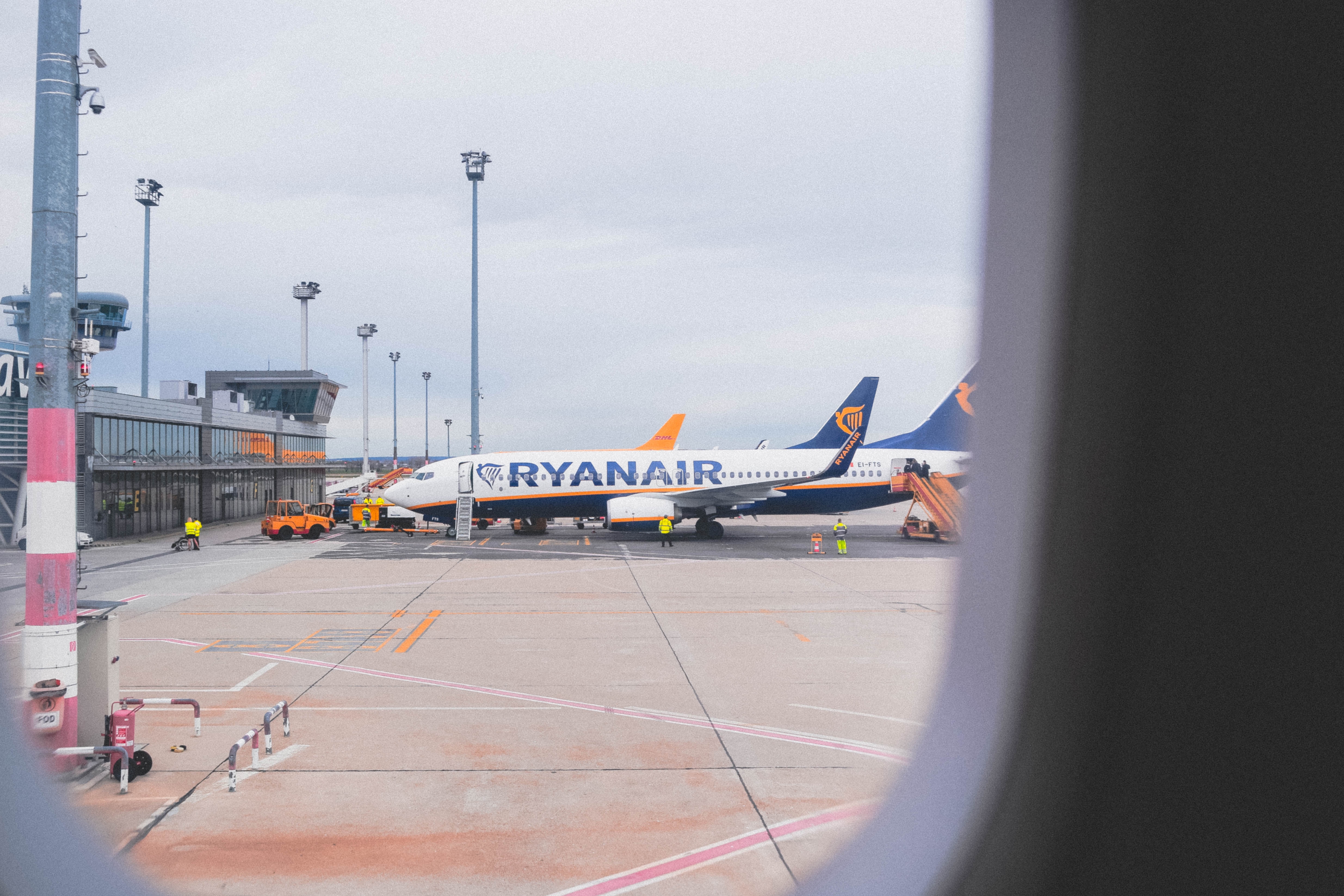 Once you're in Europe, it's a whole lot cheaper to get to Italy. Just hop on a budget airline like good ol' Ryanair to Naples, Bari, or Rome. Depending on where you're coming from, one of these Italian airports will be the cheapest. Remember, if you're not doing carry-on, you'll pay extra for a checked bag.
This is your time to practice minimalist packing, friends! Do your research, check all options, and aim for €100 or less. You might consider adding an extra day onto your arrival and departure dates to explore this bonus city (and give yourself a buffer in case Ryanair is… Ryanair-y).
Getting To The Amalfi Coast From Inside Italy:
I won't lie, getting to the Amalfi Coast is not as easy as hopping on a single high-speed train and saying "Mama Mia!" It will take varying degrees of effort to reach the Amalfi Coast from Italy's biggest cities, depending on what airport you arrive at.
FROM ROME:
The cheapest and least-confusing route from Rome is to take the 5.5-hour SITA Marozzi bus directly to Amalfi. Otherwise, you'd be looking to take a plane (pricey) or train (cheaper) to Naples, then get to either Sorrento or Salerno. The Trenitalia Frecce to Naples can be as little as €15 and takes around 2.5 hours. Just note that the faster the train, the more expensive the ticket, choose your own adventure!
From Naples and Sorrento, you've got some options, but I'll negate taxis for their exorbitant price and the ferry since they stop running mid-October.
FROM NAPLES:
Make your way to Naples main train station, Napoli Centrale. Oddly enough, the train (Campania Express) is only slightly faster than the FlixBus; both take a little over an hour to reach Sorrento. From Sorrento, hop on a two-hour SITA bus to Amalfi.
Naples to Sorrento is the path more traveled, but my pro tip is to take the 40-minute train from Naples to Salerno — the first big city just outside the eastern end of the Amalfi Coast. From Salerno, you're only 10 minutes by bus from Vietri sul Mare, one of Amalfi Coast's less traveled (and less costly), but totally gorgeous and artsy towns. Starting your travels from Salerno instead of Sorrento allows you to see the entirety of the Amalfi Coast from east to west.
FROM BARI:
Since Bari lies opposite the Amalfi Coast in the neighboring Puglia region, you'll be on a four-hour FlixBus to reach Salerno. Luckily it's a straight shot, and a beautiful countryside drive through Puglia and Campania. Once again, from Salerno, you're a quick 10-minute bus ride to the first town of the Amalfi Coast, Vietri sul Mare.
PART III — Getting Around the Amalfi Coast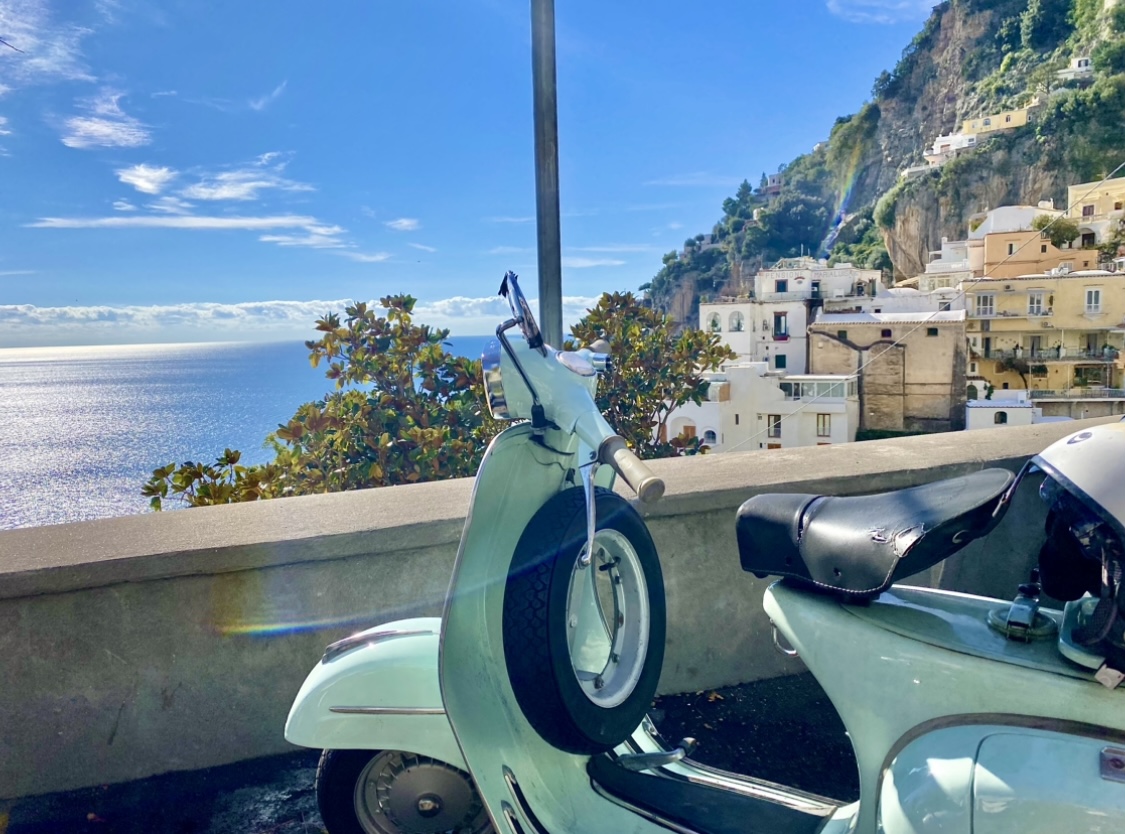 Thankfully there's decent public transportation on the Amalfi Coast because taxi-ing everywhere would eat up all your money, fast. During the fall, the SITA bus and the Mobility Amalfi Coast buses are way less packed and behind schedule than they are in the summertime. These two buses will be your main mode of transportation during your Amalfi Coast trip. The FlixBus is great for regional routes, like from Amalfi to Sorrento and Sorrento to Naples. So definitely rely on FlixBus for getting you back to your departure city.
PART IV — Free and Inexpensive Things to Do
Let's be honest. Life in Italy is more about what you're not doing than doing. La dolce far niente ring a bell? Still, there are plenty of free and almost free things to do around the Amalfi Coast (besides drooling over sexy Italians).
Hikes: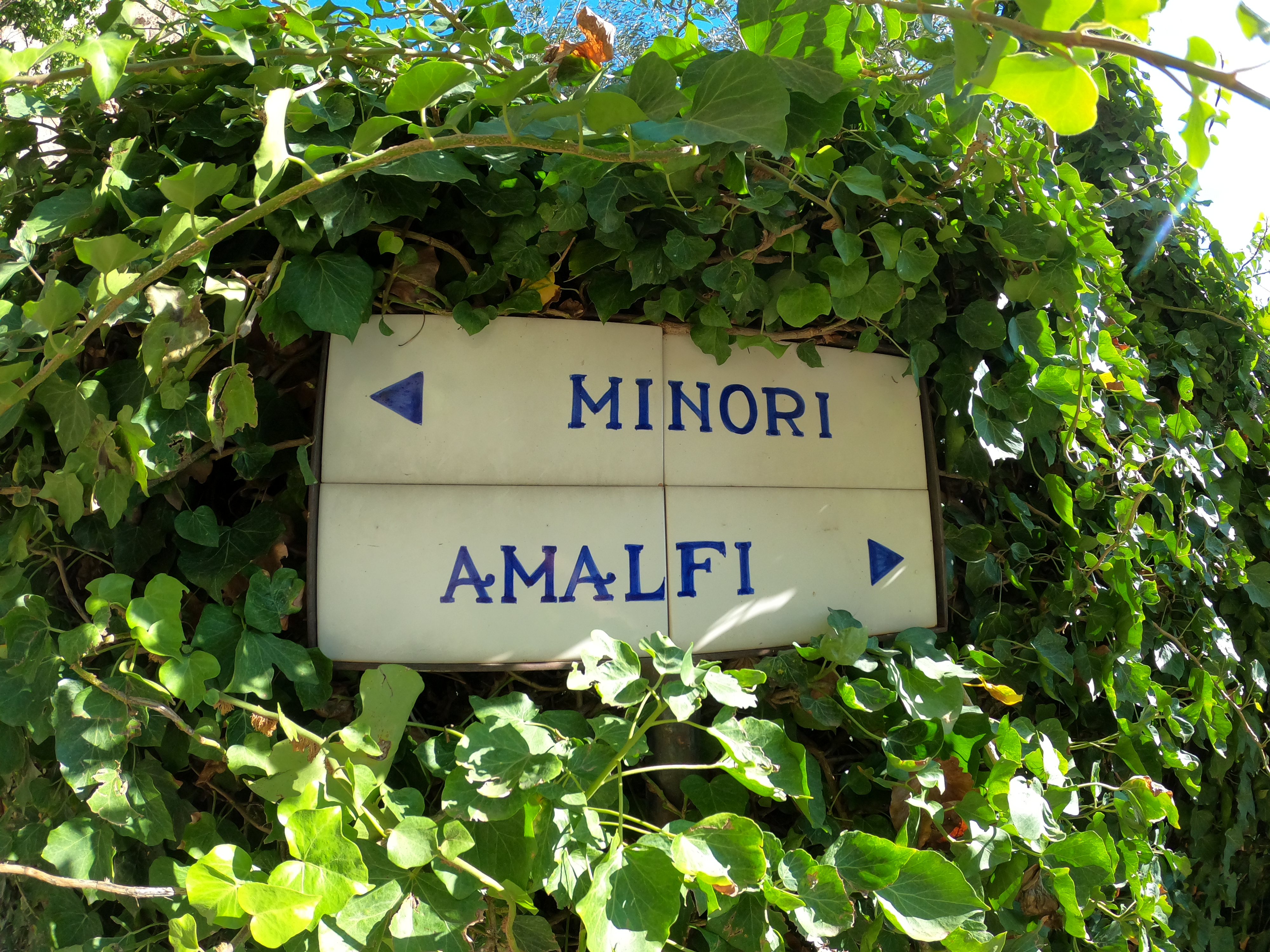 There's more to do on the Amalfi Coast than meets the eye (or Instagram), so pack up your athletic shoes because we're going hiking! One of the best free activities and eco-friendly vacation activities ever. Below are a few hiking paths that have been worn by generations of Amalfi Coast locals (and their mules) to move between lemon and olive groves, vineyards, farms, and villages in the Lattari Mountains Nature Park (Parco regionalale dei Monti Lattari). Fantastico!
Path of the Gods (Il Sentiero Degli Dei):

This ancient path is the most well-known hike on the Amalfi Coast. There's no need for a guide to hike the Path of the Gods, just make your way to Bomerano by bus and follow the red and white signs for Il Sentiero Degli Dei toward Nocelle and Positano. If you're up for it, you should absolutely hike the extra mile to Positano! Delight in expansive vistas of the turquoise Tyrrhenian Sea, and the length of the Sorrento Peninsula. Witness all the little Fiats and Vespas below whizzing around while you're up in the serenity of nature. Take a moment every now and then to spot the island of Capri in the distance. Path of the Gods is about five miles round-trip.
Stairs of Ravello: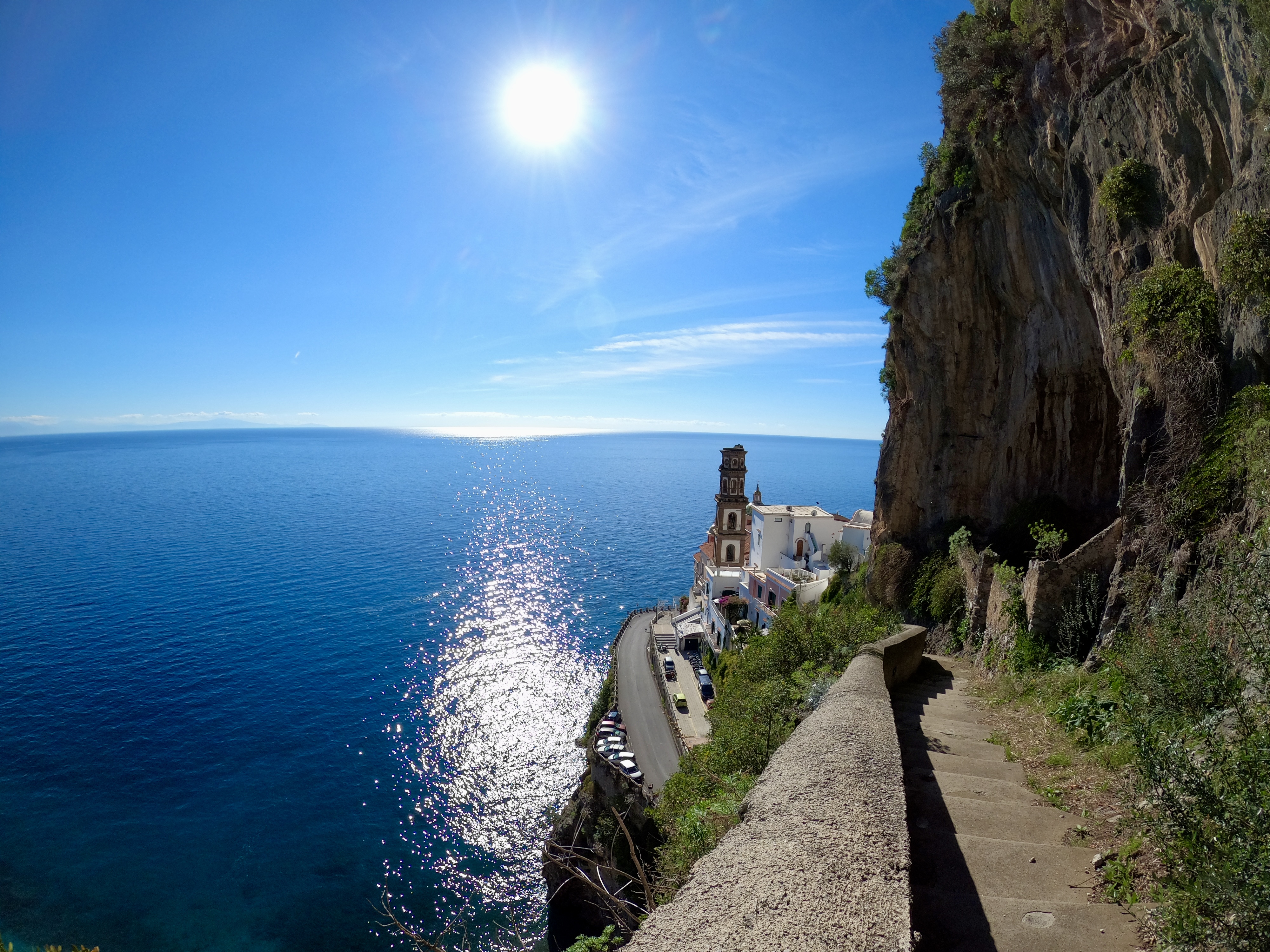 I'll be honest, the stairs to Ravello are steep. This hike is a lot more difficult than the Path of the Gods. I did not want to move at all the next day. But it was totally worth it! I began the hike from Atrani's cathedral, but since these paths form a network, you can start from other towns like Amalfi. Expect to climb around 1,700 ancient steps to the romantic medieval town of Ravello. This one is a doozy! Let yourself be enchanted (and distracted) by stunning views and the scent of lemons and olives all around you.
For emotional support along the way, pet all the cute kitties! I promise it helps.
Path of Lemons (Sentiero Dei Limoni):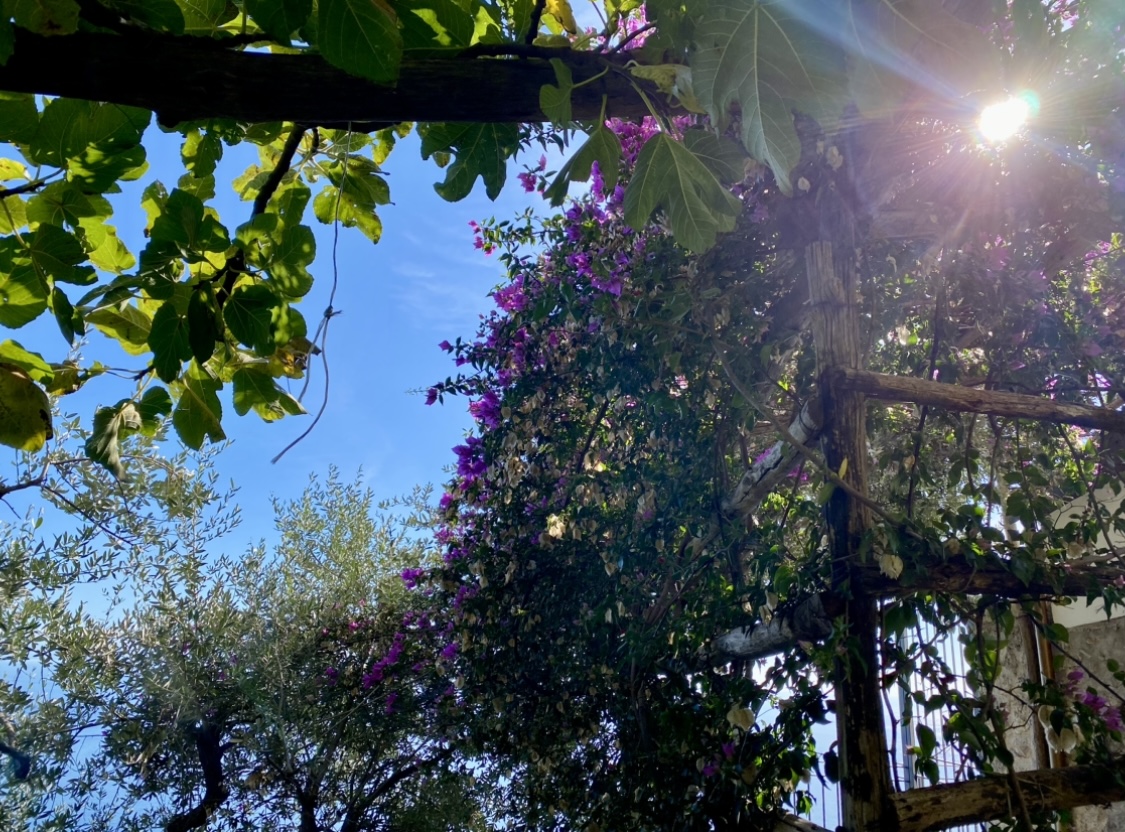 Long ago Amalfi Coast sister towns, Minori and Maiori, were connected solely by this trail, the Path of Lemons. Thankfully, Sentiero Dei Limoni is a lot less daunting than the stairs to Ravello. You can start from either town and follow the small ceramic signage along the path. There are plenty of citrus groves and incredible views to be relished along the hike, with only a handful of stairs (okay, 400 of them).
You'll pass through the tiny village of Torre and walk by small homes selling fresh lemonade.
Iron Valley (Valle delle Ferriere):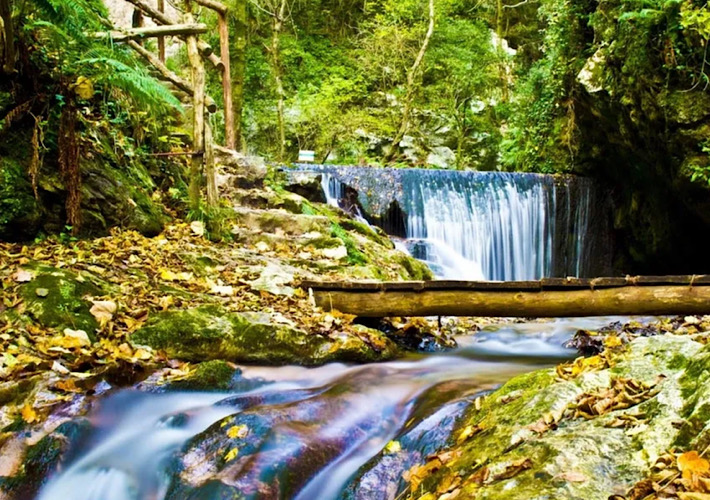 Did you know that you can hike to a nature reserve from Amalfi town? Just follow the main road in Amalfi up and out into the woods. Keep on track with the red and white signs for Valle delle Ferriere, and you'll discover numerous waterfalls, pass by the moss-covered ruins of old iron and paper mills, and bathe in freshwater swimming holes. Who would have thought?!
The hike there shouldn't take you more than 45 minutes. Park officials will ask for €5 to access the very top waterfall, so this isn't an entirely free experience, but almost!
Free Beaches:
In the land of over-priced beach clubs, you'll be happy to know that almost every beach has a sliver of free beach (spiaggia libera) for anyone to enjoy, free of charge. Yes, even the most popular beaches! More good news? If you're visiting the Amalfi Coast during October and onward, most of the beach clubs close… in which case every beach is a spiaggia libera! Just note, that many Amalfi Coast beaches are pebbled — so packing a cushy beach towel is a good idea. If you want to be extra comfy, bring a yoga mat.
We've all seen the bikini-clad influencer photos at Spiaggia Grande in Positano. And you can get the same shots (if you're into that kind of thing) without paying a dime. Just claim your slice of pebbled beach where there are no patterned parasols or colorful daybeds. And get there early. Other big-name beaches like Spiaggia di Fornillo in Positano and Marina Grande in Amalfi have free sections. It will feel great to know you're soaking up the same Mediterranean sea and sun as those spending upwards of €500 for their beach day next to you.
My favorite beach on the Amalfi Coast is Fiordo di Furore, it is simply cinematic. And it's always free. Beyond swimming and sunbathing, Fiordo di Furore is great for cliff diving, and you can leap off the 100-foot-tall Amalfi Coast road bridge overhead.
Affordable Beach Clubs: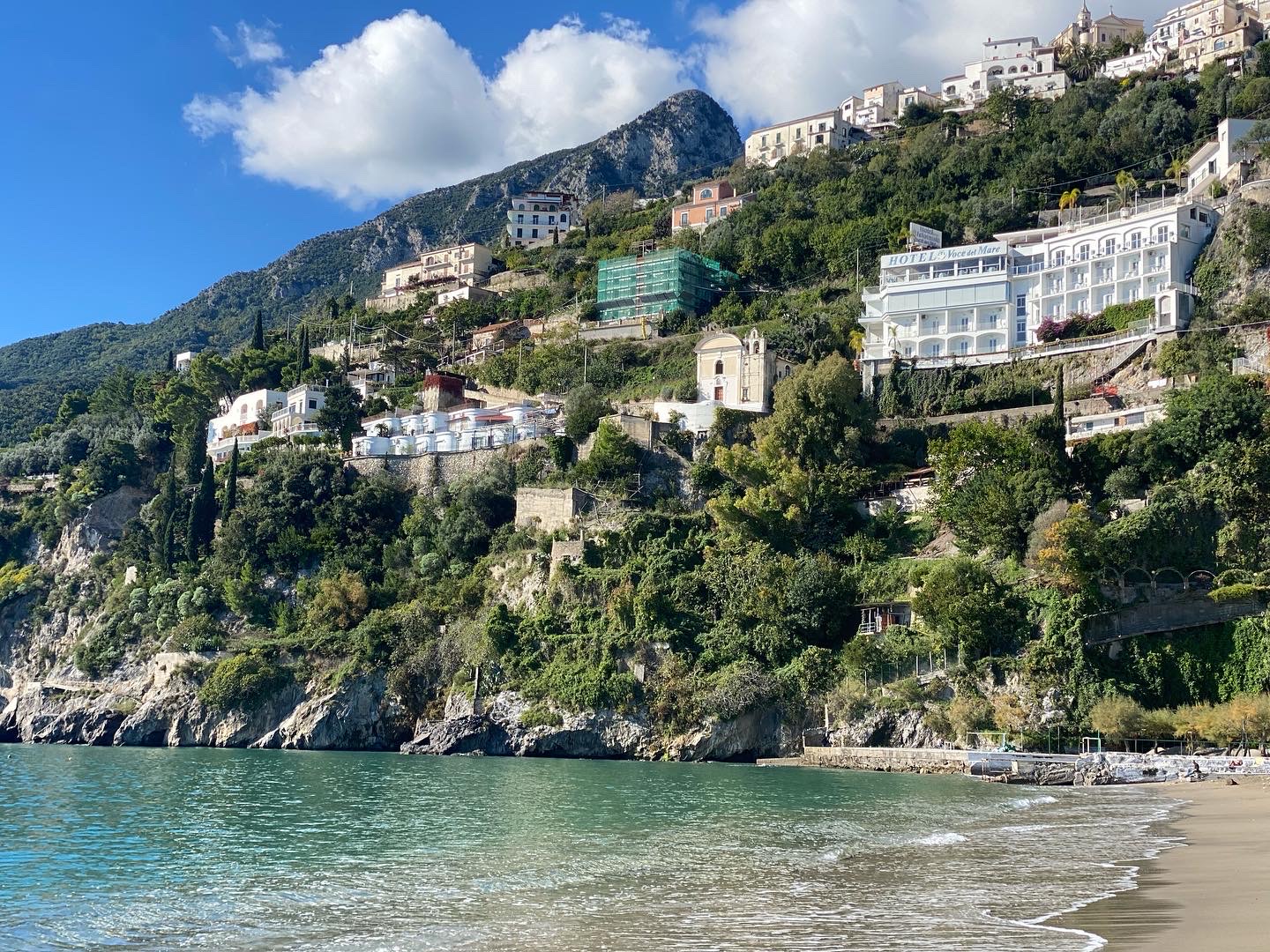 As a rule of thumb, the further east on the Amalfi Coast you go, the more affordable the beach clubs become. For example, Minori, Maiori, Erchie, Cetara, and Vietri sul Mare all have serviced beach clubs at a fraction of the price of those in Positano and Amalfi. Not to mention the beaches here are nice and sandy, and of course, all have free sections as well. But if you've got some room in your budget, there's nothing quite like being served a glass of bubbly beachside on the Amalfi Coast.
These smaller towns are the most affordable places to treat yourself to a splurge beach day.
Ravello's Villas:
These two villas in the hills of Ravello are absolutely stunning, and though they're not without a small entrance fee (€7), their value is hard to put a price on.
Villa Cimbrone:
The Villa Cimbrone is no doubt the crown jewel of Ravello. With its stunning Terrace of Infinity and painfully perfect manicured gardens, you'll soon be under the spell of what makes the Amalfi Coast so alluring. Effortless beauty. (Okay, effortful, but whatever.)
Villa Rufolo:
One of the most widely-known photographs of the Amalfi Coast is taken here at the historic Villa Rufolo. An iconic shot of the bell tower of the Chiesa Dell'Annunziata below the villa's tall Italian stone pine tree. Villa Rufolo's gardens are arguably just as hypnotizing as the Villa Cimbrone. For a bird's-eye perspective of the gardens and the Gulf of Salerno, climb the stairs of the Torre Maggiore museum.
If you're like me and get startled easily, you should know that there's a jarringly loud, motion-sensor soundtrack in the museum. It was in Italian, so I assume it was an interesting story of Villa Rufolo's history.
Duomos: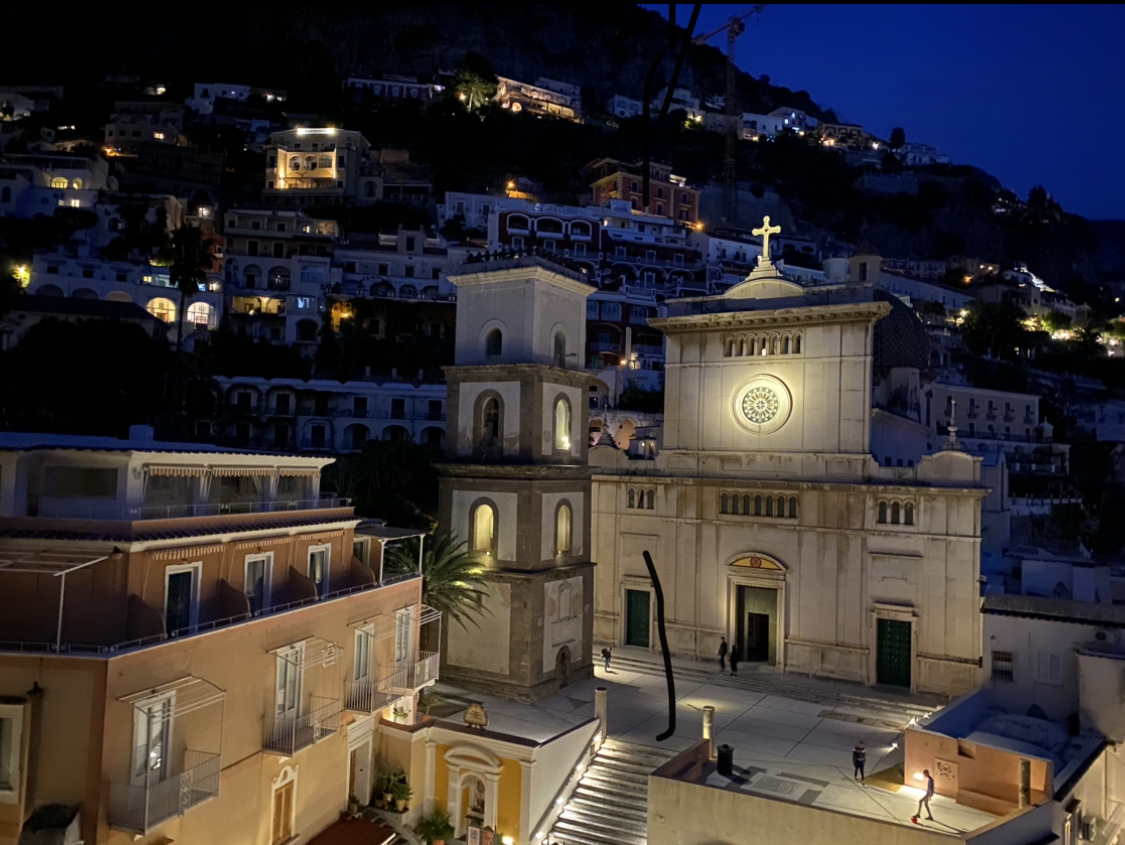 Of course, visiting churches is a free thing to do on the Amalfi Coast. And they're aplenty all over Italy. For some, they all look the same. But if you're a little travel nerd like me, you find appreciation for a church as a glimpse into culture, heritage, history, and way of life. The cathedrals (Duomos) on the Amalfi Coast each have an artistic architectural feature: the Italian majolica dome. These colorful domes are constructed with ceramic tiles that sparkle in the sunlight and are laid in unique patterns. Fun fact? These majolica tiles were made right here on the Amalfi Coast in Vietri sul Mare!
I suggest seeing the Duomo di Amalfi and its fabulous staircase, the Chiesa di Santa Maria Assunta in Positano (at night if you can), the Chiesa di Santa Maria Assunta in Atrani (the dome is right behind it), and the Chiesa Parrocchiale di San Giovanni Battista in Vietri sul Mare.
Museums:
I'm not a huge history buff myself, but there are some incredible museums on the Amalfi Coast that you can visit for a low cost. Amalfi town has two museums worth checking out. The first is the Museo della Carta: the oldest paper mill in Europe! You'd best grab a few gifts made of Amalfi Paper while you're here. Amalfi paper is so soft and you can get a name or initials imprinted for a personalized touch. Entrance to the paper museum is €10.
Then there's the Arsenale di Amalfi (Amalfi Arsenal) which is the museum for history buffs who specifically geek out on military history. Amalfi was an extremely powerful force in its maritime past. Learn all about it and see preserved relics of a bygone era at the onsite museum: the Museum of the Compass and the Maritime Duchy.
If you happen to be in Vietri sul Mare hanging for a low-cost luxury beach day, check out the Museo della Ceramica Vietrense. This little town is where the glittering cathedral domes were made! Vietri is the ceramic capital of the Amalfi Coast. The museum is small, but if you enjoy artsy-fartsy things, you'll get a kick out of the iconic lemon, stripes, and donkey designs, and of course that special Amalfi yellow — originally Vietri yellow!
PART V — Where to Stay (On A Budget)
Lesser-Known Amalfi Coast Towns: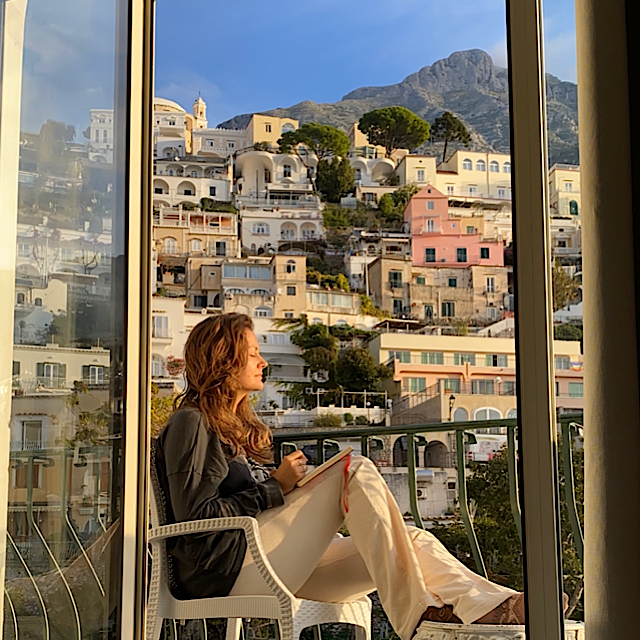 Remember how I paid €100 a night in Positano? Well, that is definitely considered a budget price. Positano is the most expensive town on the Amalfi Coast. Luckily, you're about to become familiar with Amalfi Coast's lesser-known, totally cute towns and villages.
Atrani: I loved my stay in whimsical Atrani because I could literally walk to Amalfi in 10 minutes, then retreat back to my Airbnb for a more relaxed vibe. Airbnb stays can be very affordable here during the autumn months especially. Mine was a discounted $64 a night with a mountain view deck! But make no mistake, this charming town is no "hidden gem."
Minori & Maiori: You're bound to find some of Amalfi Coast's most well-priced hotels and Airbnbs in these two historic towns just east of Amalfi. They're very well connected with public transportation and have their own ports for ferry access (again, those come to a halt mid-late October). An inexpensive hotel in Minori or Maiori during October goes for around €70 a night. That same hotel in November? €45.
Vietri sul Mare: Though you're about an hour-long bus ride (and €2) from Amalfi town, Vietri sul Mare is an underrated home base for Amalfi Coast travel. It's beautiful, authentic (not over touristed), and well-connected to all the towns and villages. Plus you have easy access to larger cities like Sorrento, Naples, and Salerno via train, ferry, and bus. Bed and breakfasts are your best bet for affordable accommodation in Vietri. I paid €70 a night at B&B Sogno.
Sorrento: For the utmost budget option, you'll be staying in Sorrento. Sorrento is not technically the Amalfi Coast, but we'll let that slide for the sake of visiting one of the world's most expensive destinations in an economical fashion. Right? Right. Sorrento is the only city near the Amalfi Coast that has a hostel. At Seven Hostel in Sorrento, you can pay as little as €20 a night from mid-October through November. That's pretty hard to beat!
PART VI — Where To Eat (On A Budget)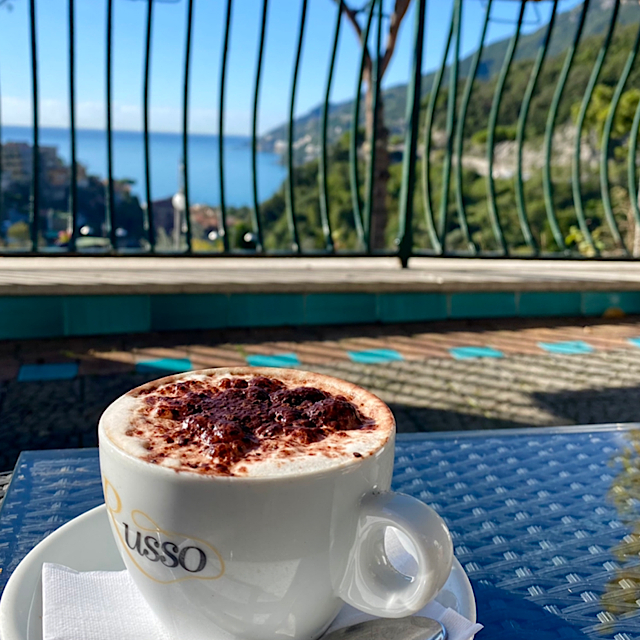 Besides staying at bead & breakfasts, the best way to save money on food is to make your own… But that's like going to a candy store (Italy) and not letting yourself eat sugar (pasta). Live a little! Here are some wallet-conscious ways to eat well on the Amalfi Coast.
Picnics:
You might be tempted to post up on the terrace of Franco's Bar in Positano and spend a couple of hours sipping cocktails. But at €22 an Aperol, that afternoon will cost a pretty penny. If that bothers you, a picnic is the solution! Get the Italian version of a charcuterie, known as an affettati from a local salumeria (hit Alimentari Paradiso and Latteria Mini market in Positano). Prosciutto and mozzarella are the tip of the iceberg here. I like to ask for the most local and fresh offerings (locale e fresco) and buy a bottle of wine (or two) then head to the beach or a scenic park.
Now if you ask me, that's a much more original Instagram photo.
Bottegas + Local Spots: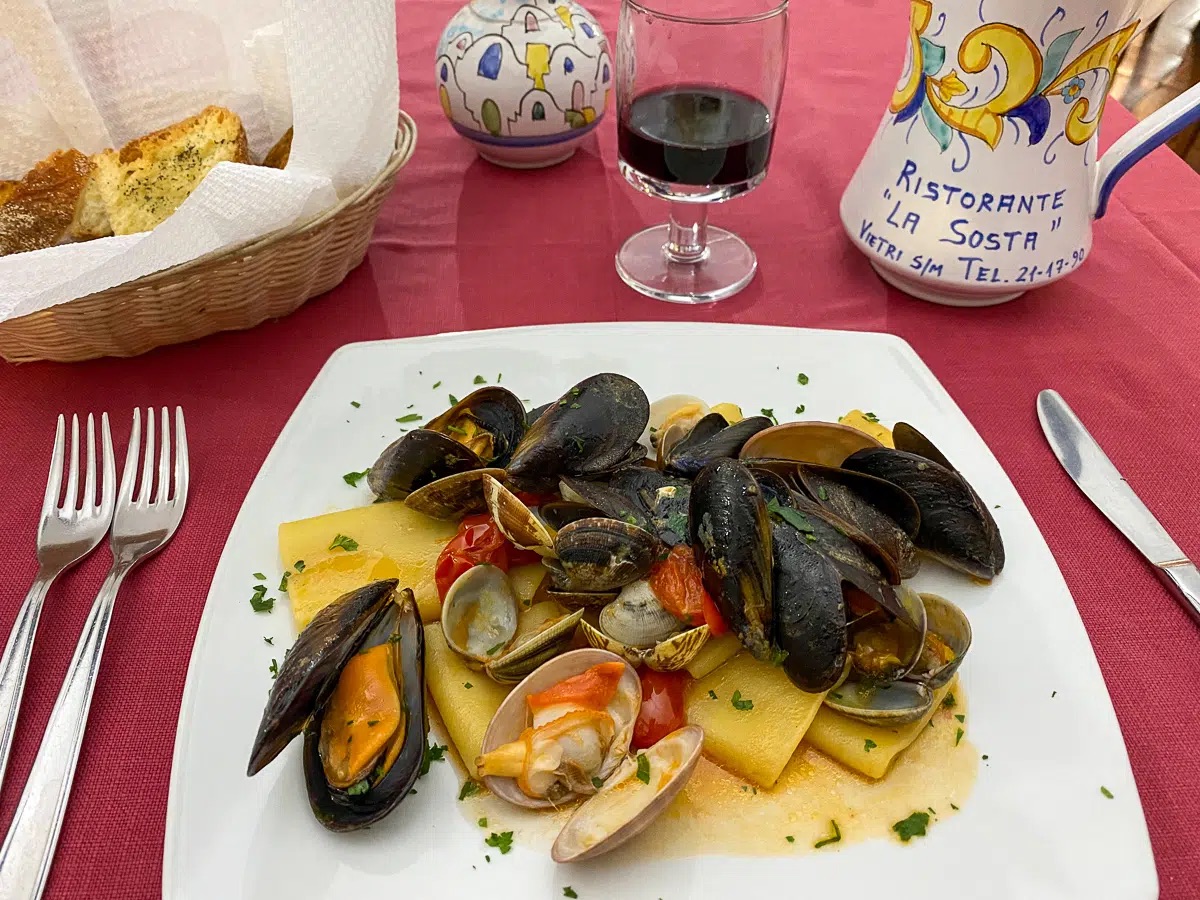 My tip is to try eateries that are more local and less big-name, like an osteria. Off the tourist drag in Vietri sul Mare is Ristorante La Sosta, where I had an incredible five-course meal of down-home Italian cooking complete with a carafe of wine, dessert, and limoncello for like €40 (a treat-yourself-night).
You can also find delicious, fresh food on the low at pizzerias (Mistral in Atrani has a whole margherita pizza for €6), bars (not that kind, the Italian kind) like crowd favorites Chiosco Bar San Francesco in Maiori and Masaniello Art Café in Amalfi (get the €10 burger with eggplant on a housemade bun, omg). And you MUST get a fried seafood cuoppo from one of the many street vendors!
You can also get an aperitif at a spot where drinks are served with a bite to eat. It's kind of a "hack" if you will. But you'd be surprised at how filling some of the small plates can be, like meats, cheeses, bread twists like taralli, and finger sandwiches (tramezzini).