Last year the national wing chain Wingstop threw its hat into the ongoing chicken sandwich wars and not only did they drop one of the best chicken sandwiches of the year (it even sold out, just like current GOAT Popeyes) they dropped 12 of them! That's unprecedented in the world of fast food chicken sandwiches. Sure, most chains out there have several options, Chick-fil-A has the Original and Spicy, same deal with Popeyes, Burger King has a handful, and even Shake Shack is known to — pun very much intended, no apologies — shake it up every now and then, but 12?!
12 is a lot of f*cking chicken sandwiches fam. Some would even say, an excessive amount. That's us, we're saying it, 12 is too f*cking much. It's so f*cking much that I feel the need to curse about it every time I write the number "12." F*ck! There is no way in hell all 12 of them could be good right? Well, we found out so that you don't have to. Yes, we ate all 12 Wingstop chicken sandwich flavors to determine which are essential and which you should never ever order.
But First… The Fixings
Did I mention that 12 chicken sandwiches is a lot of f*cking chicken sandwiches? Let's be honest, while 12 is an impressive number, at the end of the day Wingstop's chicken sandwiches only differ in the sauce and seasoning the chicken filet is tossed in, the rest of the build (pickles and bread) is unchanging so to save some time (yours and mine) I'm just going to go ahead and review the bread and pickles this one time.
The bread is, unfortunately, not great. Earlier I mentioned that Wingstop dropped one of the best chicken sandwiches of the year, but it's still not the best and the bread is what is holding it back. It's just not good — way too dense and generally flavorless. If anything, it dampens the flavors of the sandwich. On several occasions I thought about ditching the bread and eating the sandwich with a knife and fork, that's a bad sign!
If Wingstop wants a better sandwich, they should reformulate this bread. It needs to be airier, more buttery, and maybe even a touch sweeter.
The pickles are… well, pickles. They add some tang to the sandwich and some earthy bitterness but they're a bit too squishy for my liking, but that's merely pickle preference. Some people like those swollen juicy pickles that explode when you bite into them, I like a crispier pickle that adds texture. It honestly feels like the pickles are just there because that's what people expect from a chicken sandwich. For some flavors, I think they're entirely unnecessary, and I'll shout out the sandwiches that have pickles but don't need 'em.
All right, on to the flavor ranking!
12. Plain
Tasting Notes:
I'm not going to say the Wingstop Plain chicken sandwich is gross but I can't say that it's good either. The chicken is tender and juicy, but the breading isn't well seasoned enough for this to taste enjoyable. I'm getting a mix of black pepper and garlic and onion powder, but little else.
Who is getting Plain? Why is this even a flavor at Wingstop? If you want fried chicken, go to Popeyes, if you want a plain chicken sandwich, go to… Popeyes, or hell, even Burger King, don't come to Wingstop and pay over $6 for a flavorless chicken sandwich.
The Bottom Line:
Boring and it really puts into perspective just how weak the bread and pickles are.
11. Hawaiian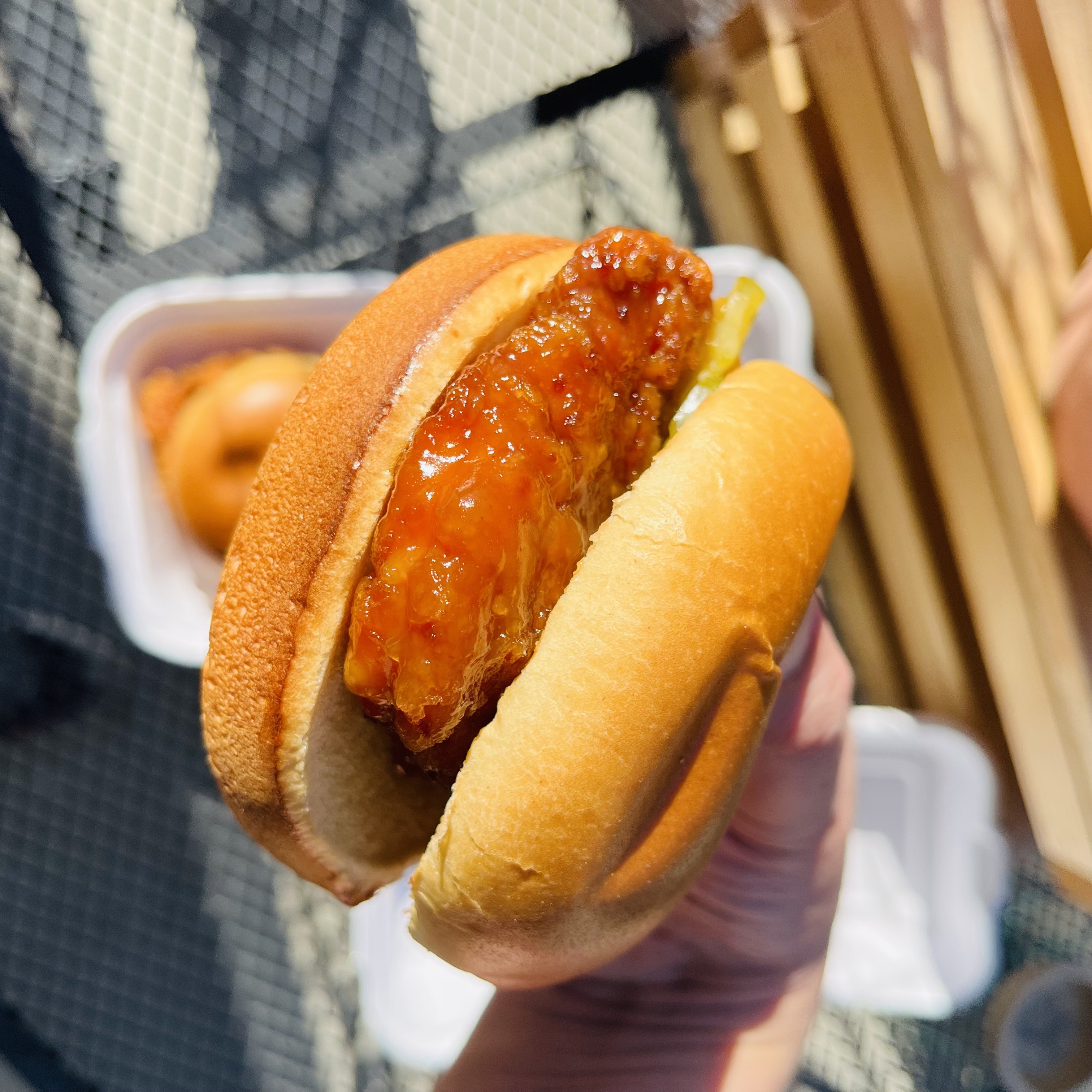 Tasting Notes:
Full disclosure, I love Wingstop's Hawaiian wings, but as a chicken sandwich? This one misses the mark. You get some sweetness here with a tiny hint of tang, but it needs a sour component for it to translate. If this had a slice of grilled pineapple in it, it would make the sandwich, but as it stands the sweet and tangy flavors clash with the pickles, which offer a briney saltier tang that just doesn't play well with the sauce.
This thing is so close to being good though, just imagine it built upon a Hawaiian Sweet Roll. So many possibilities that Wingstop just ignores.
The Bottom Line:
A great wing flavor but a major swing and a miss as a chicken sandwich. If Wingstop put a little more care into the fixings, it would make this sandwich work, but as it stands, it doesn't gel with the base.
10. Mild
Tasting Notes:
Take this one with a grain of salt — I have a very high spice tolerance, so, to my tastebuds, this just tastes like a boring version of another flavor (Original Hot). It's tossed in a light buffalo-style hot sauce that doesn't even register as a subtle burn on my tastebuds, it comes across as more sweet than anything.
At the end of the day, Wingstop makes better sweet sandwiches if that is what your tastebuds are more geared toward, and if you actually like heat, this just doesn't cut it.
The Bottom Line:
If you have a low tolerance for spicy food, this is a good-tasting sandwich, but if you can handle the heat, it barely registers as anything at all.
9. Lemon Pepper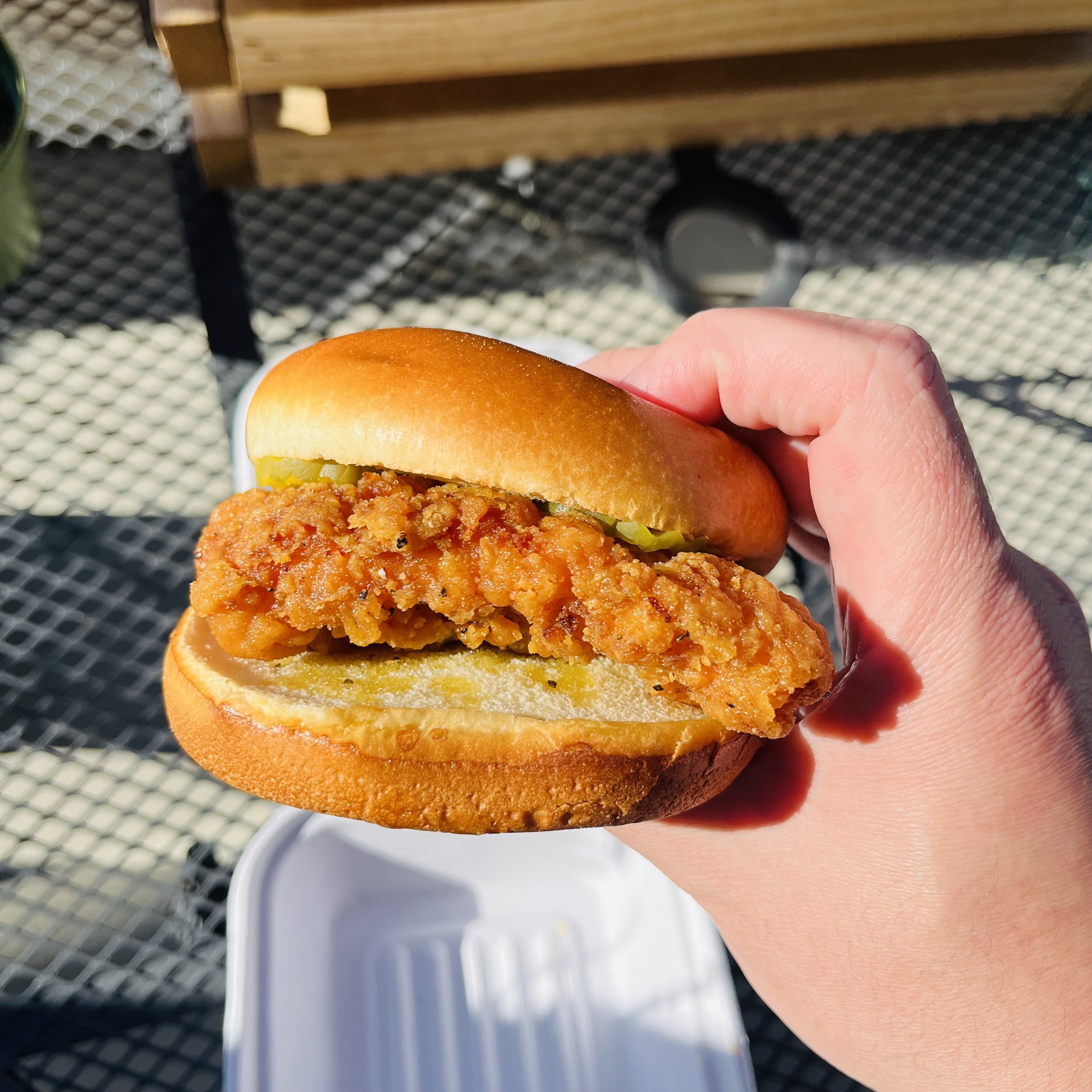 Tasting Notes:
I think this will probably be the most divisive entry in this ranking. I know a lot of people who swear by this sandwich, Lemon Pepper is a top-five flavor at Wingstop but I've noticed something about the people who tell me that the Lemon Pepper makes for a great sandwich: none of them are food writers.
Now I'm not saying I'm blessed with better tastebuds, but I taste a lot of different foods and flavor combinations. Believe me when I tell you this one doesn't work. It has a sour, tangy, lemon-forward flavor that doesn't mix at all with the pickles. It's almost wince-inducing, there is no balance here, it's like eating intensely sour candy.
For that reason, I suggest you order this one without pickles. Without pickles, this is a massively better sandwich, especially if you dip it in one of Wingstop's creamier sauces (blue cheese or ranch, take your pick). Unfortunately, I couldn't rank this without pickles, so it is what it is.
The Bottom Line:
Order it without pickles. Every time.
8. Louisiana Rub
Tasting Notes:
This one hurts personally because Lousiana Rub is my all-time favorite Wingstop flavor for wings but as a sandwich? It's way too dry. Wingstop has decided that their sandwiches should be sauceless and for the most part, that makes sense. Most of the flavors are in fact sauces, so it doesn't make sense to spread a layer of mayo onto these sandwiches. But this is a dry-rub, so across the palate, it comes across as way too dry.
The mix of flavors is great, there is a zesty blast of flavor that combines cayenne, paprika, black pepper, and garlic which all pair very nicely with the pickles, but it desperately needs to be dipped in a sauce to make the flavors all come together. As it stands, it just comes across like it's missing something.
The Bottom Line:
If you like the zesty salty flavors of this seasoning, luckily Wingstop has a similar flavor that comes across as a lot more delicious.
7. Mango Habanero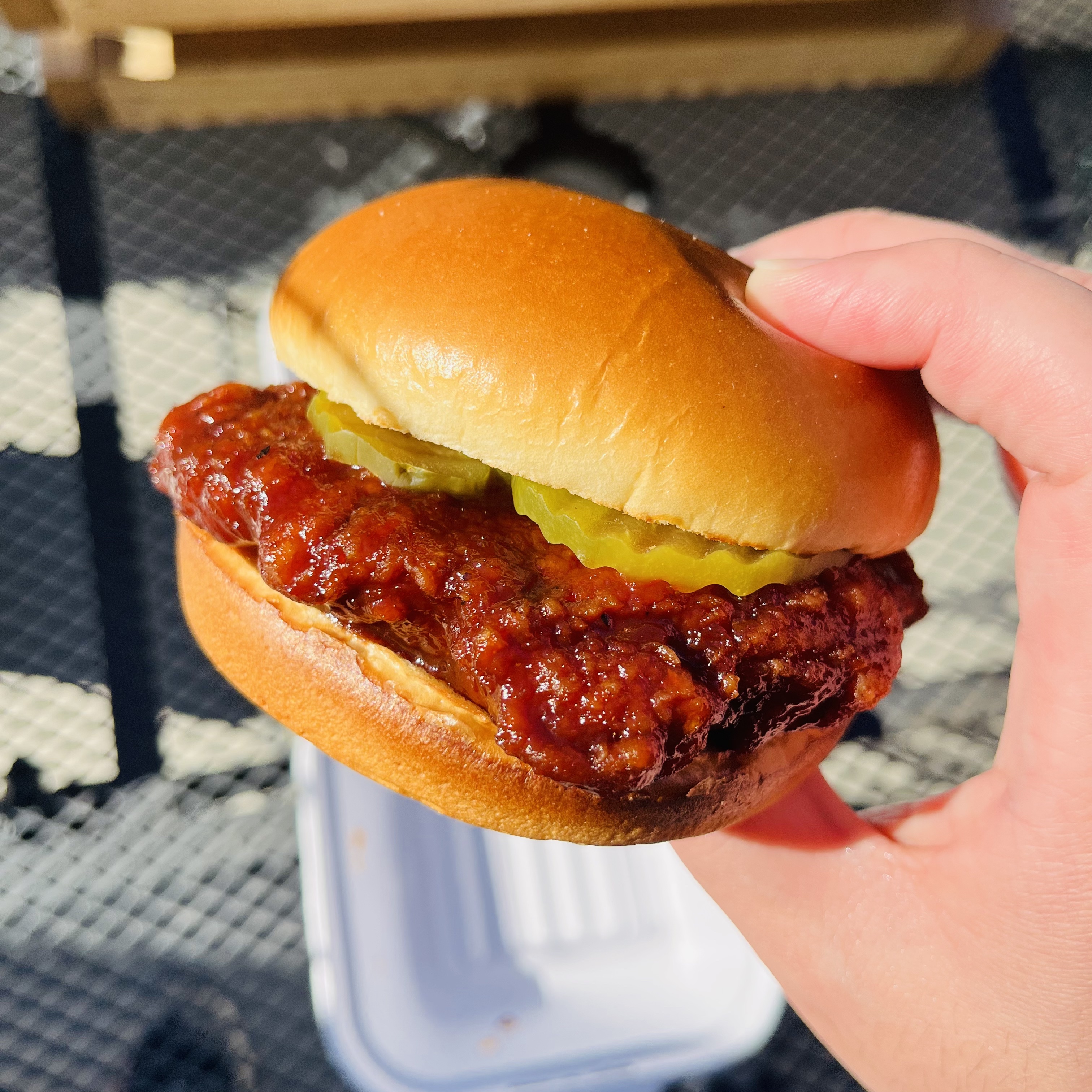 Tasting Notes:
I can't be the only one who is constantly disappointed by habanero-flavored foods. The habanero is an amazing chili pepper, it has an intense spice that burns the throat and ignites the palate, but it balances itself out with a lot of bright citrus tones which keep it from being a chore to get through. A lot of chili peppers come across as a challenge to eat, not a pleasure (we're looking at you, Scorpion and Ghost pepper!) but the habanero allows you to enjoy intense heat while still actually tasting good.
Where am I going with this? Well, habanero-flavored foods almost never actually taste like habanero peppers. This is spicy, no doubt, but not nearly as hot as I want it to be. That element of bright citrus is there, and by mixing mango notes in there you get some round fruity sweetness added to the equation, which is nice, but it's just not spicy enough. Not for what the name would suggest. It's good, but not great.
The Bottom Line:
It's sweet, citrusy, and bright, but not all that spicy.
6. Garlic Parm
Tasting Notes:
After eating the Garlic Parmesan chicken sandwich from Wingstop I've come to the conclusion that there aren't nearly enough Garlic Parmesan chicken sandwiches on the market. This is a great flavor for a chicken sandwich, it's buttery, intensely savory, salty, and nutty with a constantly shifting expression of flavors that never tastes boring. Unfortunately, it suffers from Wingstop's "one build fits all" sandwich style.
This would taste massively more delicious if it had some marinara sauce spread on the bun. That simple change would bump it up to top-three status.
The Bottom Line:
A great sandwich marred by Wingstop's lack of imagination.
5. Original Hot
Tasting Notes:
This is likely the flavor Wingstop tested out most heavily when they formulated this chicken sandwich, which makes sense as it's probably the chain's most popular flavor. Everything about this sandwich just works, the sauce brings this nice balance of heat and sweetness, and the pickles elevate it to a new height with the infusion of earthy, tangy, salty flavors.
It tastes remarkably well-balanced like it doesn't need anything to make it better.
The Bottom Line:
If you're on the fence about a Wingstop chicken sandwich, start here, it'll convince you the chain has something to say in the chicken sandwich wars.
4. Cajun
Tasting Notes:
Remember during the Lousiana Rub write-up when I mentioned there was another sandwich with similar flavors but a better execution? This is that sandwich. The Cajun mixes prominent spicy notes with a hint of salt and zest. It comes across as much more interesting to the palate than the "hot," but considerably less spicy.
While I love a spicy sandwich, I'll take flavor over heat any day and the mix of smokey paprika, cayenne and black pepper with a touch of sweet heat make this sandwich a winner.
The Bottom Line:
Similar to the Original Hot with a little more for your tastebuds to latch onto.
3. Hickory Smoked BBQ
Tasting Notes:
Like the Original Hot and the Cajun, the Hickory Smoked BBQ offers a more interesting mix of similar flavors. Unlike the Cajun, you've got just as much heat as the Original Hot, but it has a nice smokey and sweet component to it that makes it come across as much more interesting and enjoyable than the plain old Hot offers.
Notes of brown sugar molasses mingle with smoked tones and a heat that grows on the tongue with each bite. By the end of your sandwich your mouth will be watering for more and that's always a sign of a great sandwich.
The Bottom Line:
Smokey, sweet, and spicy. On certain days, this can win the number one spot.
2. Atomic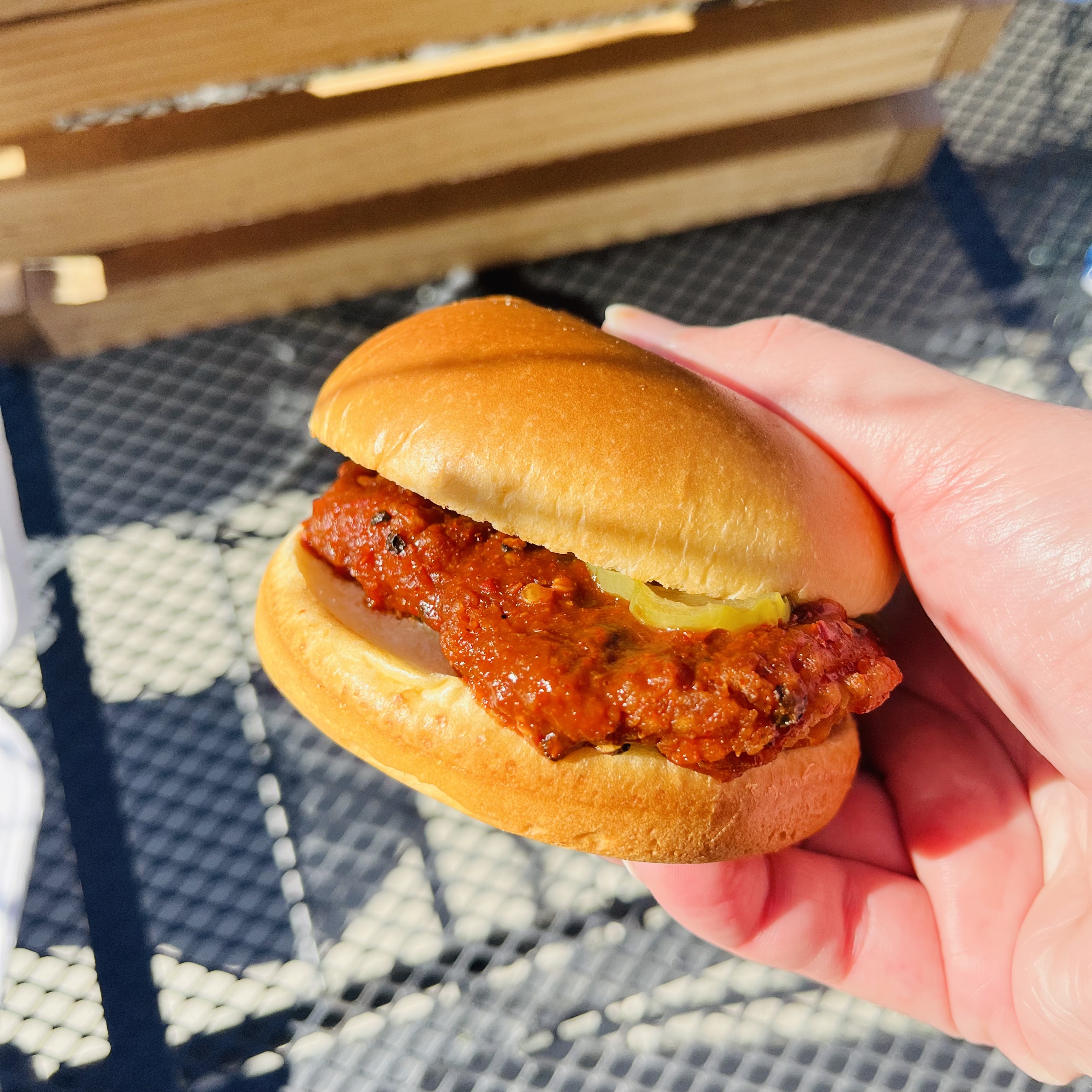 Tasting Notes:
Be warned, if you have a low spice tolerance, don't even try the Atomic. It's absurdly hot. But if you can handle the heat, buckle up, because this sandwich is an absolute joy to eat.
Once you bite into it you're met with an initial tinge of sweetness that quickly ramps up to a tastebud-burning heat. Before you're done with your first bite, your mouth will be on fire. The wet buffalo-style sauce keeps each bite from coming across as too dry on the throat but just barely, if you aren't careful, this sandwich will send you into a coughing fit. Even if your spice tolerance is high, you're going to have watery eyes by the end of this meal.
The Bottom Line:
Intensely hot, only for the biggest spicy food fanatics. If your tolerance isn't high, you're not even going to enjoy this.
1. Spicy Korean Q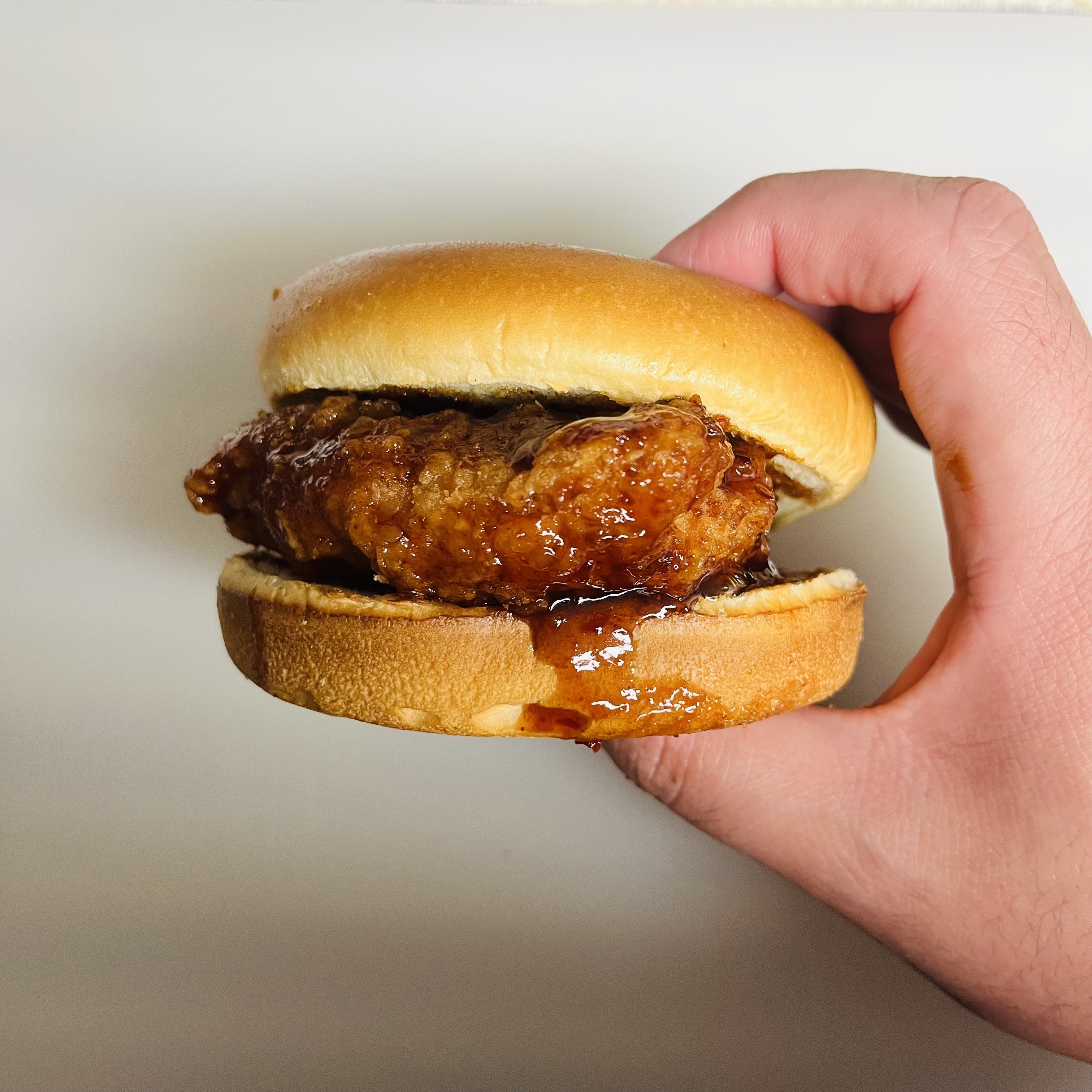 Tasting Notes:
The Spicy Korean Q is without a doubt Wingstop's best chicken sandwich. It has everything the hot, cajun, and Hickory BBQ offer: a blend of sweet and spicy flavors that slap the tastebuds to attention and cause your salivary glands to water in the best way, but add a lot more depth of flavor. Unlike the BBQ, this sauce isn't just sweet, it's earthy, herbal, and almost floral. Notes of ginger, garlic, and the snap of sriracha and red pepper create this unique bouquet of flavors that hit you in waves.
Just when you think the sandwich is too rich, it ramps up the heat, and vice versa, it's constantly shifting in this perfect balance of sweet and spicy. If Wingstop just replaced those pickles with kimchi, then BAM, this would be the best chicken sandwich in the game.
The Bottom Line:
Dangerously close to being the most delicious chicken sandwich you'll ever eat. Hands down Wingstop's best and a perfect balance of flavors. This sandwich is the best representative of what the Wingstop chicken sando does right.