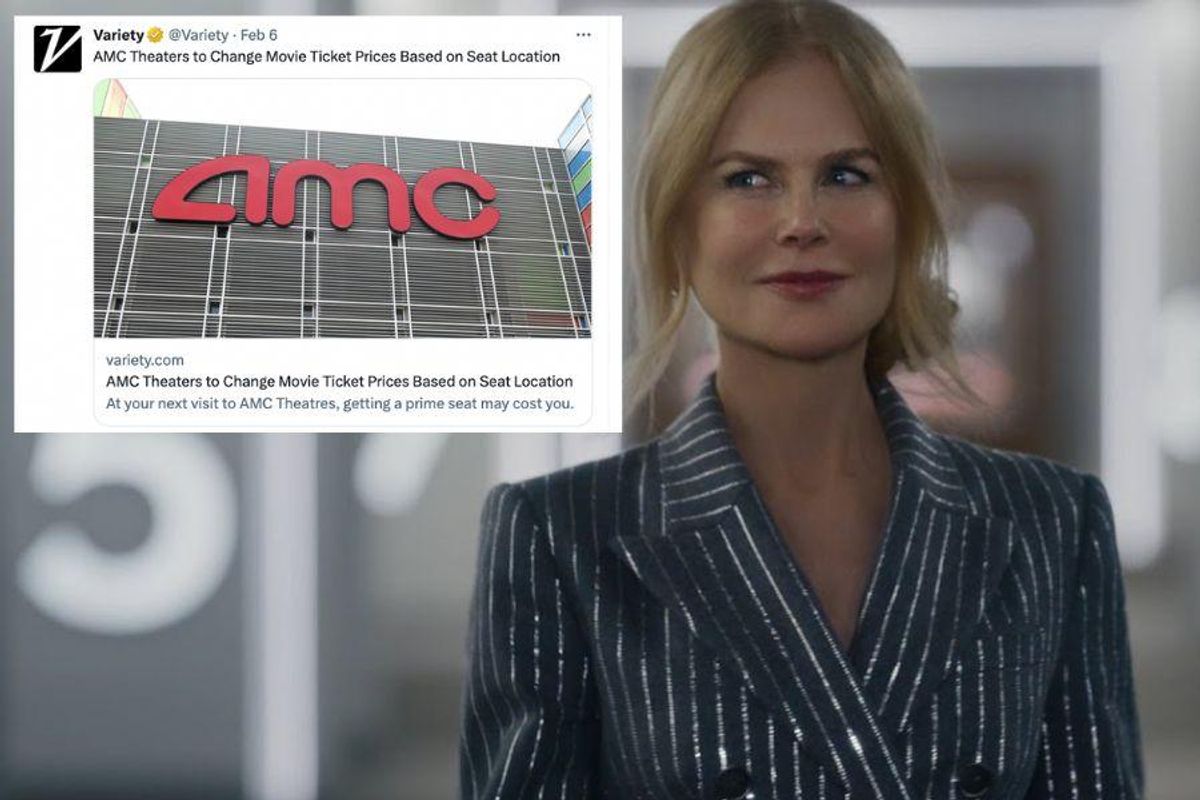 AMC Theaters, America's largest movie theater chain, announced on Feb 6 that it will be adopting different ticket prices based on seat location.
Moviegoers will have three tiers to choose from based on sightline of the movie screen—Preferred Sightline, set in the middle at the highest price point, Value Sightline, set in the front of the auditorium at the lowest price, and Standard Sightline, which is basically everything else (including the back seats, which are perhaps the most commonly picked) set at the traditional cost of a ticket.
In other words…heartbreak will feel more expensive in a place like this…or less, depending on where you sit…
The company's announcement was met with both criticism and approval. While some feel the move follows a well-established business model, others have found it to be taking away a valued aspect of the moviegoing experience.
---
"Lord of the Rings" actor Elijah Wood took to social media to condemn the decision, saying that it would negatively affect those with lower incomes.
"The movie theater is and always has been a sacred democratic space for all," Wood wrote. "This new initiative by AMC Theatres would essentially penalize people for lower income and reward for higher income."
The movie theater is and always has been a sacred democratic space for all and this new initiative by @AMCTheatres would essentially penalize people for lower income and reward for higher income.

— Elijah Wood (@elijahwood) February 6, 2023
TV and film critic John Rocha was a bit more pointed in his statement, calling the new ticket pricing "classist."
"Poor people, you sit in the poor section and you rich folks please move the velvet ropes around the middle section to find your seats," he added.
Still, according to Eliot Hamlisch, EVP and CMO of AMC Theaters, the new approach "closely aligns to that of many other entertainment venues, offering experienced-based pricing and another way for moviegoers to find value at the movies." It's much like the model of paying more or less at a concert, sports game, or theaters showing plays, depending on where you sit.
"We know there are some moviegoers who prioritize their specific seat and others who prioritize value moviegoing. Sightline at AMC accommodates both sentiments to help ensure that our guests have more control over their experience so that every trip to an AMC is a great one," he wrote in a statement.
And yet, in the aftermath of COVID-19, it's a risky move for an already shaky industry, some experts say. According to The Hollywood Reporter, box office numbers have made progress, but still pale in comparison to 2019, hitting $7.5 billion in 2021.
The outlet also shared that even certain Hollywood studio executives considered the pricing as potentially "too complicated" for customers. This is a precarious experiment as streaming services continue to be movie theaters' biggest competitor.
On the bright side: despite the divisive backlash that AMC's price change caused, the great unifier in all this was the plethora of funny memes:
guessing Nicole Kidman's revised AMC Theaters monologue verbiage pic.twitter.com/U7WdNSapds

— Katie Baker (@katiebcomedy) February 6, 2023
Me looking up at the Nicole Kidman ad because I can only afford the value seats https://t.co/2J4Jun2RMW pic.twitter.com/Tvt14qcca8

— Ol' Oval Head Lookin Ass (@MoonManTI) February 6, 2023
When someone is in your reserved seat with AMC's new ticket seat pricespic.twitter.com/J1d2iBHRjP

— BLURAYANGEL 🦇 (@blurayangel) February 6, 2023
Me watching Barbie this summer at AMC https://t.co/GBdCBqMqJN pic.twitter.com/c6dHma6Ize

— soapy🧃 (@soapyhadid) February 6, 2023
Excluding members of AMC's A-List membership, who will still be able to choose any seat at no additional charge, customers might have already seen this change. The new pricing structure has already begun rolling out across the country and will be implemented at all locations by the end of 2023.