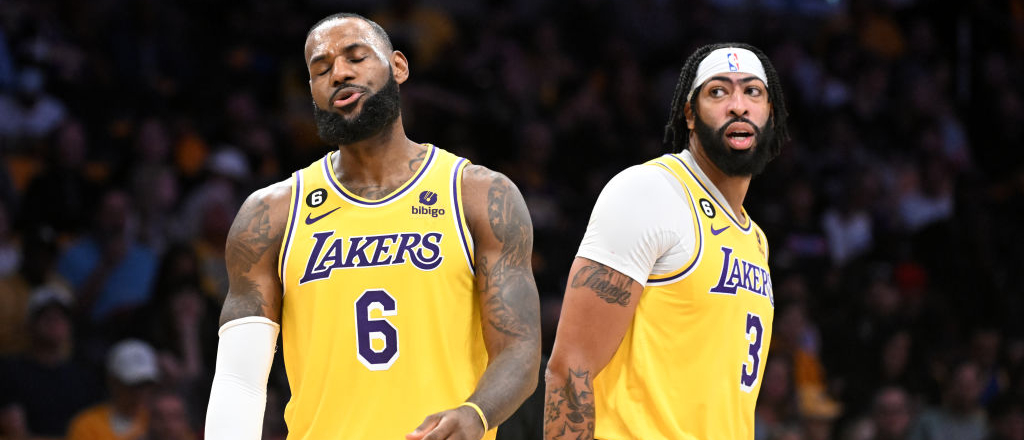 LeBron James broke Kareem Abdul-Jabbar's all-time scoring record at Crypto.com Arena earlier this week. Everyone in attendance was in a celebratory mood all night during the game against the Oklahoma City Thunder, and when James' record-setting jumper went in during the game's third quarter, the roof came off the building and everyone affiliated with the Los Angeles Lakers made it a point to show their appreciation for the eventual Hall of Fame inductee.
The one exception to this was Anthony Davis. In a video that went around after the game, Davis was seen sitting on the bench while everyone else was standing and applauding his teammate's accomplishment.
Because this is the Lakers we're talking about here, there were a ton of questions about what was going through Davis' mind here. He was asked about this in the aftermath of the team's 115-106 loss to the Milwaukee Bucks on Thursday night, and after making clear he really did not want to talk about this, he explained that his frustrations stemmed from how things were going for the Lakers against the Thunder.
For all the internet sleuths out there who were trying to dissect AD's body language Tuesday as LeBron broke the record, Davis said he was consumed with losing the game and wasn't aware that LeBron was about to pass Kareem: pic.twitter.com/mkXhPPi8XP

— Kyle Goon (@kylegoon) February 10, 2023
"Y'all know me and Bron's relationship," Davis said. "It's nothing. Upset about the game. I mean, we're losing to [the] Oklahoma City Thunder, a game we needed, and I was pissed off that we were losing. It's that simple, it's nothing that had to do with Bron. He knows that, everybody else outside looking in, that's their opinion, but I was pissed off that we were losing the game."
The basket that set the record cut Oklahoma City's lead at the time to five points late in the third quarter, so there was more than enough time for the Lakers to mount a comeback. That, however, ended up not happening, as L.A. went on to lose, 133-130.