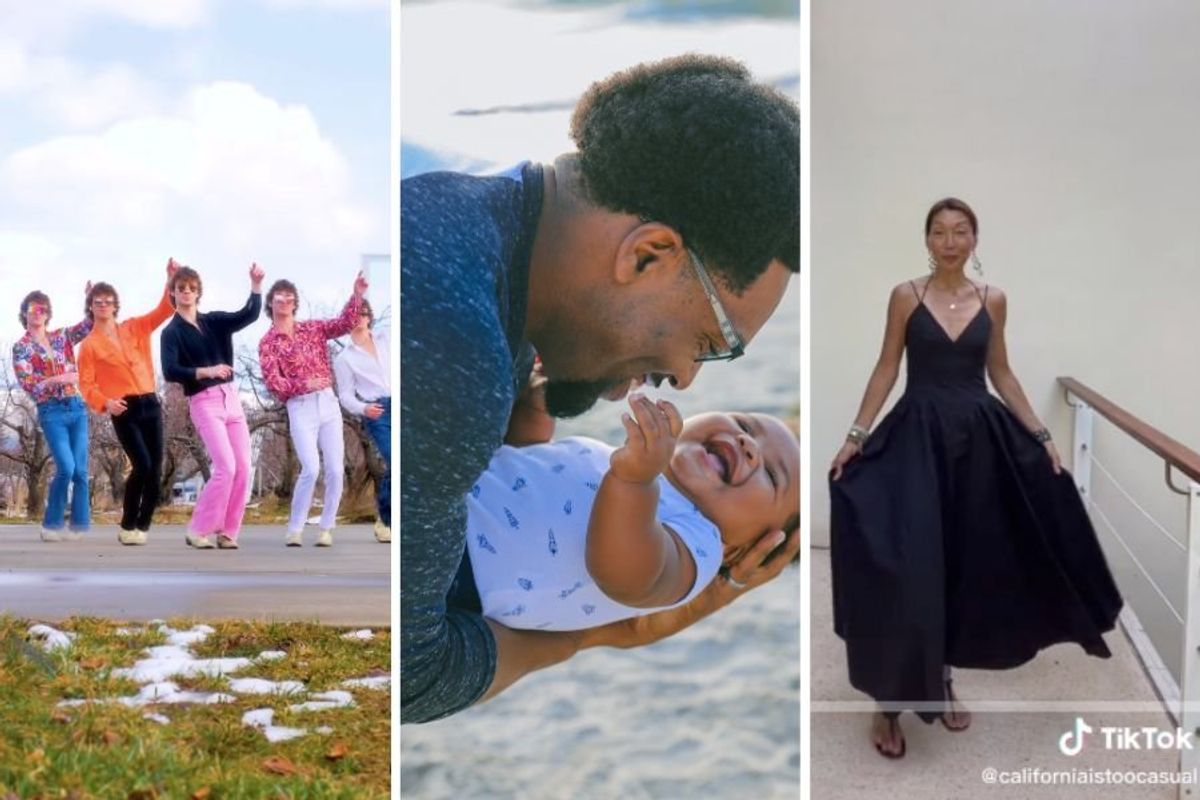 Smiling is the universal language of joy—an involuntary response and innate human behavior that starts when we are wee babes, long before we're able to talk.
Research shows that children smile on average 400 times a day, but that dwindles to only 20 times a day for an average adult. Even particularly happy adults only smile around 40 times a day, so it seems we could all use a few more reasons to smile!
We've got 10 rounded up here for you, from a sweet love story between two lonely geese, a hilarious hammerhead shark prank, a mom with the patience of saint and more.
So take a few minutes to revel in the joy and share with some other smile-deprived grown-ups in your life.
---
1. Professor's grad students surprised him with a silly response to his 'irrational fear' of hammerhead sharks.
None
Usually, it would be considered unkind to taunt someone with their fears, but this kind of hilarious exposure therapy might just be healing. At the very least, it's heartwarmingly entertaining. Clearly, these students love their teacher.
2. A soon-to-be dad asked parents to share their favorite parts of parenting. The responses were beautiful.
All Harris Fanaroff was hearing was horror stories of parenting, so he asked for the brighter side. Parents delivered, big time. Scroll through to see some of the sweetest responses and see more of what parents shared here.
3. Ever seen a bunch of parrots get tucked into bed with kisses and a bedtime story?
"I love you, my bebeees!!!" Talk about a bond. Read more about Johan Devenier and his macaw babies here.
4. Two lonely geese found a second chance at love through a singles ad.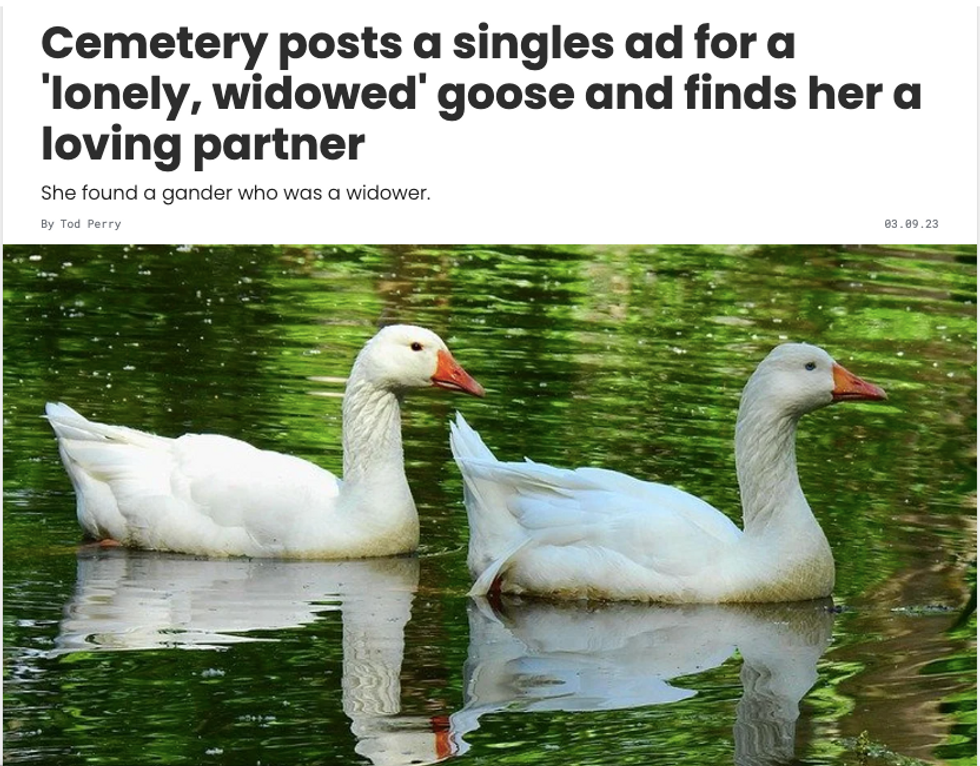 Geese mate for life, so what happens when they lose their mates? You gotta read this one to see how Frankie and Blossom met and how they took to one another after a blind date. Read their full love story here.
5. This tattoo is proof of the power of tea at grandma's house.
Sometimes the simplest things turn out to be the most meaningful. What a sweet way to honor Grandma.
6. People are loving the way this mom handled her son's bedtime meltdown.
Every parent has been there, and it's so hard to stay calm, cool and collected—AND clear AND firm AND loving—all at the same time. But this mama pulls it off beautifully, and the fact that the little guy is able to articulate his feelings so clearly is a testament to his parents.
7. A 62-year-old fashionista is inspiring older women on TikTok with her sense of style.
@californiaistoocasual

#stitch with @oliviaamcdowell can't wait for us to twin when I visit nyc 🫶 #abercrombie @Abercrombie and Fitch #abecrombiefind #abecrombiehaul
As she says, "Style has no age." Love it. See more of Gym Tan and her fabulous fashion sense here.
8. Friends threw an epic party for their friend who got her U.S. citizenship.
@mias_memories

2.25.23. Congrats on getting your citizenship @sharonlin118 #fyp #usa #costumeparty #merica #fypシ
What a fun way to welcome someone to officially becoming an American citizen. Read the full story here.
9. Watching foxes hunt in the snow is as fascinating as it is entertaining.
The head tilts and jump.. 😅💯 pic.twitter.com/nczgq2BlTI

— Buitengebieden (@buitengebieden) March 8, 2023
The fact that they can hear the creatures burrowing under the snow is pretty sweet, but watching them do their leap and dive is hilariously impressive.
10. Dance your way through the weekend with the smooth moves of this guy and…himself.
No idea how he did it, but it's impressive!
Hope that gave you a few reasons to smile! Come back next week for more, and if you'd like to get these posts delivered to your inbox, subscribe to our free email newsletter here.