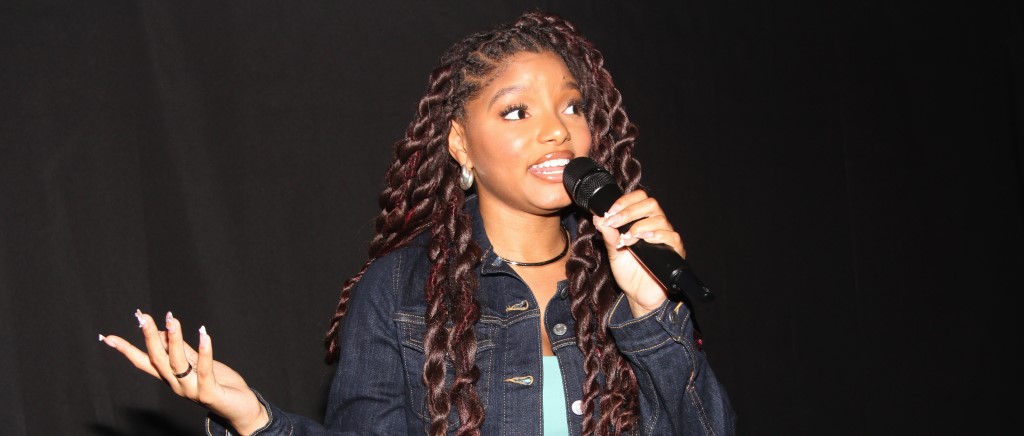 Movie stars have always donned disguises to engage in everyday activities like shopping and going to the movies but usually, it only works when they go to extremes like Drake once did to attend a friend's court appearance (he says even then, people still recognized him). However, The Little Mermaid star Halle Bailey recently got away with a simple-but-effective one herself when she went to a public theater to watch her film debut by herself, even when she stopped to get a video of the massive, wall-spanning video poster touting the film in the lobby.
The "costume" in question consisted of a pair of dark sunglasses and a face mask, which were apparently all it took to obscure her recognizable features, even as she passed by fans taking selfies with the poster screen. It probably helps that her signature locs had been restyled into thicker twists and colored brown as opposed to the vivid red of her character. For what it's worth, the theater appears to be the AMC at Americana at Brand in Glendale, which isn't so far from Hollywood that celebrity appearances are very unusual, so if anyone did actually recognize her, they were probably at least a little bit more chill about it.
@hallebailey

can't believe the little mermaid is the #1 movie in the world you guys!! went to the theatre to go see it last night
Still, could you imagine looking over and seeing the star of the movie you're currently watching sitting there eating popcorn out of a novelty bucket? Not only did you get to see a really good movie, but you also now have a story that no one is ever going to believe.