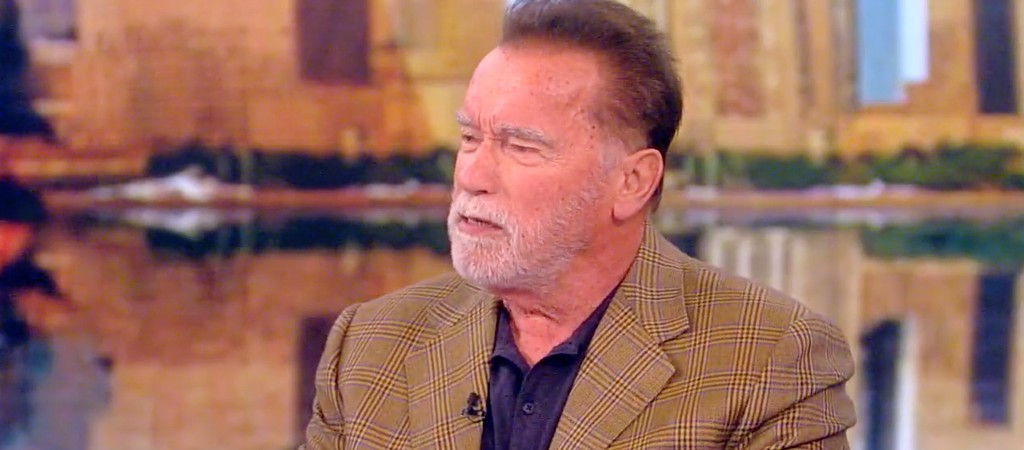 Just the thought of Arnold Schwarzenegger being your dad is scary, right? You scratched the car or got a D in Chemistry and now the Terminator is bounding up the stairs to your room. Absolutely terrifying.
Turns out, the reality isn't far off from that description. According to an excerpt from Schwarzenegger's new book, Be Useful: Seven Tools for Life, the muscle-bound actor was not shy about using shows of strength to get his kids to act right. Case in point: He once threw his son Patrick's mattress out the window because he didn't make his bed in the morning.
On Monday morning, he stopped by The View to regale the panel with another tale of his parenting methods, and this one involved copious amounts of fire.
Via Decider:
"Katherine would leave her shoes there by the fireplace. I would say, 'Katherine, if you leave your shoes there one more time and don't put it in the mudroom or your room, I'm gonna throw them in the fireplace,'" he recalled. "Sure enough, the next time she left them there, I took the shoes and threw them in the fire. They burned and she was crying but she never left her shoes there again."
According to Schwarzenegger, those parenting skills have been passed down, and he's proud to see his daughter Katherine and husband Chris Pratt lay down the law.
"Chris Pratt — he's a very strict father and he's a really good father and a good husband," Arnold said. "And my daughter's fantastic. She uses all the rules that my wife used to use. Maria [Shriver] was a fantastic mother always and still is. And also the rules that I used."
However, now that he's older, Arnold gets to enjoy the parenting delight of letting his grandkids do "anything they want" and then hand them back to mom and dad.
"The bottom line is, now I don't have to be strict," the actor said. "The grandchildren can come over. I play with them, they play with the animals, I let them ride on the donkey and the pony, I let them play with the horses and with the pig, feed the dogs and all this kind of stuff."
(Via Decider)